The Wizarding World of Harry Potter has taken the world by storm at Universal Orlando. On July 8th, the lightning will strike again as Diagon Alley makes it's debut to the Muggle World. During a recent media preview for Diagon Alley, many cast members of the films were on hand to not only experience the new area, but to also talk to media guests about the filming experience and how the world they brought to life on film, was brought to life for the rest of the world to see in person.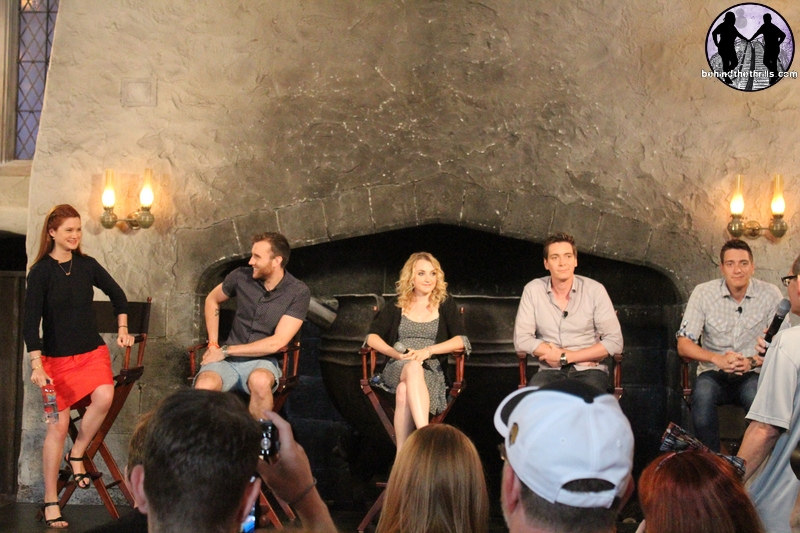 Robbie Coltrane who played Hagrid couldn't believe he was seeing himself on the Hogwarts Express. Warwick Davis was ducking on Escape from Gringotts, and Helena Bonham Carter was just in awe. The stars of the Harry Potter films had a myriad of different reactions when they first encountered Diagon Alley, with many seeing the Wizarding World off of the film screen for the first time.
Video-The Phelps Twins, Matthew Lewis, Evanna Lynch and Bonnie Wright chat about Diagon Alley

While many would think that the cast of one of the biggest film franchises ever wouldn't be awestruck by a world they had worked in for so long, the secret that they spilled was that they had never had the chance to actually walk the streets of Diagon Alley. Everything they filmed on were sets, where Universal built actual buildings. Diagon Alley at Universal was the first time they actually were able to explore the world they helped to create.
Video-Robbie Coltrane, Domhnall Gleeson and Warwick Davis chat about the all new Diagon Alley


So what would the stars of Harry Potter like to see brought to life next? While most are very suffice to walk the streets of Diagon Alley, Bonnie Wright would like to see an attraction based around Quidditch. Tom Felton would like to see a haunted house type attraction based around Malfoy Manor. All agree, that the world will love Diagon Alley how it is, but will still be thirsty for more of the universe that they helped to create.
Video-Helena Bonham Carter and Tom Felton at Leaky Cauldron talking about Diagon Alley


SlideShow-Check out over a thousand pictures from this week's Diagon Alley Preview at Universal Orlando

Stay tuned for more from the Diagon Alley Preview, as we bring you every aspect of the all new Wizarding World of Harry Potter-Diagon Alley. For more from the Diagon Alley Preview, click here!
Get social with us on Facebook and be sure to follow along with us on Twitter @BehindThrills for the latest updates!
For more information about The Wizarding World of Harry Potter-Diagon Alley, including tickets, visit the official Universal Orlando website by clicking here!