One really cool feature about Diagon Alley and Hogsmeade is that it brings a brand new and interactive feature to Universal's theme parks. Universal has rolled out a series of interactive wands that guests will be able to purchase and with these wands, guests will be able to practice their magic at special locations through out Diagon Alley and Hogsmeade.
This experience was built into Diagon Alley as it was constructed, however, it was not built into Hogsmeade before it opened several years ago. Universal Orlando has been working hard to add interactive elements to Hogsmeade, which will soon be ready for guests to interact with. Several new window components have been installed within Hogsmeade, as well as medallions which instruct guests on how to perform the required spells.
There's one more way to get information on how to perform each and every spell within Diagon Alley and Hogsmeade plus it shows you exactly where to find them. The interactive wand map shows Hogsmeade on one side of the map and shows Diagon Alley on the other side and instructs guests on how to use their new interactive wand. The interactive wand map also serves as a great tool to navigate your way around Hogsmeade and Diagon Alley, plus is makes a great souvenir. The map is small and handy, but best of all it folds up and fits perfectly in your wand box.
Hogsmeade Interactive Wand Map:
Diagon Alley Interactive Wand Map: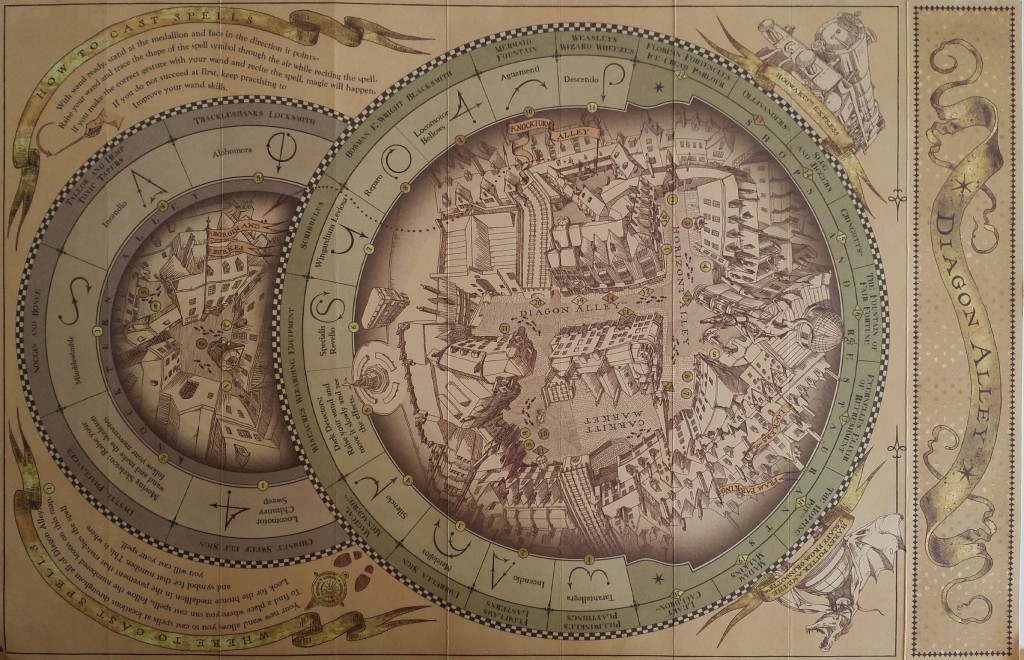 While the Harry Potter stars were in Orlando for the Diagon Alley Preview, Universal Orlando let them test out their true magic skills within Diagon Alley.
Interactive Wands will be available to purchase within Diagon Alley when it opens on July 8th. Aside from the standard interactive wands, guests will also be able to purchase interactive Harry, Hermione, or Dumbledore's wands within Diagon Alley. The interactive wand map is available for guests who purchase an interactive wand at either Hogsmeade or Diagon Alley. Although it seemed that earlier tihis week that the interactive wands were not working in Hogsmeade, they seem to work now! Interactive wands are being sold inside Hogsmeade for $35-$45. If you've already purchased an interactive wand and you didn't receive a map, just take your receipt to where you purchased your wand and they will give you a map.
Universal has created The Wizarding World of Harry Potter in such a way that guests feel like they are part of the story. While Diagon Alley and Hogsmeade are already packed with things a lot of things for guests to see and do, Universal Orlando has added even more to the experience with interactive wands. Guests will be able to practice several spells and watch what happens when their spell is successful.
For more information about the Wizarding World of Harry Potter, visit the official website by clicking here.
Get social with us!
Follow us on Twitter @BehindThrills and like us on Facebook @BehindThrills.
Need to get tickets? Click the banner below to get your tickets today!