Summer is officially here! With Summer officially in full swing, many of Orlando's theme parks are offering a little bit extra to their guests in celebration of Summer. SeaWorld Orlando is no stranger to offering something fun to keep the Summer going! SeaWorld Orlando has brought back their annual Summer Nights event with brand new experiences for guests to check out during their visit to SeaWorld, including two brand new shows!
Summer Nights will take place daily at SeaWorld Orlando now through August 10th. Summer Nights offers a little bit different of an experience than guests will get during the heat of the day. As the sun is setting and it starts to cool off, SeaWorld brings extra excitement to the park specifically for Summer Nights, including shows and more. Summer Nights at SeaWorld Orlando is included with park admission, so guests can enjoy everything SeaWorld already has to offer plus an extra splash of fun!
Here's what Summer Nights has to offer guests:
Shamu Celebration: Light up the Night
Brand new to Summer Nights is an all-new Shamu Show. SeaWorld will continue to run their One Ocean show during the day, but once the sun begins to set, SeaWorld will put an entirely different show on called Shamu Celebration: Light up the Night. Shamu Celebration has replaced the previous Summer Nights show, Shamu Rocks, a high energy and rockin' show starring Shamu. Similarly to Shamu Rocks, Shamu Celebration is also a high energy show that's fun, but relaxing at the same time. The show features a brand new score created specifically for Shamu Celebration by composers who are familiar with the whale's behaviors, thus creating the score around the whales.
Video: Shamu Celebration – Light up the Night Full 2014 Show

Be sure to stick around for the very end of the show as SeaWorld closes out Shamu Celebration with quite an epic finale.
Sea Lions Tonite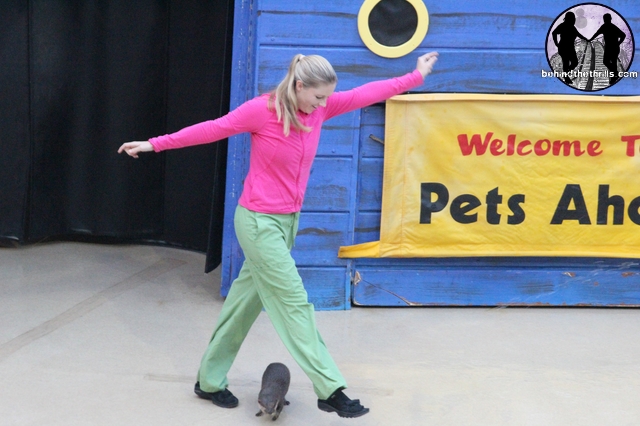 Returning to Summer Nights is Sea Lions Tonite, starring Clyde & Seamore! Clyde and Seamore have always been considered Funny Guys, but their hilarious side really comes out during Summer Nights where they parody other shows at SeaWorld, including One Ocean, Pets Ahoy, and others. While the show makes plenty of jokes, it's even funnier if you visit during the day and see all the shows that SeaWorld has to offer.
Video: Sea Lions Tonite Full 2013 Show

Generation Nature LIVE
Generation Nature LIVE is all about kids, conservation, and making a difference. As part of the Generation Nature initiative backed by SeaWorld Kids and Bindi Irwin, SeaWorld now presents a live show that emphasizes animals! Guests will meet many great animals during the show and hear their story of rehabilitation.
After the show, guests will be able to meet even more of SeaWorld's rehabilitated animals in the SEA Garden where trainers will be talking about the animals and how they are cared for at SeaWorld.
Video: Generation Nature LIVE Full 2014 Show

Along with extra shows and Summer fun that comes with Summer Nights, SeaWorld has also extended their park hours later into the evening, giving guests more time to enjoy everything that SeaWorld has to offer. The best way to see Summer Nights plus many other great events at SeaWorld, including SeaWorld's Halloween Spooktacular and SeaWorld's Christmas Celebration, is by purchasing a Fun Card or a SeawWorld annual pass. Be sure to arrive earlier in the day to experience attractions like Manta and Antarctica: Empire of the Penguin before heading to see the Summer Nights shows.
For more information about SeaWorld Orlando, visit the official website by clicking here.
Get social with us!
Follow us on Twitter @BehindThrills and like us on Facebook @BehindThrills.
Need to get tickets? Click the banner below to get your tickets today!