Whether you first wanted to when you read about it, or from the first moment you saw it pull into Kings Cross Station, it's been a dream for many Harry Potter fans to be able to take a ride on the Hogwarts Express. Now, as Diagon Alley is just about ready unveil itself, that is a possibility. The wizards at Universal Orlando have created an all new experience that takes guests on the same journey that Harry Potter took in the books and films, and it's full of all his friends. Guests will be able to make the journey themselves when the entire area opens July 8th.
Warning Spoilers Ahead
The all new train ride is, in fact, a ride. It takes guests from London to Hogsmeade Station and back again. Note that I said London…not Diagon Alley. That's because the train departs from Platform 9 3/4 at Kings Cross Station in London. If you're looking to get into Diagon Alley, you'll have to tap the bricks and find the entrance for yourself. The other important thing that you must know before you go any further, is to experience this attraction you MUST have a two park ticket or annual pass. This ride takes you directly to the other park. So, for example, if you're going from London to Hogsmeade you must have a two park ticket for the day or an annual pass. If you're going from Hogsmeade to London, you must have a two park ticket or annual pass. If you do not have one by the time you get to London, and you want purchase one, you do not have to worry about going all the way back to the front of the park, a ticket station will allow you to purchase an upgrade to your ticket, or upgrade to an annual pass without making the trek back to the front of the park. Also important, there does not appear to be an Express Line for the Hogwarts Express…in other words, you can't cut to the front of the line.
Now that we've gotten the most important facts, on to the details!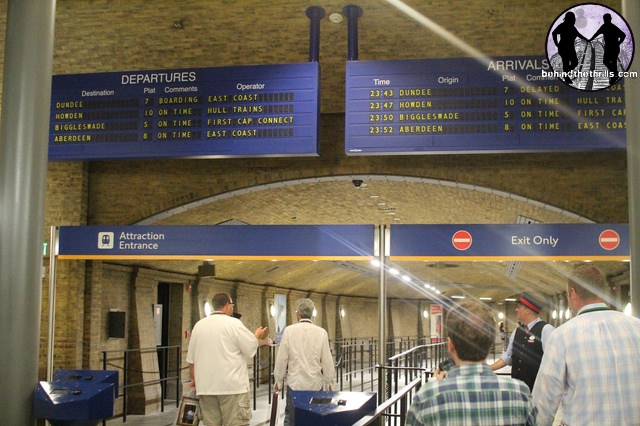 Guests embark from London to Hogsmeade Station by means of Kings Cross Station. The area is an exact replica, only scaled down. There's memorable signs and spots from the film, and even a snack station tucked away in the corner.
Once guests scan their tickets, they proceed to Platform 9 3/4, located directly between platforms 9 and 10. While there isn't much to the platform as you enter it, it's a great gag for those looking on. This will be a must have souvenir picture for many Muggles, but it will only slow down your boarding of the Hogwarts Express.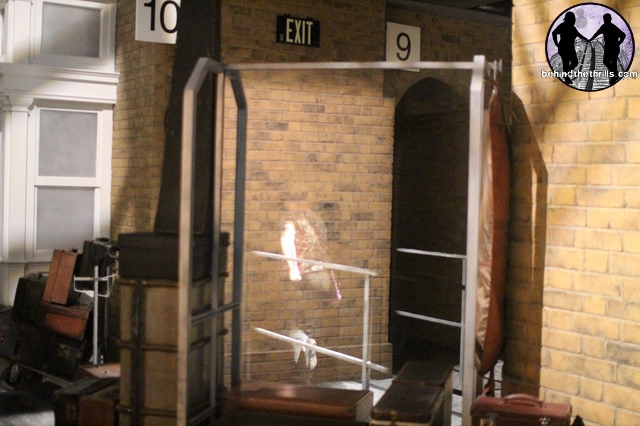 Once on the Platform you get your first peek at the magical train, and it's an amazing peek. The train has been painstakingly recreated, all the way down to the whistle. Steam billows from the tanks, and the train has all the sounds that you would expect to find on a normal train.
Once inside, guests are directed to one of dozens of cabins, which seat up to eight guests at a time. The cabins are situated in such a way that they face a screen designed to look like a window. While at first glance the screen seems like it's just a monitor, once the train gets going, it creates a depth and unique view into the Wizarding World.
The other amazing feature is that things happen all around you. One moment things are happening outside the train, the next you're in a tunnel or in a thick of trees and the doors that just closed behind you become a second, more realistic screen showcasing many funny moments from people passing the cabin on the outside.
One amazing moment is when Ron Weasley himself looks into the cabin by pressing his face against the glass. It's a moment that will send fans screaming with delight, as it honestly looks like Rupert Grint himself standing outside the cabin. There's also a moment with Dementors, where their icy touch permeates the cabin. If you're sitting in the right spot you get a very subtle cold feeling down your back as the ice forms on the screen around their finger tips.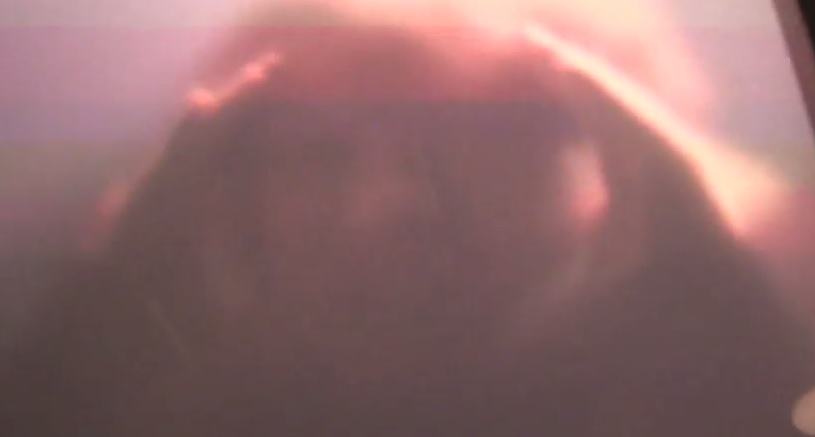 Guests disembark at Hogsmeade Station, but as they walk down the path they pass a familiar carriage that has no driver and nothing pulling it. Can you see the Thestrals? Probably not, but you can definitely hear them as you pass. From here you can make your journey to Hogsmeade and Hogwarts Castle, or you can get back in line and make the return trip to London.
The return trip isn't as dark and scary, and gives guests a little more of a fun trip with Hagrid, Fred&George and of course The Knight Bus. The entire trip each way lasts just under four minutes, and is a great way to rest before starting off on your next adventure.
While there is a bit of a Dementor Attack, and some creepy crawlies, the entire experience is never too scary for little kids.
Now…if you're up for an adventure (and don't mind spoilers) you can take a round trip journey on The Hogwarts Express!
Video-Queue Walkthrough and full journey on The Hogwarts Express at Universal Orlando

Again, each side of the trip takes about four minutes and is easily accessible from either side of the park. You must have a two park ticket to ride the train, and those wishing to make a round trip ride must disembark and get back in line. Those who have a rental stroller will be able to drop one off at the station, and pick one up on the other side, just by showing your receipt.
We have been told that eventually there will be more adventures on The Hogwarts Express, each being random, but for now it's the same trip each time…which is magical and amazing.
SlideShow-Check out about a thousand pictures from this week's Diagon Alley Preview at Universal Orlando

Stay tuned for more from the Diagon Alley Preview, as we bring you every aspect of the all new Wizarding World of Harry Potter-Diagon Alley. For more from the Diagon Alley Preview, click here!
Get social with us on Facebook and be sure to follow along with us on Twitter @BehindThrills for the latest updates!
For more information about The Wizarding World of Harry Potter-Diagon Alley, including tickets, visit the official Universal Orlando website by clicking here!