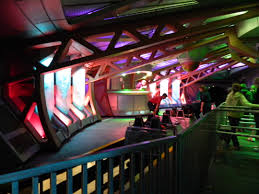 A 9-1-1 call came from Kings Island in Mason, Ohio around 2:45pm . Emergency services responded quickly to the Flights of Fear attraction for reports of a possible fire. When emergency services responded to the scene, there was in fact not a fire but was heavy smoke due to an electrical motor. Once power was cut off to the building the smoke stopped emitting from the motor and the building was evacuated to vent the smoke out of the building.  Ambulances and stretchers were seen by the coaster with staff directing visitors away from the ride. The Neighboring ride Firehawk was shut down and reopened around 3:40pm. 18 people were exposed to the smoke with two being treated at the scene with no-one transported form the scene.
Flight of Fear at Kings Island and Kings Dominion were both the first roller coasters to use Linear Induction Motors to launch a coaster. The coaster launches riders off at 54 mph, and reaches a height of just 74 feet, while in the complete darkness. Obviously the ride will remain closed until investigators and park officials give an all clear. Kings Island recently opened their latest record breaking coaster, Banshee earlier this year.
Update 6-14-14
Flight of Fear had reopened, but Saturday fire crews once again were called to reports of a fire at Flight of Fear. This is the second time in as many weeks. Last time it was determined to be a faulty motor, which caused the building to fill with smoke. In that case, 18 people were treated for smoke inhalation, but all on the property.
This time smoke can be seen rising from the building. The report came in at 10:37a.m. on Saturday and fire crews responded. The ride has remained closed.
We'll keep you updated as we learn more.
Stay tuned for the latest on this story, and be sure to get social with us on Facebook and be sure to follow along with us on Twitter @BehindThrills for the latest updates!
For more information about Kings Island, including tickets, visit the official website by clicking here!