Verruckt is set to break records at Schlitterbahn Kansas City when it opens on Sunday…If it opens on Sunday. The long in development record breaking waterslide has had some construction issues, but now a new problem has arisen and what would have been the third grand opening date may get pushed back again.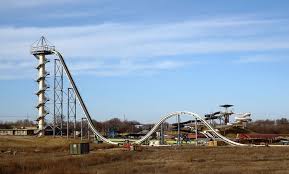 The first delay came from the Memorial Day weekend grand opening. The slide, which measures at 167 foot tall had construction delays, and the opening was tentatively scheduled for June 5th. Then word came that the park was going to open the slide simultaneously with the premiere of an all new season of The Xtreme Waterpark show that will be airing on The Travel Channel Sunday June 29th.
Video: Sneak Peek of Xtreme Waterpark season 3 premier
Now word comes that a media preview date was cancelled for Thursday and Friday because of a problem with the lift.
Rumors have swirled around the ride, claiming that riders were launched from the second hill during testing. Other rumors suggested that the slide had to be adjusted so that the slope wasn't as steep. While none of those issues have been confirmed, the slide was finally ready for an opening on Sunday.
The problem this time comes from faulty parts on the conveyor system that brings ride rafts to the top for waiting riders. While the conveyor isn't a huge part of the ride, carrying a 20 pound raft up 167 feet isn't the most fun option. Crews are scrambling to get the system repaired, and ready for Sunday, but the opening may have to be delayed one more time.
Stay tuned for more from Schlitterbahn, and be sure to get social with us on Facebook and follow along with us on Twitter @BehindThrills for the latest updates!
For more information about Schlitterbahn, including tickets, visit the official website by clicking here!