The words have been said, the spell has been cast. There's no turning back now! The walls around the very anticipated new addition to The Wizarding World of Harry Potter have come down, revealing a London like you've never seen! Though you can't see Diagon Alley itself, the magic is there! Could we be seeing a soft opening soon?

Over night construction walls have come down as the opening of Diagon Alley gets closer. What is revealed is an amazing look at a beautifully landscaped and constructed area.


The London area has had small wrought iron fences installed, and the whole area looks just simply stunning. We see tons more detail than ever, such as shops and benches.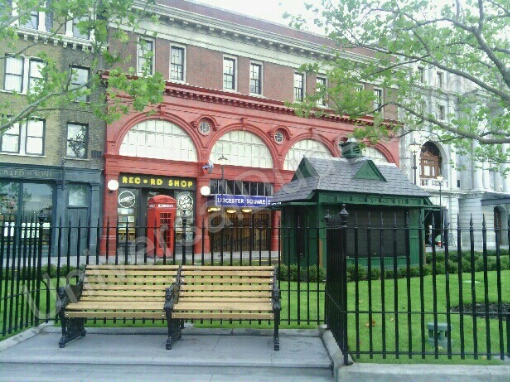 The fountain is much larger than it appears behind the walls, and really brings the entire area together.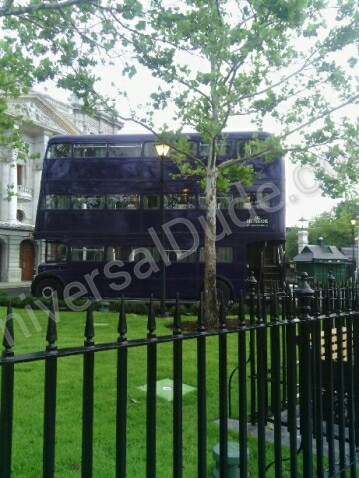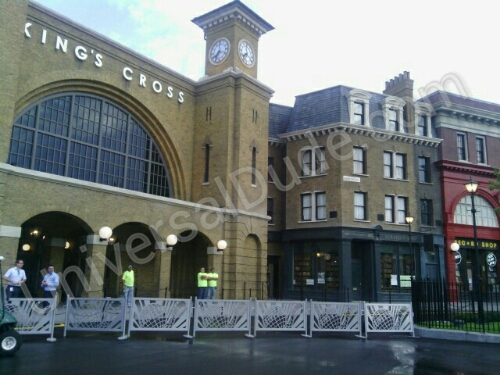 The Knight Bus sits proudly waiting for passengers, as the doors of Grimmauld Place stay locked tight. While the walls are down, Diagon Alley is not open to Muggles. Fences and barricades, along with security line the area.
Screed and sons is one of the shops closest to Kings Cross Station in London. Over at Islands of Adventure the Hogsmeade Station area is also unwalled. Rows of metal poles are set up, giving an indication of how busy things are expected to be.
Walls being down are a good sign that soft openings are coming. There still is no official opening date for Diagon Alley, but there will be a media preview June 17th-20th. Vacation packages are available for travel dates beginning June 29th. Diagon Alley will bring guests into a magical world full of Goblins, dragons and tasty treats. Guests can try and Escape from Gringotts in an all new ride, dine at The Leaky Cauldron, and take a ride on the Hogwarts Express.
Update 6-10-14
We have an all new video showing off a great look at Diagon Alley, and a gorgeous sunset.
Video-Walk around London at Universal Orlando's Diagon Alley

After a quick run to Universal, we have a few more detailed pictures. The rumors of a soft opening swirled, and left many people camped out all day. To the best of our knowledge, soft openings will not happen this week. That could change, but from all the talk we've heard, it's not likely to happen.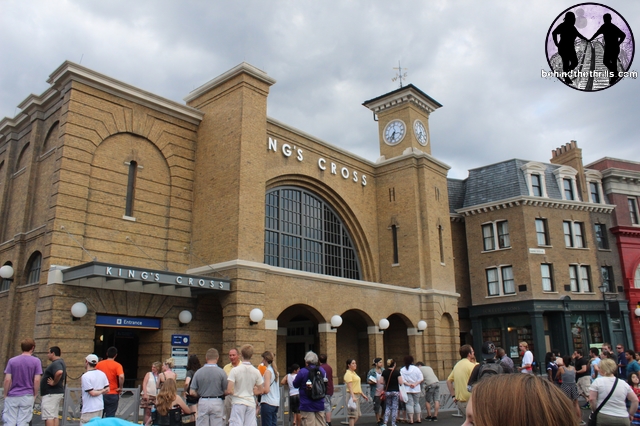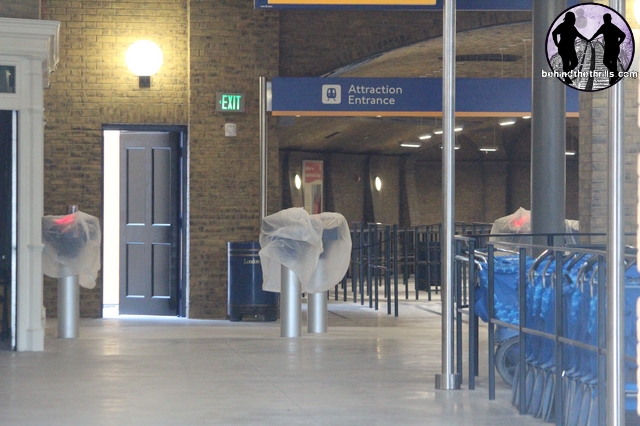 A better look at Kings Cross station shows off not only the wait sign, but inside the queue as well. You can see the ticket scanning kiosks, which will allow guests to travel from park to park. It also appears that strollers and wheelchairs are available to borrow here, as strollers and wheelchairs are likely not to be permitted on the Hogwarts Express.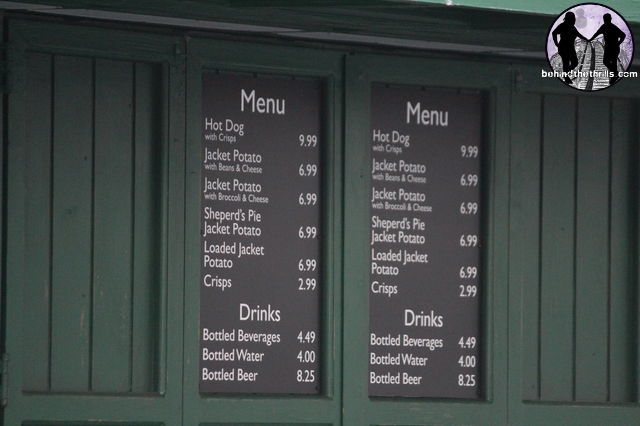 Kreacher pokes his heads out randomly throughout the day. It appears that there's different programs he's on, because sometimes he stands there, other times he leans forward. It's a very effective animatronic, and is creepy as all get out! The menu for one of the drink stands show cases a very potato heavy menu. It's just a stand, so the options are limited.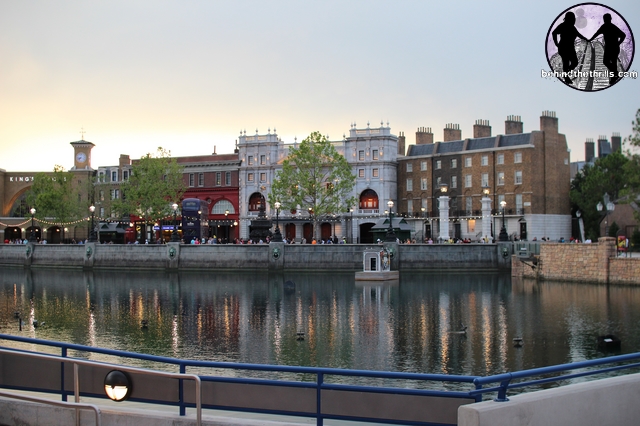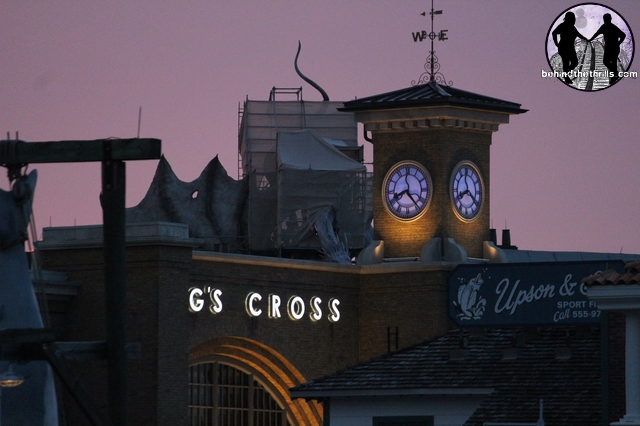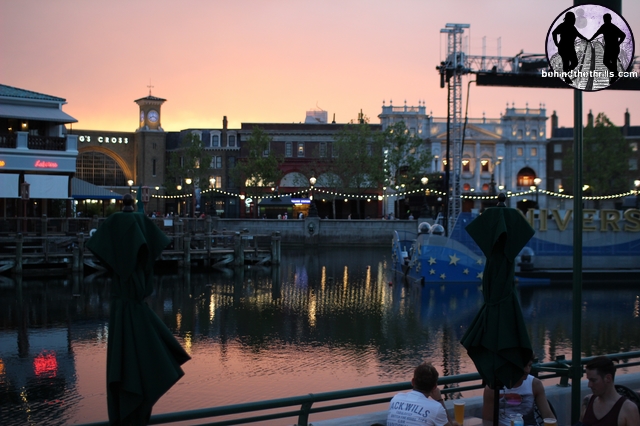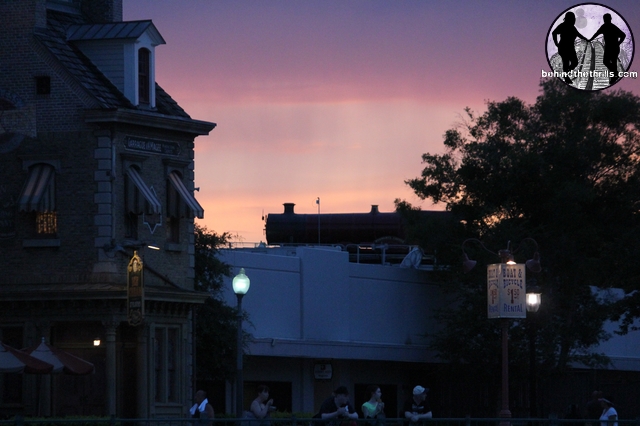 The view around the lagoon of Diagon Alley is breathtaking. The way the area just reflects off the water is stunning. As the sun goes down, the lights go up and adds even more to the area. The dragon still looks as if he's having work done, though we heard him breathing fire as we were walking around. It's loud and startling! The Hogwarts Express continues to trek back and forth between Hogsmeade and Diagon Alley, making tests, and sounding it's whistle.
Slideshow-Check out even more pictures from Diagon Alley: London

Stay tuned as we bring you more from the Wizarding World of Harry Potter – Diagon Alley at Universal Studios Florida, and be sure to get social with us on Facebook and follow along with us on Twitter @BehindThrills for the latest updates!
For more information about the Wizarding World of Harry Potter, including tickets, visit the official website by clicking here!