In the Wizarding World, Diagon Alley was the place where witches and wizards went for all their shopping needs. Whether it was for back to school shopping, or just to get a new wand, Diagon Alley was the premiere shopping district. Think of it as a Wizarding Rodeo Drive. How do you translate that into a huge theme park attraction? If you go on one side, and ignore all the shopping, you risk upsetting the fans of the hugely successful series. If you push too much, you turn off theme park attendees by making everything seem like one giant gift shop. So, how does Universal pull it off? With a few wheezes, and some extra special magic.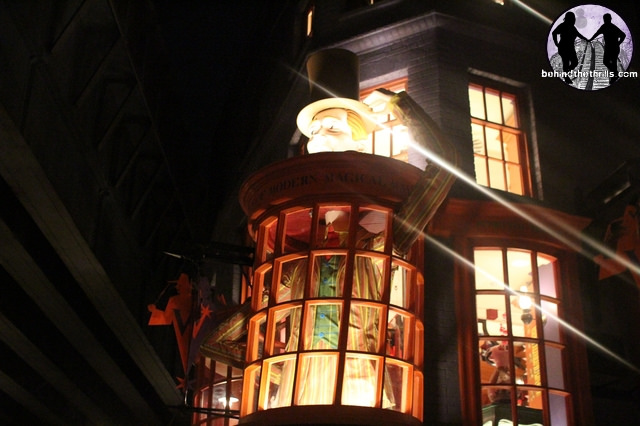 Diagon Alley is the premiere Wizarding shopping district. It's described that way in the books, and in the films. The area has everything a wizard or witch needs for every day life, and even some of the finer things. So how does that translate to a theme park attraction? Universal took the magic of the books and the films, and put them on display. Just about everything in the area has a purpose, and just about everything moves to gain your attention.
Video-Take a walk through the streets of Diagon Alley at Universal Studios Florida

Several shops make up the area, and all of them selling not only souvenirs from Universal, but things that are so authentic to the films and books that they actually feel like you might need them.
Weasley's Wizarding Wheezes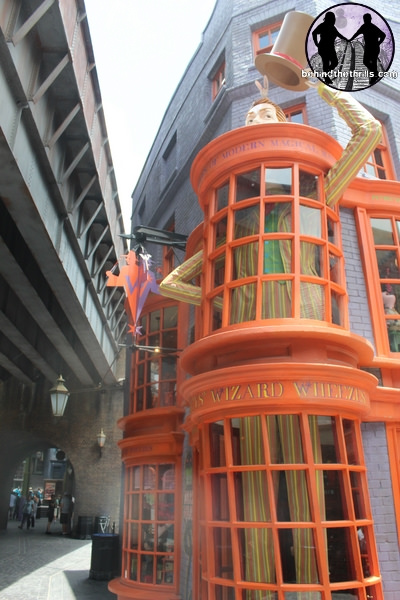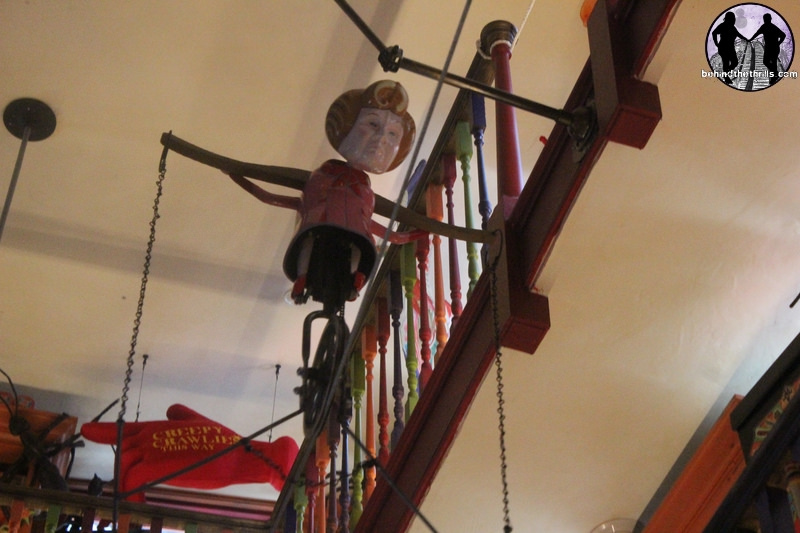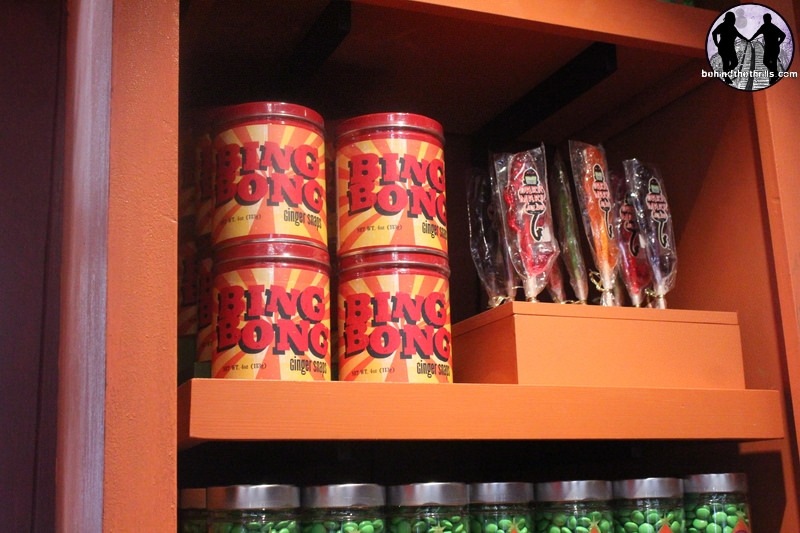 The familiar site of the Weasley twins tipping a magic hat is one of the first things you see as you walk through the mythical gates. It's a larger than life display for a store that is simply over the top. The joke shop offers all manners of t-shirts, fake chickens, and tons of candy. It's the inside of the store that is the most fun, however, with the Unicycling Umbridge overhead and even fireworks. The shelves are full of many different types of things, from toys and shirts to even our favorite candy in the land. You-No-Poo makes fun of the dark wizard, while promising poo free nights. Of course it's just chocolate candies, but the display and the jar alone make it worth it.
Video-Walk inside the amazing Weasley's Wizarding Wheezes

Like many of the shops in Hogsmeade, the store fronts are linked together. You can walk from Wizarding Wheezes to Quality Quidditch Supplies in no time. You can also go from many of the other stores into another.
Wiseacre's Wizarding Supplies
The night sky is a beautiful thing as telescopes and gyroscopes whirl overhead. Here's a fun fact we were told, the telescopes and some of the more mechanical pieces in this shop were actually constructed by using some of the old animatronics parts from the mechanical sharks in JAWS. While that's not confirmed, it does pay a nice little homage to that mean ole shark.
The gorgeous store also sells exclusive Hogwarts Express and Butterbeer merchandise (yes, you can get a glass Butterbeer mug, and even a butterbeer shirt) house crests to hang on the wall, and cases for your iPhones and iPads.
Quality Quidditch Supplies
Who do you cheer for? Whoever it is, you can get Quidditch cheering gear at Quality Quidditch. The store sells a variety of scarves, hats and even jersey's.
Of course if you're looking to get into your own game of Quidditch, there's brooms, quaffles, beater bats and the Golden Snitch that you can take home with you. Our favorite, however is the chess set with all the house colors, and the pieces shaped like Quidditch players.
Madam Malkins Robes for Every Occasion
You can buy robes in any other shop at Universal, but only at Madam Malkins can you get fitted for your robes, and even get dress robes.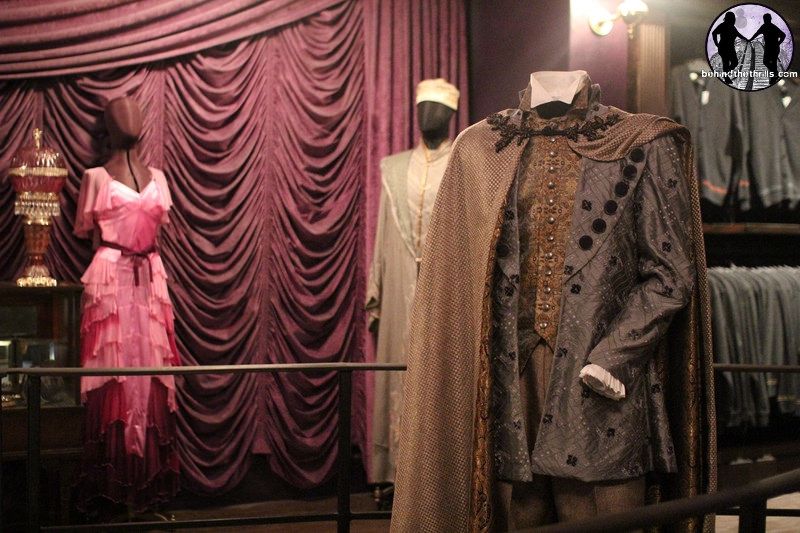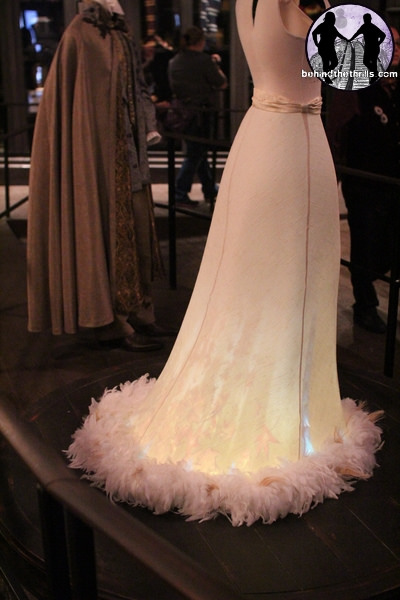 Madam Malkin also sells sweaters, shirts, and many other specialty dressing materials for every occasion that witch or wizard may need. There's also track suits, and sweatshirts as well with your favorite house.
Video-Get fitted for a robe at Madam Maulkins

Magical Menagerie
How do you do a magical toy store? With magical animals, of course. Magical Menagerie is a huge collection of stuffed animals of all sizes and varieties. The animals range from Fang-Hagrid's faithful bloodhound, to Hippogriffs, and even Cornish Pixies.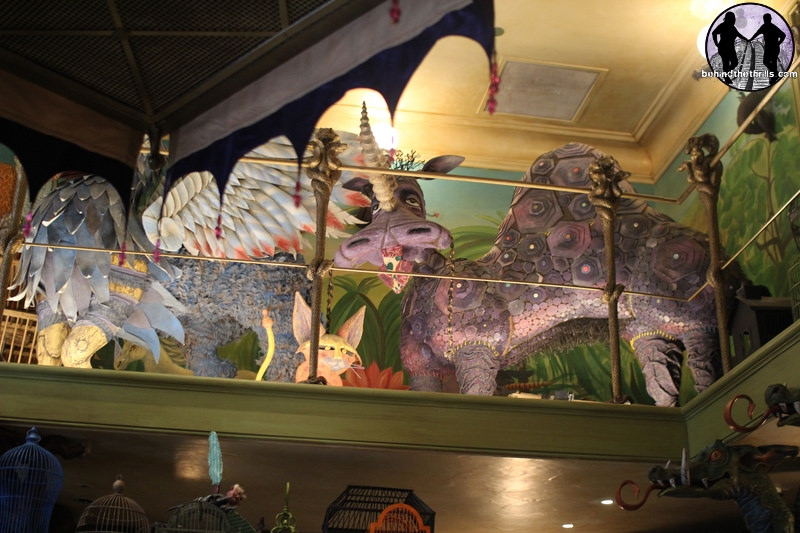 The coolest part of the store, however is the amazing decoration and animatronics. The building is full of animals staring at you from all angles, and making all sorts of sounds. Our favorite has got to be the molting phoenix in the window, or the strange eared cat hanging out in the top of the ceiling. There's also dancing rats, and tons more.
Video-Take home a magical friend from Magical Menagerie 
There are other great shops as well, such as the Goblin Exchange, and the miniature wand shop. The greatest thing to do in Diagon Alley, however, is window shop. Just like in Hogsmeade there are tons of great store fronts that aren't actually open. It's a shame, because I could really go for an Eel Pie. The shop windows are ripped right from the stories, and are an added bit of fun to go through and see what you recognize.
SlideShow-Check out over a thousand pictures from this week's Diagon Alley Preview at Universal Orlando

Stay tuned for more from the Diagon Alley Preview, as we bring you every aspect of the all new Wizarding World of Harry Potter-Diagon Alley. For more from the Diagon Alley Preview, click here!
Get social with us on Facebook and be sure to follow along with us on Twitter @BehindThrills for the latest updates!
For more information about The Wizarding World of Harry Potter-Diagon Alley, including tickets, visit the official Universal Orlando website by clicking here!