Holiday World has chosen to tease guests for a grueling 66 days before revealing their plans for an all new expansion in 2015. The new expansion promises to be the biggest in Holiday World History to date. The part even set up a website to chronicle a journey that will lead to the announcement of the all new attraction called 66 Days at Sea. While the website tells a definite story of the Pilgrims and their voyage on the Mayflower, through the eyes of one of the women on board, it has revealed very little…that we can see. So what exactly is being revealed, and what is this all new attraction?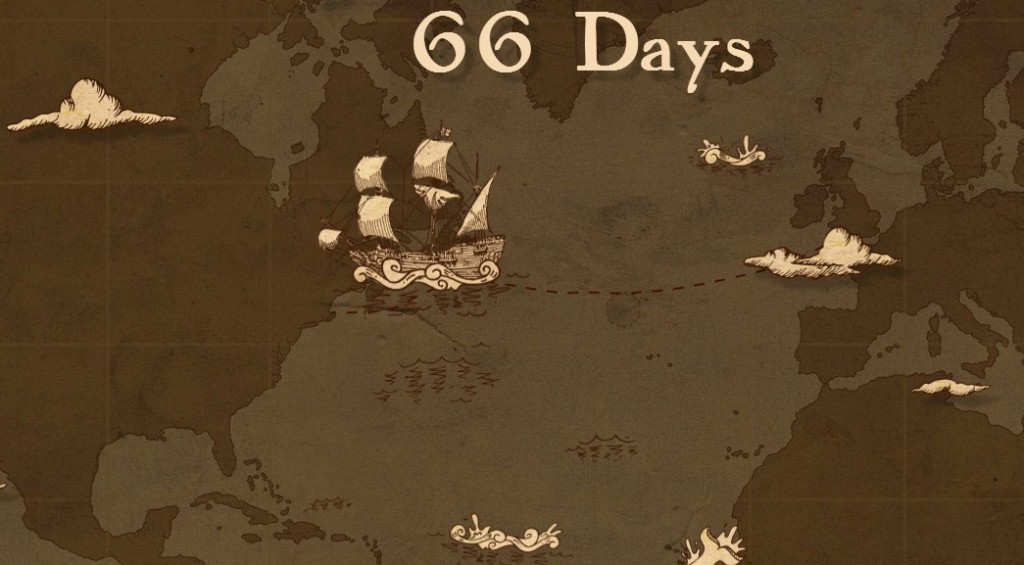 It's been 62 days since our "voyagers" set sail from their land to a land of new hopes and promises in the New World. Through the voyage we've seen our travelers go through storms, bad food, sick people and the threat of the ship coming apart. Even through all that, we are no closer to knowing what exactly Holiday World will be unveiling for their all new 2015 attraction.
The website has been building to a huge announcement which will take place this Thursday, July 24th at 8:30p.m. CT (9:30 p.m. ET) in the park's Hyena Falls section of the park. But what is this all new attraction that has been gaining so much buzz? If you look at the official 66 Days at Sea website, you'll see nothing that makes a lot of sense. Pictures of cloud formations, wood grain sketches and sketches of dogs. It means something, but what exactly?
Then there's the blog posts from Leah Koch, daughter of Will Koch, owner of Holiday World until his untimely death in 2010. In a post last week (click here), she reminisces over how her father told her there would never be a steel coaster at Holiday World, because it was not family friendly. Then she goes on to tell how, for a graduation present, he had made some plans for the park that made her squeal. Plans that never came to fruition. She then goes on to say that Holiday World unveiled the first of it's kind "water coaster", Wildebeest in 2010, and that the new project would definitely be his dream.
Then of course, there's the construction cams which show several concrete footers being poured.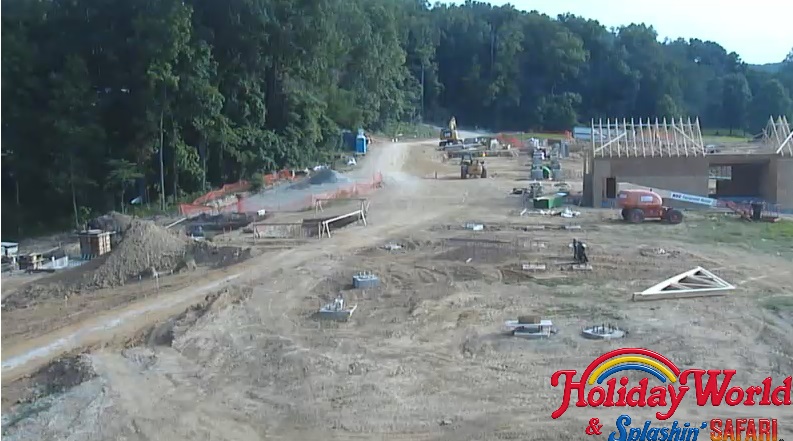 Many have speculated that this means a steel coaster is on the way. However, those footers could be for just about anything from a coaster to an all new water slide.
So what does all that mean? Our best guess is that this new, first of it's kind attraction will do something to mix steel, thrilling elements of a coaster and water. While those seem to be the most logical conclusions, there are several other "first of it's kind" attractions that could be coming to Holiday World. In 2012, wooden coaster company Great Coasters International unveiled plans for a Wooden Shuttle Coaster that would pull riders up a lift hill, then send them through a course only to be lifted up another hill and sent through the same course again, backwards. Back Track was announced at IAAPA and as of today, no parks have announced using the design. So, there's one possibility.
Video-GCI Talks about Back Track at IAAPA 2012


We could also be looking at some kind of coaster-waterslide hybrid, that uses actual coaster trains somehow in a waterslide type system. We only say that because of the clearly aquatic theme that all the clues are taking on, and the wooden coaster affinity of the park. Then there's the most popular rumor-a steel wooden hybrid coaster. The coaster community has been buzzing the past few years after parks like Silver Dollar City, and Six Flags have started building all new wooden coasters, and retro-fitting old coasters with steel structures and supports. This has allowed wooden coasters to do things like barrel rolls, and steep dives. While that isn't exactly family friendly, it's not outside the realm of possibility. Still, the possibilities are endless. The only thing we know for sure is, after almost 66 days of teasing,and some uneventful doodles, we're actually ready to get off this crazy boat. Whatever the announcement ends up being, the $22 million investment is more than twice the amount spent before on any single ride in the park's 68-year history.
Update
One last Holiblog Post tries to reveal some more clues, the biggest being a German translation that comes out as:
I believe that this key should be in German. (I'm sorry. I have not spoken German for a year.) Our designers designed our project in a German speaking country. Unfortunately, there are many good designers in German-speaking countries. One should remember that it is great. Very large. It is also unique. That's all! Have fun with Google Translate!
Other clues from the post:
-Birds of Prey
-Mockingbird
-Out of the loop
-Belly aching
-Mammoth
-Younger Brother
The biggest clue to us is the out of the loop and German language clues. There are other German speaking countries besides Germany, but not many of them are home to amusement ride manufacturers. The biggest German manufacturers of coasters are Maurer Söhne, Gerstlauer, and Mack Rides. While it could be another type of ride, there are few rides that cost $22 million besides coasters. Wildebeest came in at $5.5 million. Is it safe to say that Holiday World will be getting it's first coaster since The Voyage? Not just yet, but it wouldn't be a terrible bet.
Stay tuned as we bring you even more from Holiday World, and be sure to get social with us on Facebook, and follow along with us on Twitter @BehindThrills for the latest updates!
For more information about Holiday World's new project, visit the official website by clicking here!