This Summer is going to be a busy Summer at Universal Studios Florida as Universal Orlando has opened The Wizarding World of Harry Potter – Diagon Alley expansion this morning to the public. Although Diagon Alley has already drawn huge crowds this summer, there's no need to deter yourself from planning a vacation because of crowds. With so many exciting things to see and do across Universal Orlando's resort, there's plenty of reasons to visit this Summer despite the crowds. Planning ahead will be your biggest help, but there are several things you can do to make the most of your vacation.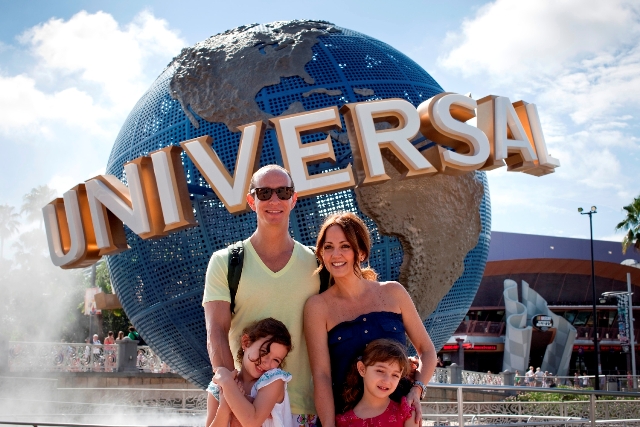 Stay at one of Universal's on-site hotels
Staying on-site at any of Universal Orlando's on-site hotels has it's perks! Universal Orlando offers two different types of hotels: Value Resorts and Deluxe Resorts. There are a total of four hotels located on-site at Universal Orlando: Hard Rock Hotel (Deluxe), Loews Portofino Bay Hotel (Deluxe), Loews Royal Pacific Resort (Deluxe), and Cabana Bay Beach Resort (Value). While they all offer great perks for the price, Cabana Bay Beach Resort offers just a little less than the Deluxe Resorts do.
Every hotel offers the following perks: Free transportation to CityWalk where you can access the theme parks and everything CityWalk has to offer, early entry into the Wizarding World of Harry Potter, Complimentary delivery of merchandise to your room, Resort-wide charging ability with your room key, Comlimentary scheduled transportation to other Orlando destinations including Wet n' Wild, and more.
Purchase Express if staying at Cabana Bay Beach Resort (or at a non-Universal Orlando hotel)
One of the biggest differences in staying at Cabana Bay Beach Resort is that it does not offer Express. With Universal's Deluxe hotels, they offer complimentary express with your stay. Cabana Bay Beach Resort is priced significantly lower, so purchasing Express when you get to the parks is still an option if you're considering it. Even if you were to purchase Express sepratley valid for a park-to-park experience, you could still be saving money in comparison to staying at one of the Deluxe Hotels.
In pricing a couple nights out this summer, I found without discounts and purchasing express, it would be a total of $253 per night staying at Cabana Bay Beach Resort verses the cheapest Deluxe Hotel at $304 per night. NOTE: Express pricing is per person… So, the more people you have to buy Express Passes for, the more you'll be spending. Staying in one of the more expensive hotels that includes Express might be the better option for you!
Arrive early or participate in early entry
Universal Orlando announced yesterday that through the first few weeks of August, Universal Studios Florida and Islands of Adventure would be opening a full hour earlier to allow guests to spend more time in the parks. Instead of the normal 9am opening, both parks would be opening at 8am! That means that on-site hotel guests will also be able to enter The Wizarding World of Harry Potter a full hour earlier, beginning at 7am. If you're staying on-site, take advantage of it and head out to The Wizarding World of Harry Potter and get the big attractions done before the big crowds come pouring in at 8am.
Even if Hary Potter isn't your thing, you can still go and see what you want while the crowds aren't as big and as the park opens to regular guests, head out into the rest of the park and see what you'd like to. You're already one step ahead of the game at that point, so early entry can't hurt you any!
Arriving early also gives you a great opportunity to leave a little earlier when Florida's Summer heat really starts to set in. You can head back to your hotel room to rest and recharge for a little bit and then head back out later in the afternoon to experience things you may not have had a chance to earlier that day.
Single Riders Line
If you're looking for an excellent way to save time, the Single Riders Line usually has pretty short lines. Most of the attractions at Universal Orlando offer them too, so you won't be stuck waiting in long lines all day long. Single Rider Lines are also great for attractions that don't participate in Universal's Express Program. Sure, you'll be split up from your party, but your wait time will greatly be reduced.
Plan on spending 4 days minimum at Universal Orlando's theme parks
A four day vacation at Universal Orlando is a solid vacation and pretty much gives you all the time you need to see everything. I highly recommend spending a full day at Universal Studios Florida, a full day at Islands of Adventure, a full day split between The Wizarding World of Harry Potter – Hogsmeade and Diagon Alley, and on the last day, go back and see things you missed or things you really liked.
Purchase a park-to-park ticket
With the above plan in place, you'll need a park-to-park ticket. Sure, you may not use it every single day, but you'll use it where it matters. For example, the day you decide to spend inside The Wizarding World of Harry Potter, you can take a trip on The Hogwarts Express to the other park to experience the other area. In order to board the Hogwarts Express, Universal requires that you have a park-to-park ticket. One plus about the Hogwarts Express is that is makes for convenient travel from one park to the other without having to walk through CityWalk to get to the other park, provided the wait isn't extremely long. You'll also want a park-to-park ticket for the day you decide to go back and see things that you missed or loved at both parks, otherwise you won't be able to travel to the other park.
Budget extra for meals and souvenirs
Vacations are expensive. Period. Vacationining in Orlando is pretty expensive too. No matter where you go, whether you're eating out at a restaurant in Orlando (besides your fast food joints),  you're going to end up paying a good amount for your meal. Play it safe and budget more than you think you'll need for meals and souvenirs. After all, you can't forget to bring souvenirs home to friends and family members who couldn't go.. that's just a rule of thumb!
Simply, it's better to over budget and return home with a little extra money in your pocket than worrying about whether you'll have enough money to make it through your entire vacation.
Pace yourself
There's nothing like enjoying your vacation. You really should pace yourself on your vacation. Don't run straight from one attraction to the next. Take your time getting there and enjoy everything as you go. No matter how long your vacation is, it seems like everyone is always wore out at the end of their vacation. Instead of spending your entire vacation doing something fun and exciting, why not plan a lazy day? Spend your day at the pool or hang out in your hotel room watching TV for a little bit? You'd be surprised how a little rest and relaxation can change your entire vacation.
---
We hope these tips help you in planning your next trip to Universal Orlando!
You can book your vacation today by visiting Universal Orlando's official website by clicking here.
Get social with us!
Follow us on Twitter @BehindThrills and like us on Facebook @BehindThrills.