When Legends: A Haunting in Old Town originally opened in 2013, their original plan were to create special layovers during certain times of the year. However, with the launching of a brand new haunt in Central Florida, they wanted to keep the show unchanged for the first few months in order to give guests the opportunity to see it as it is. That all changed when the moon did.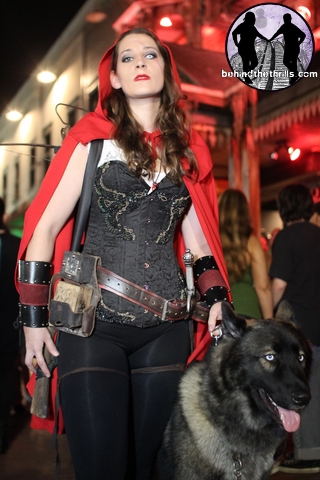 Legends: A Haunting in Old Town began hosting special events in June with a huge Friday the 13th event. For that event, special Twitchlings inhabited the house, and drove out visiting guests in huge numbers. Maybe it was the moon, but the crowds hoping to push their luck responded, and went crazy.
For July, it was once again the moon that Legends was celebrating. A super moon doesn't come around every month, but when it does come out, it brings very nasty things with it. This time was no exception as werewolves inhabited the hallowed halls of Ashdown and Sons.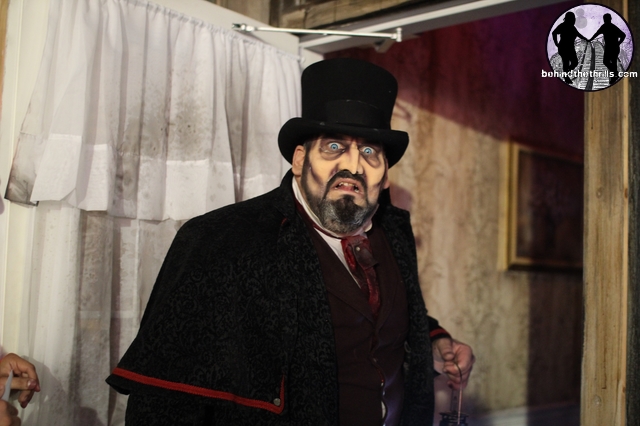 It was a problem so serious that it caused owner Archibald Ashdown to bring guests in personally. There was a wolf loose in the mortuary, and it was devouring all of the bodies. That's terribly bad for business, so Mr. Ashdown employed the help of a werewolf hunter, and brought in bait. Guests expecting a peek into the workings of Old Town's only fully operation mortuary were surprised to find out that they were being used as live bait.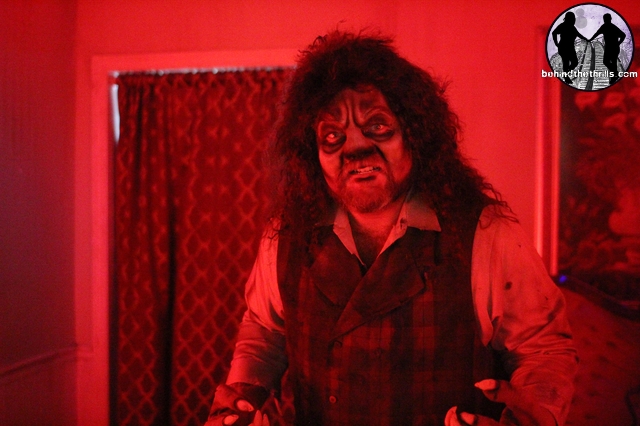 Unlike the Friday the 13th event, in which there were tons of unlucky souls inhabiting the house, The Howling at Old Town was a very special one night event. The house was literally torn upside down, with special surprises left all over the house. Everything from werewolf poop (complete with stench) to towering wolves, and a den full of walking beasts.
Video-Get werewolf advice from a gypsy, and watch the transformation of a werewolf at Legends in Old Town!

New props and make up was used for just one night. Think about that…usually in special events, there's months of work put in for at least months worth of scares. Since this was a one night event, the cast and crew worked tirelessly from the moment the haunt closed on Friday night and all day Saturday to ensure that things were ready for Friday night.
The normal make up that is used to bring Twitchlings to life wasn't going to work. Instead, house make up masters Lia Malamo and Tim Hays used latex face pieces (called prosthetics) and actual human hair (harvested from the back of Archibald Ashdown himself) to transform the actors into monstrous werewolves.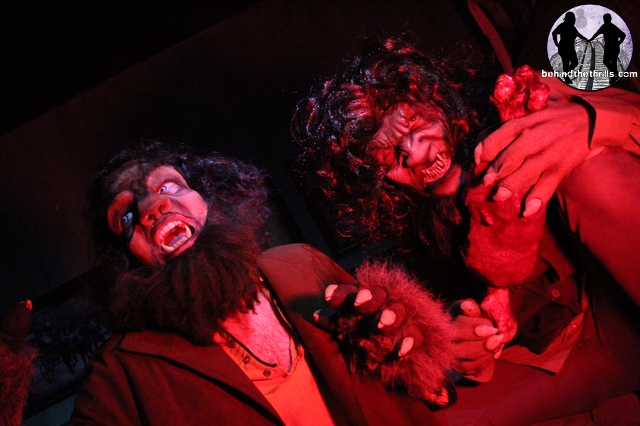 The result was…hair raising. Wolves jumping over rows of pews, pouncing on hunters, and terrorizing guests were highly successful in creating an all new experience. Even those who had been through the house many times, and considered themselves immune were running and screaming as new people, items and darkness engulfed them.
Are you upset that you missed the event? Good, you should be. It will never happen again. However, there's a good chance that new events will happen periodically. Even though there has not been an official calendar of events announced, with past events, and one already scheduled in August, it looks like occasional new events will happen. Jim Shackleford, Co-Owner and Operator of Legends Dark Amusements, has given us a sneak peek at the teaser for the next event that will be taking place at Legends: A Haunting At Old Town.
Darkness Descends on Legends: A Haunting at Old Town on Friday, August 15th. What exactly will happen when darkness comes to Legends? Your guess is as good as ours. Beyond August, the real fun begins. While nothing has been announced (or even hinted at) there are some very big holidays coming up. Could Legends celebrate Thankskilling? How about a night where Santa goes crazy? We can only hope! Beyond that there could very well be a monthly events. When we asked Jim Shackleford only smiled his mischievous grin and said "You never know."
Slideshow-Werewolves stalk the night at Legends: A Howling at Old Town

Legends: A Haunting in Old Town is Central Florida's only year round haunted attraction. While many attractions spring up during Halloween, Legends is the only place where you can get your scare at any time of the year. The haunted attraction normally tells the story of a murderous undertaker at Ashdown and Sons mortuary, but over the past two months the attraction has taken on a new story for a very limited time. August will continue that trend, as Darkness Falls on August 15th.
So what exactly will happen in August when Darkness Descends on Legends? We're going to leave you in the…dark on the details right now, but stay tuned for more details on the next event taking place at Legends: A Haunting in Old Town.
Be sure to get social with us on Facebook, and be sure to follow along with us on Twitter @BehindThrills for the latest updates!
For more information about Legends: A Haunting in Old Town, including tickets, visit the official website by clicking here.