When the crypt door creaks, and the  tombstones quake spooks get animated for a swinging wake, as Disneyland's Haunted Mansion will be celebrating 45 years of grim grinning ghosts in style. The iconic ride will be getting animated for a special to be aired on Disney Channel and Disney XD.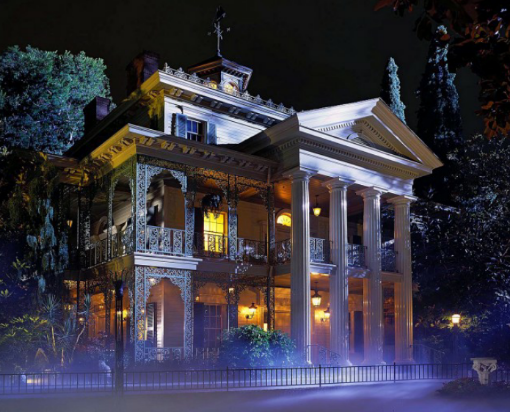 The 999 happy haunts will celebrate their 45th by getting animated in an all new special. Children's horror author and illustrator, Gris Grimly, will serve as executive producer and art director of the project, which should add some degree of sinister fun to it. Grimly's book Wicked Nursery Rhymes is a take on classic nursery rhymes with a little bit of a dark twist.
The Mansion has previously been turned into a full length, live action feature film starring Eddie Murphy. That film bombed at the box office and was not very well received. Most recently horror guru Guillermo Del Toro was attached to bring a new version of the attraction to the screen, but due to script issues that seems to have stalled.
Disney also announced an extension non the contract with Phineas and Furb creators to keep that show going. That show will also cross over with Star Wars within the next month for an all new special.
In addition, Disney has announced three new series.
Details from Disney Channel:
Billy Dilley's Super Duper Subterranean Summer"

Creative Talent: Director Aaron Springer, whose credits include the Emmy Award-winning "Mickey Mouse" cartoon shorts and "SpongeBob SquarePants," is creator.

Synopsis: Summer break takes an unexpected turn when Zak and Marsha end up stuck in uncharted land at the center of the earth with eccentric classmate Billy Dilley.

"Very Important House"

Creative Talent: Jhonen Vasquez, creator of cult favorite "Invader Zim" and character designer Jenny Goldberg ("Rick and Morty," "Bravest Warriors") are co-creators.

Synopsis: 11-year-old Frolie moves into the Very Important House and suddenly finds herself in the role of caretaker of the universe.

"Douglas Furs"

Creative Talent: Highly-regarded illustrator and former Sub Pop Records art director Jesse LeDoux and actor/writer Matt Olsen ("Sly Cooper") are co-creators.

Synopsis: Deep in the woods, beyond human reach, exists the thriving animal community of Douglas where Barry the bear, the world's least-handy handyman, takes it upon himself to fix all the town's problems.

New short-form series in production:

"Future-Worm!"

Creative Talent: Director Ryan Quincy of "South Park" and IFC's "Out There" is creator.

Synopsis: A boy creates a time machine lunch box and befriends a fearless worm from the future.
There is no timeline announced on the Haunted Mansion project, or what the special will entail.
Stay tuned for more from Disneyland, and be sure to get social with us on Facebook and follow along with us on Twitter @BehindThrills for the latest updates!
For more information about the Haunted Mansion, including Disneyland tickets, visit the official website by clicking here!