It's never too early to start planning for holiday fun. Disney's annual Epcot tradition, the Candlelight Processional, takes a revering look at the meaning of Christmas, and has grown into such a huge hit with crowds that people line up for hours to participate. It doesn't hurt that tons of celebrities also take part of the fun. Disney has released a partial line up for the event, and has put tickets for special packages on sale as well. While it may be only July, it's never too early to plan your holiday plans!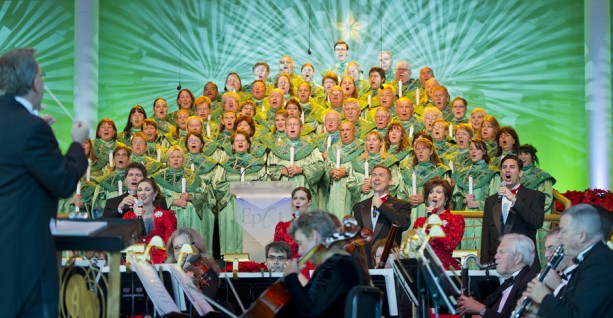 The Candlelight Processional started way back in 1958 with Walt Disney at Disneyland. It's a retelling of the classic story of Christmas, backed by a full orchestra and choir. The event has grown over the years, and now includes a celebrity narrator every night. The show is a beautiful tribute to Christmas with the true religious roots of the holiday.
Here's the list for this year's event:
Jodi Benson – 11/28 – 11/29
TBD – 11/30 – 12/2
TBD – 12/3 – 12/4
Whoopi Goldberg – 12/5 – 12/6
TBD – 12/7* – 12/8
TBD – 12/9 – 12/11
TBD – 12/12 – 12/14
Sharon Stone (New) – 12/15 – 12/17
Ana Gasteyer (New) – 12/18 – 12/20
Marlee Matlin – 12/21 – 12/23
TBD – 12/24 – 12/25
TBD – 12/26 – 12/27
Steven Curtis Chapman – 12/28 – 12/30
For those that want to guarantee a spot, without having to wait in huge lines, there are special dining packages for either lunch or dinner. The packages start at $35 dollars per person, and include lunch or dinner and a guaranteed spot for one of the Candlelight Processional shows.
Stay tuned for more from Walt Disney World, and be sure to get social with us on Facebook, and follow along with us on Twitter @BehindThrills for all the latest updates!
Guests can call 407-WDW-DINE (407-939-3463) or book online by visiting the official website by clicking here!