The Wizarding World of Harry Potter-Diagon Alley opened officially at Universal Orlando on July 8th. We were actually part of a media group that was able to experience the amazing new area a few weeks before. While were amazed at what we saw, and the way that the entire area completely immerses you, the one thing that we missed was the signature ride. Technical difficulties are a normal hiccup when opening an all new attraction, especially in a groundbreaking new attraction that merged so many different aspects into one. Because of that, we were not able to experience the key piece of the all new Wizarding World of Harry Potter-Diagon Alley…until now.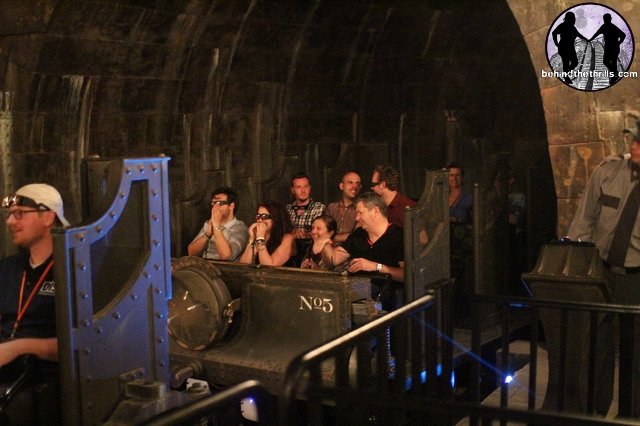 Up until the grand opening, Escape from Gringotts, the signature groundbreaking new attraction was not open to the general public, or to us. We had the chance to experience Diagon Alley right before grand opening, during the soft opening period, but alas, no Gringotts. Although we are in the "Central Florida area" we are the better part of two hours away, so just jumping up to the park isn't always an option. There's things like school (college doesn't stop during the summer) and work (day jobs…the bane of most bloggers) that prevent us from making the trek and hopping on. Plus, there's the every day summer crowds, the huge crowds that come with the opening of a new ride, and just timing.
While we had planned for a weekend stay at an onsite Universal hotel in the first part of August, the urge was there, and it wasn't going away. The chance came one random Sunday when we had to make an Orlando run for another park, and another reason. The event ran a little later than normal, so we had to cancel plans we made at another park, leaving us with time to kill. Could there be a chance that we would not only be able to get into Diagon Alley, but also onto Gringotts with just a few hours to spare? Let's be honest, no one really wants to wait in a line that is over two hours long, especially when you're going to have early entry in just a few weeks by staying onsite at Universal (we will be there August 8th).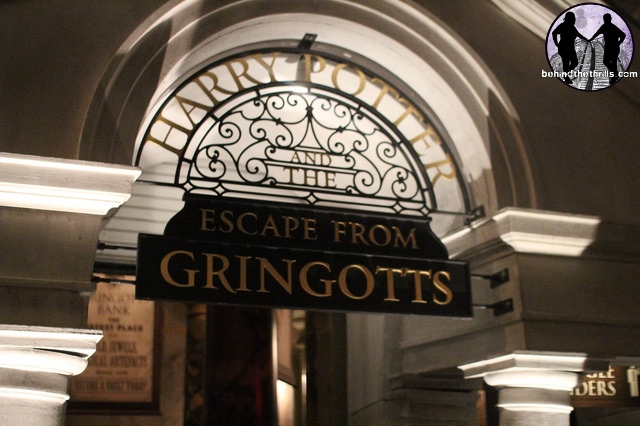 We decided to go for it, and try our luck. As luck would have it, there was very little waiting to get into Diagon Alley. As we walked in, the dragon spurt it's flames, telling us that luck was on our side. As we got to the entrance, the wait time said 150 minutes. That is the time that it takes to go through the queue, see the goblins, get on the elevator and see all the magic that the queue has to offer.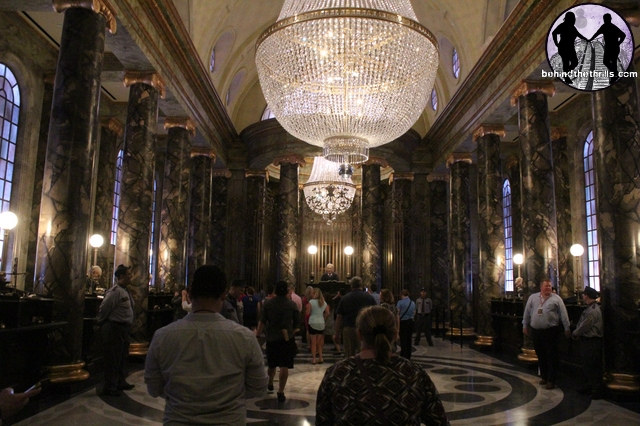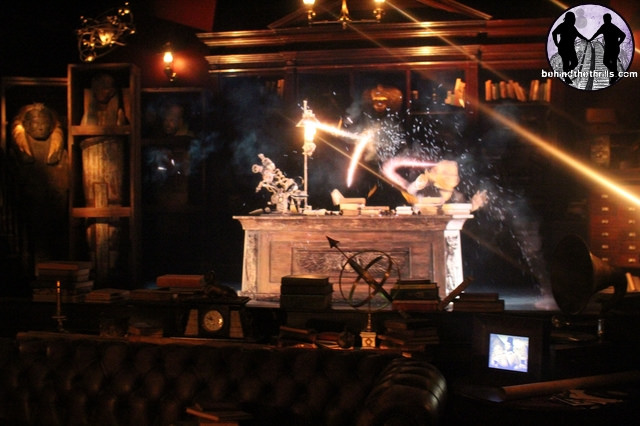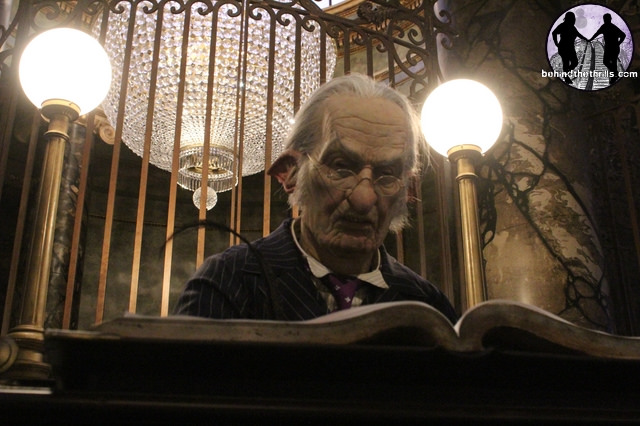 It is a gorgeous queue, to be sure. It's filled with Gringotts Bank goblins, a gorgeous lobby and of course we get to see a bit of Harry, Ron, Hermione, Voldemort and Bellatrix LeStrange while in line. There's also a very cool preshow featuring Bill Weasley, and an unnerving elevator ride.
Video-Take a walk through the lobby and into the vaults of Gringotts

The queue is flat out amazing, and for those who can't ride, it's worth taking a trip through just to experience it. That wasn't our goal, however, so we jumped straight for the single riders line. Single riders allows guests to experience the attraction, without waiting in a huge line. You can bypass those who want to ride together with their friends or family. You can enter the line with your friends or family, but you WILL NOT ride together. The posted wait time was 2 and a half hours long. Our wait with single riders was just over an hour. Still a little bit more than we like to wait, but this was Gringotts! We needed to take a tour through the vaults!
Rides start off with you boarding the train, and taking a tour through the vaults of Gringotts. You are greeted by Bellatrix LeStrange who accuses you of being "The imposters". What follows is a wild ride full of trolls, goblins, dragons and of course Voldemort. We see Harry Potter, Ron and Hermione, but very briefly. This whole ride takes place during the bank break in during Harry Potter and the Deathly Hallows. This bleeds directly into the scene where they are trying to steal the Horcrux from Bellatrix's vault.
While we want to tell you everything that happens, it's best that you go in completely surprised the first time. There are surprising moments that are best left as a surprise.
The ride system is a bit of a controversy. Is it a coaster, is it a simulator, what is it like!?
The ride is most definitely a coaster. It has a few launch sequences, as well as a drop and some decent banked turns. The ride is also simulator, as it uses really huge projection screens, as well as 3D. There's also a ton of special effects. The biggest thing about the new attraction is that the cars spin. While you are going forward, the car you are riding in spins from side to side. It's not very dizzying, and is done mostly for effect on the screens. It's very effective, and in some spots very disorienting. There's one point where you are going down a hill, through a turn, as your car is spinning. It gives a completely new sensation. Coasters have spun before, but this is so subtle and just well done.
What does the ride compare to? It's a tough call. There is definitely a mix of Mummy, meets Spiderman, meets Forbidden Journey going on here. You can pinpoint many different attractions that it borrows some elements from, but it's a beast entirely of it's own.
So who will like this ride? There is a 42 inch height requirement, making it a very family ride…but that shouldn't trick you into thinking that it's a ride for the entire family. Ride system wise, it's very tame, and just about everyone can handle it. There's one slightly intense part where the track tips and you go falling downwards, but it's not very steep and it's not surprising, you actually see it coming. Where little kids will have the biggest problem is with the fact that it's in the dark, there's some scary images of things like trolls and dragons on these huge screens. There's also Voldemort, and he brings along his big snake, Nagini. It's not near as scary for little ones as say, Forbidden Journey might be, but it does have some moments.
So who can ride this ride? Unfortunately due to the types of harness and ride vehicles that the attraction utilizes, guests with larger sizes may not be able to ride. The ride uses a lap bar that comes down not only on your lap, but also across your legs. Those with larger bellies or legs may not get the all clear. There are test seats out front to make sure you fit. If you barely fit, or just miss the mark, we were told to aim for the 3rd row. The ride vehicle is two cars put together. The row in question is the third row from the very front of the train. It does appear to have seats that are a little wider, which makes for more room with the lap bar. Not sure if that's really the case, but it certainly felt like it.
If you want to ride, but do not want to wait in line for a ridiculous amount of time, there are two suggestions. The first is to go through the single rider queue. The second is to stay onsite at one of the four onsite hotels. Staying onsite will give you early entry into the Wizarding World of Harry Potter at both Universal Studios Florida, and Islands of Adventure. With summer hours, that equates to a 7a.m. opening, which allows for much shorter lines. Not many want to get up at 6:30 on their vacations.
The ride itself is fairly tame, but add in all the elements together and it makes for a very fun ride. Those looking to go speeding along with huge drops and massive loops may be disappointed. Gringotts is not a ride for thrill seekers, and instead tells the story of a bunch of Muggles taking a tour of Gringotts who just happen to get caught up in a huge battle between one of the most evil wizards of all time. It helps to bring the entire area to life, and completes the story that starts the moment you walk through the bricks to Diagon Alley.
Stay tuned as we bring you even more from Universal Orlando, and be sure to get social with us on Facebook, and follow along with us on Twitter @BehindThrills for the latest updates!
For more information about the Wizarding World of Harry Potter-Diagon Alley at Universal Studios Florida, including tickets, visit the official website by clicking here!