Construction at Busch Gardens Tampa continues on the record breaking drop tower, Falcon's Fury. The all new tower has seen it's opening date come and go as crews work tirelessly to get the new tower ready to ride. The 335 foot tower will be the tallest free standing drop tower in the world, when it eventually opens, and it will be the only drop tower that takes riders and puts them face down. The big question is, when will it open?
While there is no official opening date of Falcon's Fury, workers were seen installing all new cables on the drop tower. This is something that has been rumored as part of the problem with the tower, as many have suggested that the wrong cables were shipped to the park with the ride.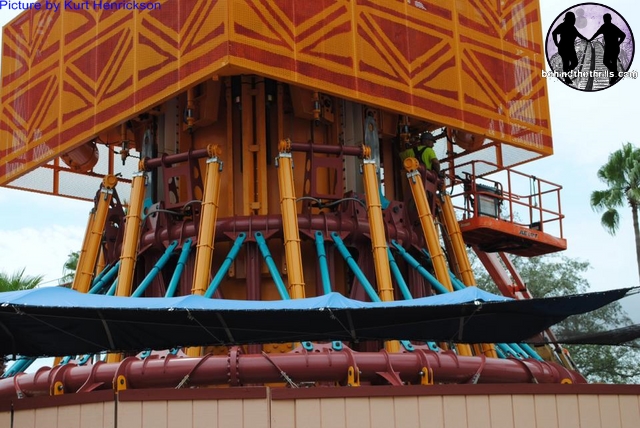 Workers have been spotted installing the new cables all weekend, on Falcon's Fury. While this is a closer step towards an opening, things are still a ways off. The ride would still need to be tested with the new cables in place. The park still says that a "late summer" opening is happening. If things go right, there's every possibility that guests could take a dive on Falcon's Fury as early as August 1st. Keep in mind that this is not official, and things do change.
Video-Take a dive on the world's tallest free standing drop tower…FACE DOWN
Update
According to a press release, it looks like Falcon's Fury will be part of Howl O Scream, the park's separate ticket Halloween Event:
Hundreds of roaming creatures will swarm the streets, making escape nearly impossible. A chilling live show will get your pulse pounding, and Florida's top thrill rides in the dark, including North America's tallest freestanding drop tower Falcon's Fury™ will keep the screams coming all night long.
While that's nothing of a definite opening date, it looks like the park is confident enough to include the drop tower as part of the attractions that will be open. Coasters in the dark is one of the major draws to the event, and a drop tower in the dark would be even better. 
More pictures from Falcon's Fury

Stay tuned as we bring you even more from Busch Gardens Tampa, and be sure to get social with us on Facebook, and follow along with us on Twitter @BehindThrills for the latest updates!
For more information about Busch Gardens Tampa, including tickets, visit the official website by clicking here!