The moon does strange things to people, and the full moon does even worse. People become raving lunatics, sometimes speaking in tongues, and even growing odd body hair. But enough about Friday nights at Walmart. Our friends at Legends – a Haunting in Old Town are at it once again. This July, it's going to be a HOWLING good time.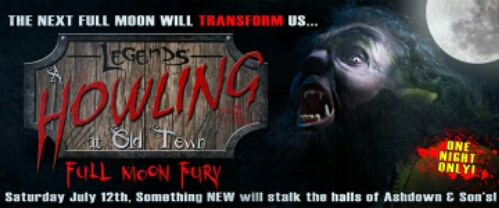 Twitchlings are ravenous by nature, giving those who dare roam the halls of Ashdown&Sons a reason to run. However, legend has it that the full moon does something to them. Of course, we're not exactly sure of what, because no one has really seen a Twitchling by the light of the moon.
On July 12th, Legends – a Haunting in Old Town becomes a Howling in Old Town as Full Moon Fury takes over.
One night only, a new fear will stalk the halls of Ashdown&Sons, and we hear that Archibald Ashdown is a little worried. Why the demented ghost of a ghastly caretaker is worried is beyond us, but if he's worried, then you should be too.
Just a few weeks ago, Legends made Friday the 13th your lucky day when they brought out a special celebration.
Video-Fright Day the 13th at Legends

This time you can expect a more "hair raising" experience.
Update
Archibald Ashdown has confirmed what we've thought…werewolves. An all new video teases the event, and flying fur.

Stay tuned for more devilish delights from Legends a Haunting in Old Town, and be sure to get social with us on Facebook and follow along with us on Twitter @BehindThrills for the latest updates!
For more information about A Howling in Old Town on July 12th, visit the official website by clicking here!