In the winter we like to cuddle, but in the summer we'll be a …Happy Snowman! If you're like many, you can't get enough of the hit Disney animated film Frozen. The film broke records, stole hearts and continues to be a huge draw for Disney. The parks have seen a huge boost with Frozen in EPCOT, and the Magic Kingdom. Meet and greets and parades have brought huge lines and big cheers. Now the fun gets even bigger as Frozen Summer Live takes over Disney's Hollywood Studios.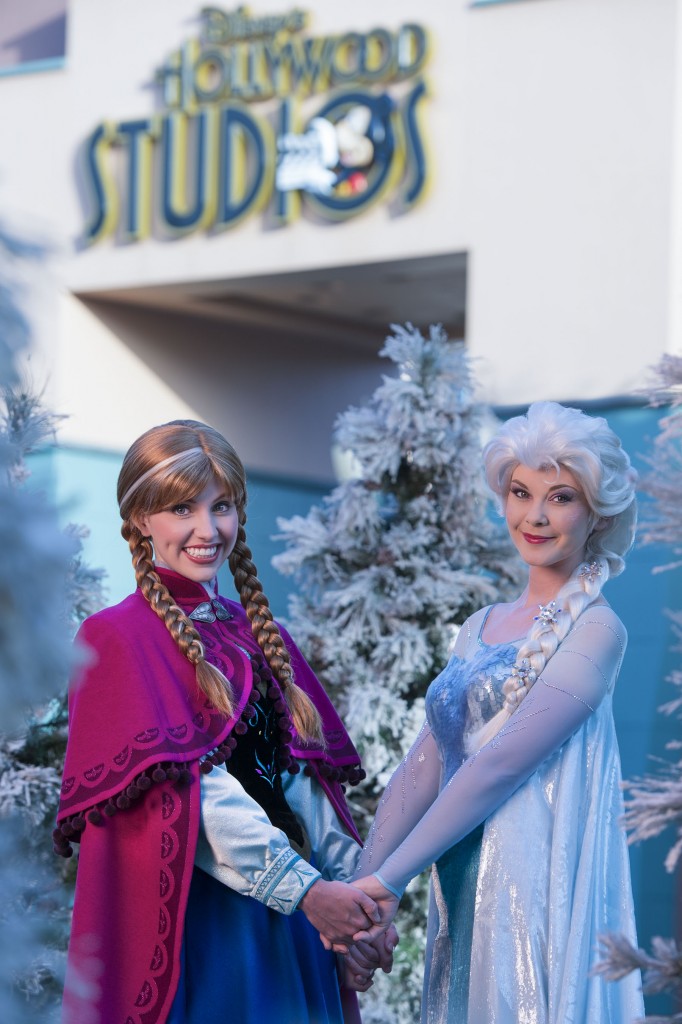 The all new event kicks off July 5th at Disney's Hollywood Studios at Walt Disney World, and will run until the ground starts cooling off on September 1st. The all new summer program is just one of the many ways that Frozen is slowly taking over the world. Earlier this year, Anna and Elsa made their premiere at EPCOT's Norway pavilion. The duo then moved to Princess Fairy Tale Hall at Magic Kingdom where they commanded 3 hour wait times to get a photo with the two.
The Disney Hollywood Studios Celebration will be filled with tons of great new activities, as well as all new merchandise and food selections.
Here's the official line up from Disney:
Olaf on Summer Vacation – Olaf the snowman is having the time of his life on his very first summer vacation! He chimes in throughout the day to keep everyone updated on all his adventures. Plus, you can pick up your very own Take-Along Olaf from locations in the park, so he can join you on your summer vacation. And when you share your photos with Olaf on social media, be sure to tag them with#OlafSummerVacation. They may just get selected to appear in that day's grand finale!

Anna and Elsa's Royal Welcome – At 11:00 a.m. each day, Elsa and Anna arrive in Hollywood as part of their goodwill tour of neighboring kingdoms, making their way down Hollywood Boulevard in a horse-drawn sleigh. Kristoff is along for the fun, too, joined by a flurry of skaters, skiiers, ice cutters and more! The entire procession culminates in a special moment at the Sorcerer's Hat Icon Stage to officially welcome the visiting royalty to this kingdom of Hollywoodland.

For the First Time in Forever: A "Frozen" Sing-Along Celebration – Cool down inside the Premiere Theater, where Anna and Elsa join the Royal Historians of Arendelle for a fun and comedic retelling of the unique history of their Kingdom, filled with delightful, sing-along moments from "Frozen."

Wandering Oaken's Trading Post & Frozen Funland – Inside Soundstage One, Oaken and his cousins have created a Frozen Funland filled with cold weather activities, unique photo opportunities, and more! There's a frozen pond with ice skating demonstrations, wintertime fun for kids in the "Do You Want to Build a Snowman?" play area, a "big summer blowout" with plenty of "Frozen" merchandise, and special "Frozen"-inspired food and beverage offerings.

"Coolest Summer Ever" Dance Party – Starting at 5:30 p.m. each day, a dance party takes over the area around the Sorcerer's Hat Icon Stage, with a DJ, live band, and more! The band plays a variety of classic and contemporary summer rock & roll hits, as well as a cool, rocking medley of "Frozen" favorites. It's going to be hot!

"Frozen" Fireworks Spectacular – Everything wraps up at 9:45 p.m. when Anna, Elsa, Kristoff, and Olaf come together at the Sorcerer's Hat Icon Stage for a grand finale to the day's festivities, kicking off an awe-inspiring fireworks display set to the glorious music of "Frozen!"
This is just the surface of what's rumored to be coming in the next few years from Frozen. There is rumor of a complete overhaul of Norway's Maelstrom ride to include characters from Frozen, replacing Vikings with cuddly snowmen and reindeer. There's also Frozen…on ice, coming to Disney on Ice this fall, and even rumblings of a Broadway musical in the future. Don't be surprised if there's also a line of direct to video sequels in the future as well.
Update 7-1-14
Wandering Oaken's Trading Post and Frozen Funland will open at Disney's Hollywood Studios Saturday. Located in Soundstage One and will feature fun, food, photo ops and …ice skating. Yes, ice skating in summer, in Florida will come to Disney's Frozen Summer. Cost will be $10 for 30 minutes of ice time, and will include skates and socks. The sessions will be first come, first serve, and will only be open until 8p.m. If you know Disney crowds, you'll want to go and reserve your time as soon as possible.
Update 7-2-14
For those wanting a little more exclusive access to the Frozen Summer, Disney has unveiled an all new VIP package that gets you closer to the action and front of the line to meet your favorite princesses.
Here's the details:
Guests who book the package will check in at Min and Bills Dockside Diner starting at 10:30 a.m., then enjoy refreshments and reserved viewing for Anna & Elsa's Royal Welcome procession at 11:00 a.m.

Experience reserved seating at one showing of For the First Time In Forever: A Frozen Sing-Along Celebration, which takes place between 12:30-7 p.m.
Evening will end from 8:30 – 10PM with an exclusive dessert party in a reserved area for viewing of the nighttime Frozen fireworks spectacular.
The package is $59 for those over 9, and $34 for those under. Park admission is required but not included in that price.
Book your spot by calling 407-939-1939.
Stay tuned for more from Walt Disney World and Frozen, and be sure to get social with us on Facebook, and follow along with us on Twitter @BehindThrills for the latest updates!