For six seasons viewers have been watching make up artists bring monsters to life on the hit show "Face Off" on SyFy. Now the monsters come to life in the streets, and mazes of Halloween Horror Nights for an all new scare zone. The hit SyFy show has been creating monsters for the past six seasons, with many of the artists coming from theme park backgrounds, including Universal Orlando. The creatures range from the morbid, to the down right frightening. While the seventh season of Face Off gets underway on July 22nd, the creatures will be coming to life at both Universal Studios Florida, and Hollywood when Halloween Horror Nights creeps back in September.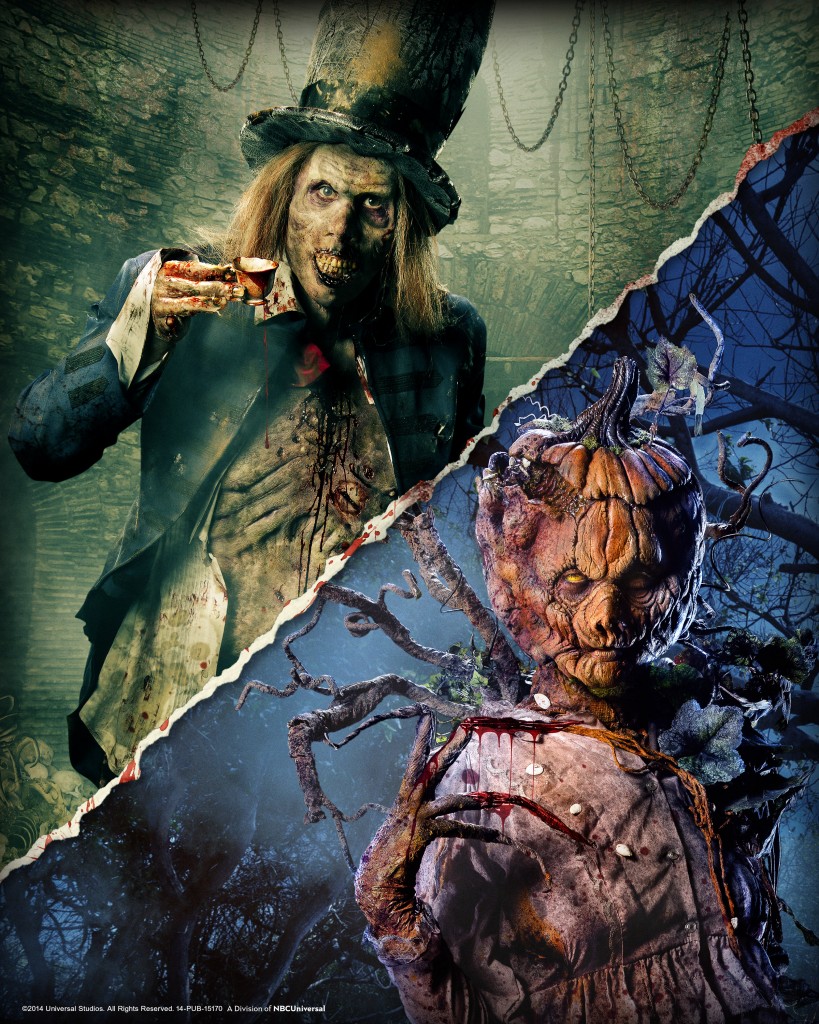 The all new experience will take both Universal Studios Florida and Hollywood by storm, creating two different experiences.
Orlando
The all new street experience will feature ten different creations from the past seasons, including a design created by Universal Orlando make up artist Laura Tyler. The monsters will each have their own area, and most likely minions to help do their bidding.  Ghoulish monsters that protect castles and scarecrows in farmhouses are a few of the different characters that guests can expect from the all new street experience. From what we gather this will be just one scare zone broken up into several different areas. For those familiar with the event, think 7 from HHN 21.
Hollywood 
Universal Studios Hollywood will be a completely different monster altogether. The all new maze-Face Off:In the Flesh will feature the show's past six seasons. Twenty-two original "Face Off" designs – from human-insect hybrids to horror villains, ancient mummies and zombies – will cascade throughout the dark corridors of the terrifying new maze bringing to life multiple incarnations of these select characters and adding to the cast of characters designed to scare the life out of every guest. "Face Off: In the Flesh" will also feature new sounds from acclaimed electro house artist "Figure," who returns to Universal Studios Hollywood's "Halloween Horror Nights" with a haunting mix of electronica-inspired dance music. The music will once again be provided by dubstep DJ Figure. Figure provided the music for last year's Monsters Remixed maze which saw classic Universal Monsters mashed with newer settings, and haunting electronica music.

"We're excited that some of Face Off's most memorable and visually stunning creatures ever will be brought back to life for Universal Studios' 'Halloween Horror Nights,'" said Bill McGoldrick, EVP, Original Content, Syfy Original Programming. "Over the years, the talented artists of Face Off have dreamed up some amazing creatures that we know will make terrifying additions to the 'Halloween Horror Nights' experience."
"The gruesome creatures imagined on Face Off are the perfect fit for the streets of Universal Orlando's Halloween Horror Nights," said Michael Aiello, Director of Entertainment – Creative Development, Universal Orlando Resort. "Our goal is to bring to life the macabre artistry displayed in the characters seen week after week. We are also very excited to be featured in a season 7 episode of Face Off, and to include that episode's winning makeup in the maze. For our guests, I know it will be a uniquely terrifying opportunity to come face to face with these creations for the very first time now "In the Flesh."
"'Face Off's' inspiration to create original movie-quality creatures makes for very compelling television," said John Murdy, Universal Studios Hollywood's Creative Director for and Executive Producer of "Halloween Horror Nights." Collaborating with the show's creative team, however, gave us a unique way to extend the life of these exceptional characters that make-up artists have poured blood, sweat and tears into creating. We're excited to put these incredible works of art to the test and see just how scared our guests will become when they are face to face with live versions of these nightmarish characters."
This is the third announcement for both parks. The other two were mazes, both being based on TV shows.
The Walking Dead has been a staple for the past two years at both parks, bringing in huge crowds and tons of zombies. From Dusk Till Dawn is the second TV series that is being brought to the event, and is based on the El Rey Network series, created by Robert Rodriguez. With this third TV based project, could we be seeing a theme, or is this where it ends?
Halloween Horror Nights kicks off on September 19th and continues until November 1st on select nights. The event is a separate ticket event, and is not recommended for those under 13. The seventh season of Face Off kicks off on Tuesday July 22nd…what other monsters can we expect?
Stay tuned as we bring you even more from Halloween Horror Nights, and be sure to get social with us on Facebook, and follow along with us on Twitter @BehindThrills for the latest updates!
For more information about Halloween Horror Night, including tickets, visit the official website by clicking here!