The Winchester Mystery House is rumored to be haunted by the ghosts of all those killed by Winchester Rifles. In fact, Sarah Winchester had the house built after the deaths of her husband and son. She believed herself to be cursed by the spirits, so much so that the house became an obsession of hers. Now, the house and Sarah herself are the subject of an all new film by legendary horror studio – Hammer Films.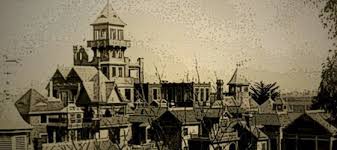 The film will be directed by the filmmaking brothers, Michael and Peter Spierig.
"We can't wait to see what the Spierig brothers unearth as they delve in to the mysteries of Sarah Winchester and her infamous haunted house," said Tobin Armbrust of Hammer Films.  "As the first feature film ever shot inside the Winchester Mystery House, we are excited to have these fantastic filmmakers bring their unique vision to the table."
The brothers have previously written and directed the Ethan Hawke vampire film "Daybreakers".
The new film will not only be about Sarah Winchester and the Mystery House, but it will also be filmed there as well. There is no word on what tone the film will take, whether it will be a biography, or if it will have more of a horror film tone. The film could work either way, with the true life story being a fascinating one. Sarah Winchester was real…and her family did create the Winchester rifle. She was convinced by a medium to move to San Jose California in 1884, where she started round the clock construction on the Gothic Mansion that would continue construction for 38 years, and span a massive 24,000 square feet with 160 rooms.
The mansion is said to be the most haunted place in the world, and known as the "house built for the spirits".There have been many inexplicable ghost sightings there and to this day, visitors share their terrifying stories of having been in the presence of these departed souls who continue to roam the grounds of the intricate and enigmatic house. 
The house was once the home to a Halloween event called Fright Nights. Up until last year the grounds would come alive with the spirits of the dead every haunt season.
Video-Take a walk through The Winchester Mystery House with Fright Nights

The film is being produced by horror powerhouse, Hammer Films. Hammer has a huge legacy of horror, with bloody versions of Dracula, Frankenstein and more. The last Hammer horror film was "The Lady in Black" starring Daniel Radcliffe, which will see a sequel very soon.
Stay tuned for more from the Winchester Mystery House, and be sure to get social with us on Facebook, and follow along with us on Twitter @BehindThrills for the latest updates!
For more information about the Winchester Mystery House, visit the official website by clicking here!