The Wizarding World of Harry Potter has been huge for Universal Orlando, with the resulting crowds being…well, magic. The magic is spreading as Universal Studios Japan is gearing up to reveal their version of the Wizarding World of Harry Potter. It marks the first Harry Potter themed area outside of the United States, and the first version outside of Orlando. Will the magic be as powerful in Japan as it is in Orlando? Every early indication points to yes!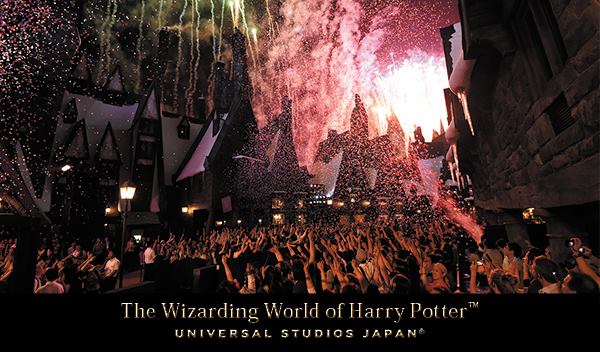 Crowds gathered as Universal Studios Japan as the park held a very special preview for guests and media. Fireworks erupted and confetti poured down on the crowd as they celebrated the eve of Harry Potter. The area officially opens on July 15th in Japan, but crowds were able to get an early peak at the new area.
The Japanese version of Hogsmeade is almost identical to Orlando. There is the village of Hogsmeade, which includes Ollivander's Wands, The Three Broomsticks, and of course Harry Potter and the Forbidden Journey. The area also includes Flight of the Hippogriff, Honeydukes and several of the other shops. The only thing that is not included is Dragon Challenge, and of course Hogsmeade Station where guests can ride the Hogwarts Express. The one thing that Japan will have that Orlando does not, is a souped up version of Forbidden Journey, the area's signature attraction. The Japanese version will use 4K 3D, where the Orlando version does not.
Video-Go window shopping in Hogsmeade at Universal Orlando


The all new area comes just over four years after the opening of the original Wizarding World of Harry Potter in Orlando, and just a week after the official grand opening of Universal Orlando's second Harry Potter area-Diagon Alley.
Video-Get sorted with the Hogwarts Sorting Hat at Universal Orlando

Japan is the second park to open the Wizarding World of Harry Potter, but it will not be the last. In 2016, Hollywood will also unveil it's version of Hogsmeade with a massive castle, and village. No other details about Hollywood's expansion is known at this time.
Stay tuned for more from Universal Japan, and be sure to get social with us on Facebook, and follow along with us on Twitter @BehindThrills for the latest updates!
For more information about Universal Studios Japan, including tickets, visit the official website by clicking here!