There's gold in them thar hills! The rumors of gold in Frontierland at Disneyland has created a struggle between the citizens of Rainbow Ridge and the peaceful citizens of Frontierland. It's up to you to choose a side, and figure out where that gold is. Which side will you choose? It's all part of the all new Legends of Frontierland: Gold Rush, an all new interactive game at Disneyland in California. The new card game is now open and offers guests the chance to interact with the area, characters and each other.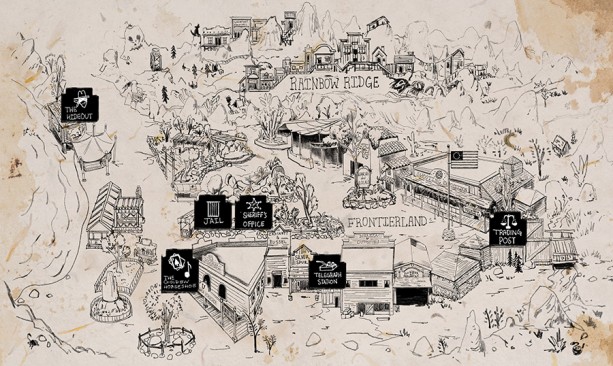 Guests will choose to be either a citizen of Frontierland, or Rainbow Ridge. Both sides have their strong points, and both sides have the same goal…find the gold. It all begins when you choose a character, and even give them a great Old West style name.
Here are some highlights of the new game:
Trading Post – This is the meeting place and first stop for new Frontierland citizens. This is also where citizens can keep up with the latest Frontierland news and swap plans for fending off those Rainbow Ridge ruffians.
Hideout – Like the Trading Post, the Hideout is the first stop and central meeting place for citizens of Rainbow Ridge.
Telegraph Station – The information hub of Frontierland, this is the place to send and receive important messages.
Sheriff's Office and Jail – This is where outlaws are brought to justice and where lawmakers work to keep the peace.
Talent Agency – Based in the Golden Horseshoe, this is where new talent is discovered and showcased in Frontierland.
Card Table – Also located in the Golden Horseshoe, this ongoing card game plays host to outlaws and heroes alike. Be careful what you say here! You never know who may be listening.
The game is more interactive than Disney's biggest interactive hit-Sorcerers of the Magic Kingdom. Not only do guests get to collect interactive cards, but they also get to go on specialized quests, send and receive messages to other towns folk, and even earn currency called "bits". The more bits you earn, the more information you can buy, plus there's rumors of being able to buy special merchandise with your bits.
The all new game is now open at Disneyland in California, and those looking to find out what's going on in the game can follow the #MyFrontierland and #MyRainbowRidge hashtags to help support your fellow citizens.
Stay tuned for even more from Disneyland, and be sure to get social with us on Facebook, and follow along with us on Twitter @BehindThrills for the latest updates!
For more information about Disneyland, including tickets, visit the official website by clicking here!