Haunt season is our absolute favorite time of the year. Nowhere else can you hear the sounds of screams, chainsaws and the smell of fog…and it be perfectly okay. We've already heard a bit of the line up from Halloween Horror Nights, and Knott's Scary Farm, but one haunt has been suspiciously quiet. Howl O Scream at Busch Gardens Tampa, Williamsburg and SeaWorld Texas have shown no signs of life yet this year. That's about to change as the little creaks in the floor have started, and the whispers are starting to rise from the shadows once again.
Recently the Tampa Howl O Scream website has been updated with just one simple message. Soon. There's a fence, a tree, and it's branches looks like it spreads towards another place.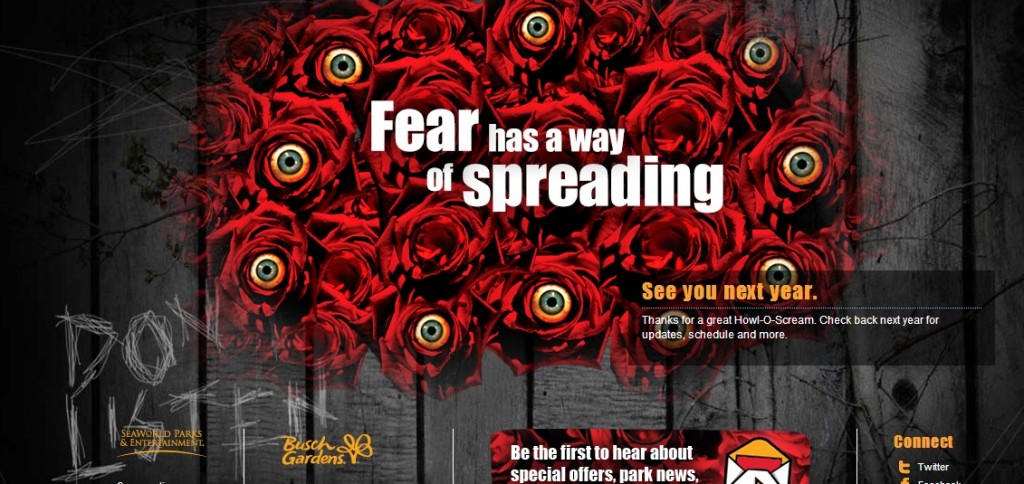 We heard a rumor about something, so we decided to check out the rest of the Howl O Scream (HOS) websites as well. While the Howl O Scream Texas site has not been updated at all since last year, the Busch Gardens Williamsburg site has. It's a subtle little change, but there it is. The standard eyeball flowers are in place, but there in the background is that same fence. In the corner is "Don't Listen". Intriguing.
Now before we start with the rumors, keep in mind that these are just whispers from the shadows. They are most likely not happening. Until you hear it directly from the park, they are just rumors.
SeaWorld Texas
The park had huge success last year with going in a darker more sinister direction with it's Howl O Scream. More grown up mazes, more amped up gore, and a bit more fun. This year the park is sticking with that philosophy and going with even more scare, with a change up in their house line up.
Busch Gardens Williamsburg
Here's where we get more rumors. Currently the park leaves HOS open to all of it's day guests and passholders. The rumor is that they will close the park at around 5, and then reopen at 7. Passholders will not get free admission to the event anymore, and it will be a separate ticket. There are also rumors of upcharge houses, and more adult themed areas. This has worked very well for the event in the past two years. We will see a huge revamp of all the houses, with only a few returning.
Busch Gardens Tampa
Small changes will happen to their "Experiment" upcharge house to keep it fresh. The current trend set last year of two new houses, while keeping the rest will continue. Zombie Mortuary and Nevermore could be on the way out, but there's also a huge rumor of those two, plus the vampire casino house getting completely replaced as well. One house will put you in the dark, listening to what appears to be distant roars of tigers. Once the alarm sounds, you are surrounded by blinding light and informed that tigers will be joining you. You have 30 seconds to get out before the tigers find you. (No…not really)
The theme this year could be a mash up of different characters and stories, but one consistent thing we've heard is that Howl O Scream c old share the same theme at all three events. The Busch Gardens parks have done this in the past with mixed results with their "Dark Side of the Gardens" campaign. If it happens, it would be the first year that all three events had the same theme. There's also word that all three parks will have a unique take on the same icon. Some suggest that theme will have something to do with hunters, or being hunted…but we really don't see that happening for obvious reasons.
Stay tuned for more rumors and speculation as Haunt season gets closer. Be sure to get social with us on Facebook and follow along with us on Twitter @BehindThrills for the latest updates!
For more information about Howl O Scream at Busch Gardens parks and SeaWorld San Antonio, visit the official website by clicking here!