We are getting right to the peak of Horror Nights rumor season, with announcement season right around the corner! We've been hearing many different things about this year's Halloween Horror Nights on both coasts. From the sounds of everything we've heard, if even half of it's true, haunt fans are in for an amazing treat this year. Instead of focusing on those rumors, however, we've got a bit of speculation based purely on observation. Keep in mind that this is just speculation, and in no way represents anything true. Until Universal announces it, it's not happening.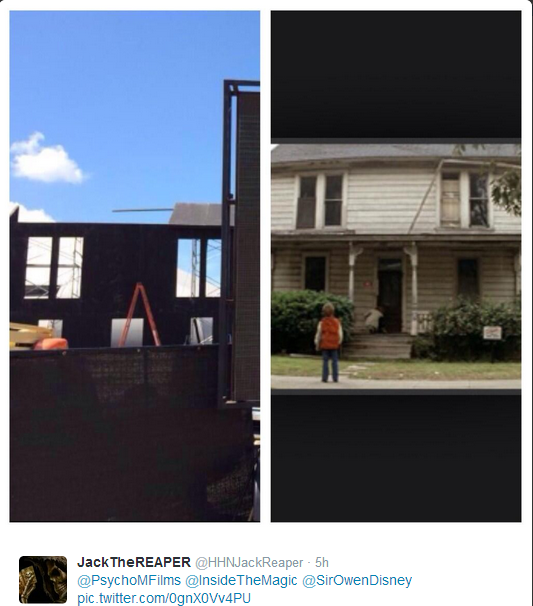 Our first bit of speculation comes from Halloween Horror Nights Orlando, and Twitter. Universal Orlando just opened the Wizarding World of Harry Potter-Diagon Alley at Universal Studios. The land is so amazing, that on opening day, the line to get into the area…just the area…was extended past Halloween Horror Nights construction. While we do not recommend taking pictures back stage, we also can't stop what is already out there. Twitter user @HHNJackReaper posted a picture of facade work going on in one of the tent houses. He then compared it to a film. That film was Halloween. Personally it seems too early in the construction phase to tell for sure, but many people are convinced that Universal will have Michael Myers at Halloween Horror Nights in Orlando. While it has not been confirmed, it makes complete sense. The film celebrated 35 years last year, and this year on September 23rd, there will be a huge box set of every single Halloween film ever made, including ultra rare Producer's cuts. On top of that, Michael Myers is easily one of the most recognizable horror icons. While the franchise is over 30 years old, and the Rob Zombie films weren't well liked by many fans of the classic series, (and the series kind of jumped the shark over 20 years ago) the Universal Art and Design team, along with their creative team has a way of breathing new life into older films and making them outstanding. Case in point-American Werewolf in London. That house was hands down one of the best houses that Halloween Horror Nights has ever done.
So, are you excited about Michael Myers possibly stalking you through Orlando?
Halloween Horror Nights Hollywood
Halloween Horror Nights Hollywood is becoming well known for their movie based houses. It's an amazing mix of classic horror with a twist, with several new and older modern horror films. This year, however, might be remembered for another reason. No Bill and Ted. Bill and Ted's Excellent Halloween Adventure has been a staple of HHN in Orlando pretty much since the beginning of the event. Last year brought a little bit of controversy when a writer for a some online magazine wrote a scathing article about how the Bill n Ted show was homophobic because it depicted a gay Superman. The storm that ensued pretty much lead to the show being cancelled for the rest of the year.
That's just one year…right?
It's very possible that Universal Hollywood…THAT'S HOLLYWOOD NOT ORLANDO…has been cancelled for this year as well. On the official Universal Studios Hollywood audition site (click here), the park has positions listed for tons of Halloween Horror Nights actors, but nothing listed for Bill and Ted. Compare that with the official Universal Orlando audition page (click here). Yes, they have Bill and Ted auditions listed. So, could it be possible that the show was cancelled? Yes…but not for the reason above.
There's a lot of construction happening at Universal Studios Hollywood right now. The Wizarding World of Harry Potter, Springfield and Fast N Furious:Supercharged are all set to open within the next two years. That leaves HHN with some space issues. Let's also add in the fact that Creative Director, John Murdy said that this will be the largest HHN in Hollywood to date. So…with that stated, it's very possible that not only could Hollywood be bringing seven houses to Horror Nights this year, but one of those houses could be in the stage that is normally occupied by Bill and Ted. It would be a great time to retool the show, and restart it next year, while giving even more horror filled mazes to the event.
It's also possible that the space will just lay dormant, or a new show will happen…but a new show would have auditions already, and laying dormant just doesn't seem like Hollywood's style.
Keep in mind that Orlando will still have Bill and Ted…This speculation is for Hollywood only. 
What do you think, would you be okay with no Bill and Ted, and instead more houses?
Update
Screamscape reminds us that a five year deal has been signed with the licensing group to have Bill N Ted in both Hollywood and Orlando. (click here) This year marks the 25th anniversary of the film that inspired the show. We still have that nagging feeling about those auditions though. Hopefully they'll add the auditions at a later date.
Keep in mind that everything here is just pure speculation, and not going to happen. In fact, all rumors and speculation is just that until Universal confirms it. So don't bank on it.
Stay tuned as we bring you even more from Universal's Halloween Horror Nights, and be sure to get social with us on Facebook, and follow along with us on Twitter @BehindThrills for the latest updates!
For more information about Halloween Horror Nights in Orlando and Hollywood, visit the official website by clicking here!