This is a developing story, so stay tuned as we update it. At the San Diego Comic Con-Legendary Panel, it has just teased a film called "Skull Island". The film was given a short, and very cool teaser trailer, with narration and monkeys. This is definitely a tease for a big guy coming back, but what could this mean for Universal Orlando who is rumored to be building an all new King Kong attraction?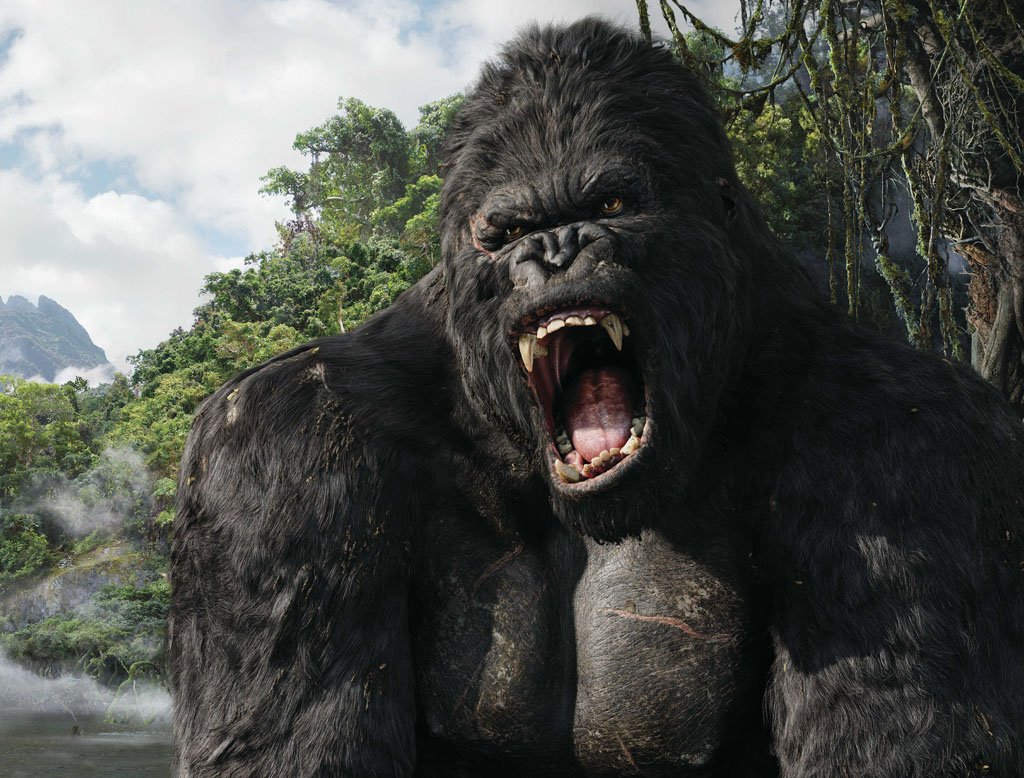 The narrator starts as the close up of a jungle surrounded by a lot of water. Fog rolls in, and we see a very thick jungle with tons of monkeys swinging about.
"It's very existence is improbable. Being alone in the wilderness had driven it mad."
The footage is very Jurassic Park in feel, with dinosaurs in the water, and what is clearly King Kong beating his chest as he roars. Banana Breath is back!
The film will be released November 4th, 2016 and will be produced in conjunction with Legendary Pictures and Universal Studios. The overall feel of the film definitely seems like a prequel and seems like a study of Kong's madness, almost like there's something else happening to the giant ape, besides being-ya know, a giant ape. No other details are known at this time, but it definitely feels like Universal and Legendary want to start a new franchise, taking the focus off the iconic New York skyline and taking things to the jungle instead.
Now let's get away from Comic Con, and talk theme parks for a minute. Could we see something new happening from Universal Orlando with a new attraction in the very near future? The deal that Legendary has signed with Universal gives them partnership rights in the theme parks. It's also rumored that in 2015 Universal will open an all new attraction based on King Kong. King Kong was one of the original attractions at Universal Studios Florida, which helped to usher in a whole new age of theme park attractions.
The following is just a rumor, and not officially announced. Until Universal announces it, it's just a rumor.
While Universal has not officially announced anything, it's believed that the new ride will be an extension of the King Kong 360 attraction that Universal has opened at Universal Studios Hollywood. Instead of being a tram ride, the Florida version will use the same technology, and create an all new experience. However, with this new film announced, it's possible that the idea is dead wrong.
The alleged Kong attraction will go in behind the current Jurassic Park area, closer to Toon Lagoon, and behind Thunder Falls Terrace. Recently the iconic Jurassic Park sign near the alleged Kong construction has been taken down. No one is sure what is happening to it. It's possible that Jurassic Park could be shrunk back past the new attraction, or it could be that a new land is being built with Skull Island in mind. We could be getting "Skull Island" mixed with Jurassic Park….or a complete new revamp of the whole damn area. At this point, no one really knows, but stay tuned.
Stay tuned as we bring you even more from San Diego Comic Con, and Universal, and be sure to get social with us on Facebook, and follow along with us on Twitter @BehindThrills for the latest updates!
For more information about Universal Orlando, including tickets, visit the official website by clicking here!