It's the panel everyone has been waiting for. It's the big one. Marvel Studios, which has a huge film coming out in a week, along with the sequel to one of the biggest films of all times, took the stage at San Diego Comic Con's legendary Hall H. This is where the Marvel Cinematic Universe got it's big start when Iron Man came on the scene all those years ago. Marvel had tons to deliver, but would they? What were the big announcements, and would there be any surprises in a day that was surprisingly not full of surprises?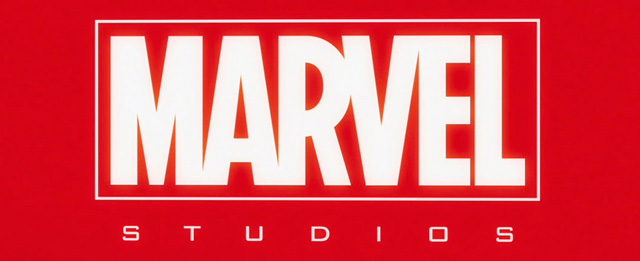 The Panel kicked off with a montage spanning the Marvel Cinematic Universe, from Iron Man's arc reactor, to the Avengers and finished with a look at the upcoming Guardians of the Galaxy, which hits theaters August 1st.
From there KevinFeige hit the stage, and started talking about the upcoming films for 2015, with an exclusive look at Ant-Man, where he brought the film's stars.  Michael Douglas and Paul Rudd were on stage to talk about playing the iconic character who is eventually a part of the Avengers.
Douglas confessed that he was jealous of Marvel films, because his films never had many effects. Evangeline Lilly, has been confirmed as being in the film as Hope Van Dyne, Hank Pym's daughter.
While filming doesn't officially start until August in Atlanta, the crew did film something to show to Comic Con:
A shot begins in the lab, and moves through to a glass cage with an anthill, as we hear Douglas and Paul Rudd talking, with Douglas telling Rudd he wants him to be Ant Man because he's just a regular guy. Rudd is terrified as Douglas tells him "Geez, you'd think someone only shrunk your balls". The hilarious tone goes as we see Ant Man on a roof in the city, tiny. Rudd runs and jumps off a ledge, just as a flying ant catches him mid air, the logo comes up.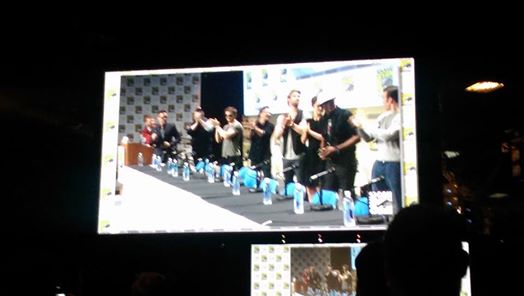 The showstopper was, of course, the Avengers who made an entrance on the stage dancing to Michael Jackson's "Don't Stop til you get enough". Downey came out with a briefcase, tossing roses into the crowd, in true Tony Stark fashion. While new characters did come out, Scarlett Johansen sat this one out, after just giving birth just a few weeks ago. As the actors hit the stage, each one talked about the challenges that each new character has had, including Captain America who is caught up with the world, but now is looking for a place to belong.
While Nick Fury and Ultron themselves were on stage, Scarlett Johansen was not, but she did send a video message to play. The video the Avengers hanging out, out of costume trying to lift Thor's hammer, of course none could lift it but Cap could budge it. Then there's an old Iron Man suit come to life like a zombie, it ends up being Ultron.
"There's only one path to peace. Your destruction."
Then came a flurry of scenes, including Banner in a straight jacket, Black Widow and of course Stark.
"It's the end. The end of the path I started us on."
"Nothing lasts forever." Widow chimes in.
Hulkbuster armor, and going head to head with the Hulk, and it all ends with the Avengers laying in a wasteland, all bruised and battered.
As the lights came up, Josh Brolin who plays Thanos came in glaring with the Infinity Gauntlet demanding a rose from Downey. It was a funny moment as Downey handed him a rose, and he ate it.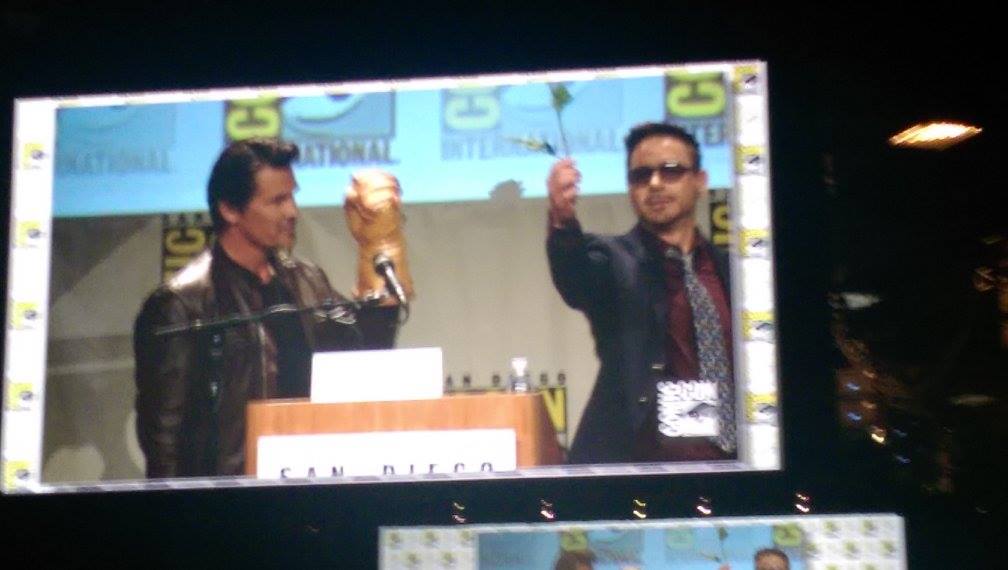 After the cast left, Kevin Feige introduced the James Gunn and Chris Pratt from Guardians of the Galaxy.
"How much trouble would I get into if I just told them Guardians of the Galaxy 2 is coming out?"
Which is just what they did, Guardians 2 hits theaters July 28th 2017.
Besides the panels, there were no other major announcements, even though the studio just grabbed a whole bunch of new dates for films coming all the way through 2019.
Stay tuned as we bring you even more from San Diego Comic Con, and be sure to get social with us on Facebook, and follow along with us on Twitter @BehindThrills for the latest updates!