Carowinds is getting ready to announce the details of their first new coaster since 2009. The North Carolina theme park has been teasing the new attraction for the past few weeks, sending out boxes to media, and even teasing images on the official website. Honeycombs, insect nets, everything seems to point to an insect themed attraction. Now, a new picture has surfaced which answers one question, but leaves more questions that will just have to wait until Thursday to be answered.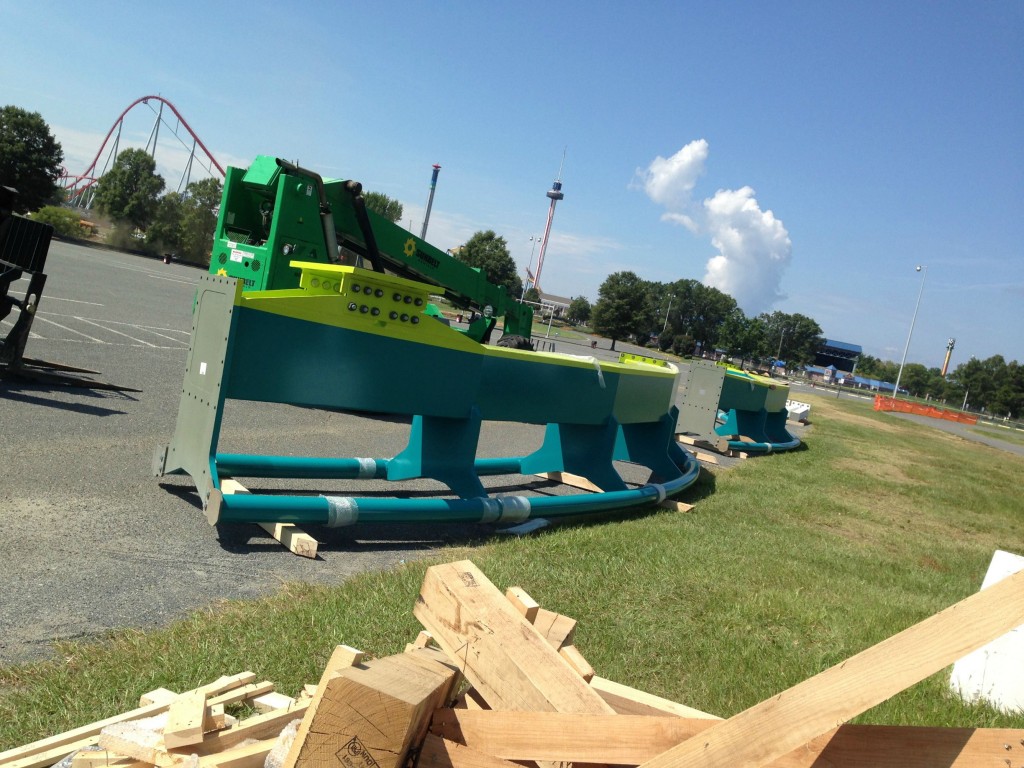 A Facebook fan group has posted a picture of what appears to be B&M coaster track at the North Carolina park. The coaster has a teal and green color scheme, and appears to be waiting for installation. There have been clues all over the official Carowinds Facebook page, and website counting down until the announcement.
On Thursday, for those who can't be in the park, there will be a live stream of the announcement online, via the official Carowinds website. So what's the new coaster called? There have been many rumors of a Roman themed coaster, with the name Centurion popping up. Centurion would be appropriate, as the coaster is rumored to be guarding the gates of the park.
Screamscape has posted a logo and tagline for what many are hoping are the new coaster. Fury 325 could be the name, as well as the height of the new coaster. Given the color scheme, however, we're going to guess that this might be a little off. It appears that the coaster will have a tie in with the Charlotte Hornets Basketball team, although this hasn't been confirmed. The color scheme of the new track, however, points to that being the case.
Still, we'll just have to wait and see exactly what the new coaster at Carowinds will be on Thursday.
Stay tuned for more from Carowinds, and be sure to get social with us on Facebook, and follow along with us on Twitter @BehindThrills for the latest updates!
For more information about Carowinds, including tickets, visit the official website by clicking here!