Although The Princess and the Frog made it's debut in 2009, the New Orleans Tourism Marketing Corporation (NOTMC) has partnered with Disney to bring the adventures of the animated picture The Princess and the Frog to life through an interactive website and more. NOTMC has partnered with Disney to create an interactive social campaign and offer a sweepstakes, boasting a grand prize of a trip straight to New Orleans. The campaign is dedicated to promote New Orleans being a family friendly vacation destination.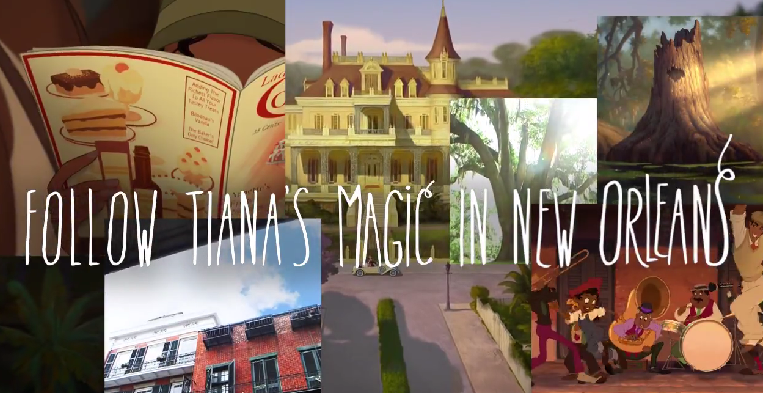 Being an animated film, The Princess and the Frog was actually based off of real locations inside of New Orleans. Custom content, Follow your NOLA, has been created to retrace the magic of New Orleans from the beloved story-line of The Princess and the Frog. With Follow your NOTMC has added Princess Tiana to Follow your NOLA to it's lineup of celebrities that visitors will be able to connect with by clicking here. Using Follow your NOLA, visitors can view several iconic locations that were used to create the story line of the film. New Orleans visitors can go and visit some of these iconic locations, including City Park, Jackson Square, and more.
"Partnering with Disney/ABC and 'The Princess and the Frog' is both an honor and exciting for our city," said Mark Romig, President and CEO of NOTMC. "The elements of the partnership will help our summer campaign further underscore the wonderful family attractions we offer as well as the unique connection between the movie and New Orleans."
Another perk being offered with this partnership is a chance to actually walk in the footsteps of Tiana with a sweepstakes, featuring the grand prize being a trip to New Orleans. The grand prize winner will be flown to New Orleans with themselves and three others, put into a hotel in New Orleans and taken to some of the iconic locations were featured within The Princess and the Frog. While there will only be one grand prize winner, twenty-five runner-up winners will receive a 3-disc set of The Princess and the Frog.
With the end of the sweepstakes near, click here to enter. It's free to enter, but you must be at least 18 years of age to enter the sweepstakes.