HersheyPark is known for mixing the fun if the past with current technology to produce family friendly thrills. For 2015, the park will take one the most fun elements from the past and mix it with the fun of a coaster for the first of it's kind experience in the United States. Guests will have fun laughing in the dark when Laff Track opens in 2015.
Laff Track will take guests on a fun romp through a family friendly house of cards as they encounter Laffing Sal, a huge cast of fun characters and of course a hall of mirrors. The new Maurer Söhne spinning coaster will have guests spinning and laughing as they glow in the dark with a huge throwback to Fun Houses of old.
"Fun Houses are an American amusement park treasure and an important part of the historical fabric at Hersheypark," said Kevin Stumpf, General Manager, Attractions & Entertainment. "We are thrilled to bring back some of the timeless elements from these classic attractions and, quite literally, put a new spin on them."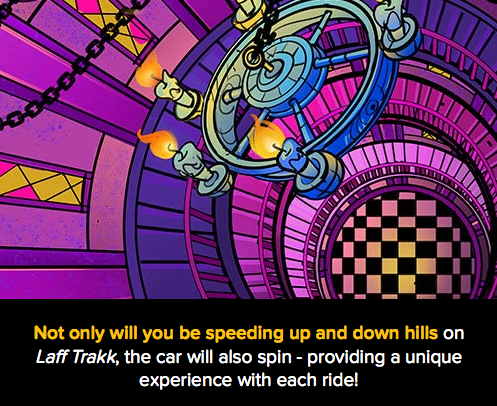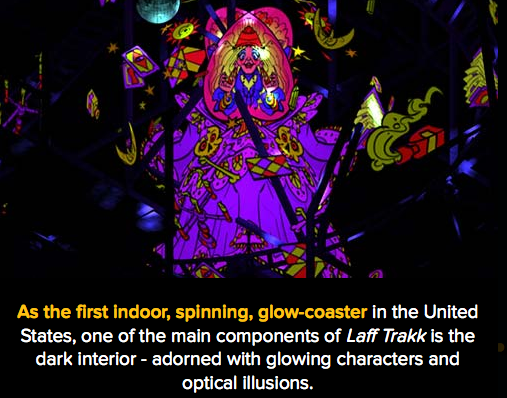 The new coaster is a throwback to classic attractions, and has a very distinctive look that HersheyPark was going for. For help with that look, they turned to the team at Raven Sun Creative, and Louis Alfieri who helped to bring major attractions for other parks, including Hollywood Rip Ride Rockit, at Universal Orlando to life.
"Our team took inspiration from researching iconic Hersheypark Fun Houses," said Louis Alfieri, Principal and Chief Creative Officer, Raven Sun. "We looked at archival images of 'WHOOPS,' 'Laugh Land' and 'Laffing Sal' with the goal of re-creating the nostalgic Fun Houses of yesteryear with the latest in technology in Laff Trakk."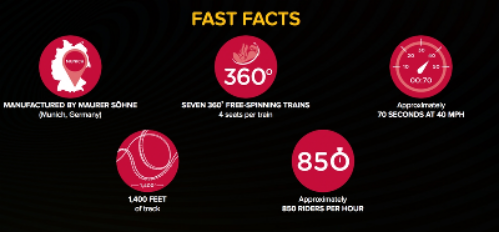 The coaster will feature seven free spinning trains, which rotate guests along the 1,400 feet of track at 40 mph. The coaster is the first indoor spinning glow coaster in the country, and will be the 13th coaster at HersheyPark. It is expected to open in May of 2015.
Video-Take a ride through the dark on Laff Track

Stay tuned for more from HersheyPark, and be sure to get social with us on Facebook and follow along with us on Twitter @BehindThrills for the latest updates!
For more information about Laff Track, including tickets, visit the official website by clicking here!