While it might feel like a bad dream that you really don't to wake up from, it's coming. Halloween Horror Nights Hollywood is officially one month away from opening. It's really almost here! Universal Studios Hollywood has always taken the screams off the screen and put them in the streets and mazes at Halloween Horror Nights, but this year is their biggest year ever. With seven mazes, five scare zones and Terror Tram, it really is the biggest yet.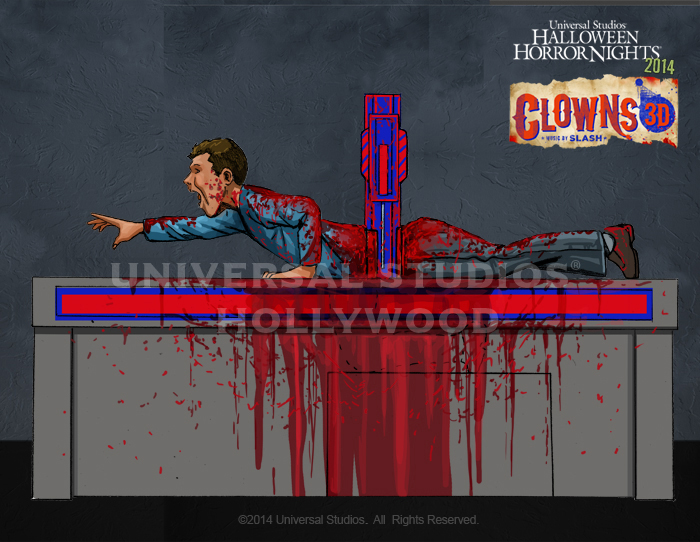 This year the full line up is a very odd mix of 3D, puppets and movie monsters as Horror Nights Hollywood tackles several different genres and films in seven unique mazes, and five scare zones.
Houses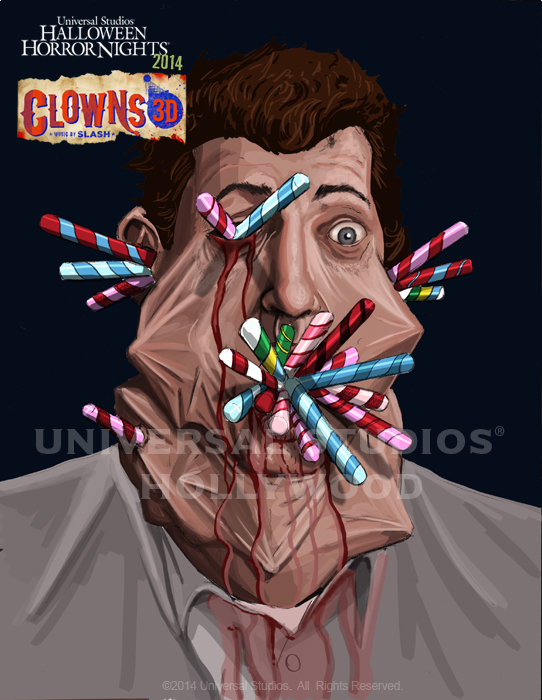 Clowns 3D:Music by Slash- For some reason clowns scare the hell out of people. I guess it doesn't help that they're constantly made to look menacing, and always want to kill you. HHN does nothing to help that image by not only putting a pack of killer clowns in an abandoned ice cream factory, but also having Slash provided the soundtrack.
An American Werewolf in London- This house was a huge success last year at Halloween Horror Nights Orlando, where the team used amazing puppetry to bring the werewolves to life. John Landis and John Murdy both promised that this house would be completely different, and would use puppets as well as new effects.
The Walking Dead:End of the Line- It's a huge walkthrough of all the familiar pieces from the past season of AMC's hit show, The Walking Dead. Guests will see Terminus, the Prison and much more as they try to escape herds of Walkers.
Face Off: In the Flesh- Where Orlando is getting a scare zone, Hollywood is doing a whole house dedicated to the SyFy series that makes monsters. Guests will see monsters that have been created on the show, live and in the flesh trying to make a meal out of you.
Dracula Untold:Reign of Blood- The film hasn't hit theaters yet, so guests really don't know what to expect from this retelling of the classic bloodsucker. Is he the hero, the villain? Guests will walk through his lair and see the man that became the monster
From Dusk Till Dawn- The hit El Rey show, based off the hit Robert Rodriguez film is now a house filled with evil vampires trying to devour those who wander through the Titty Twister.
AVP:Alien Vs. Predator- It's the showdown of the century as a Predator ship carrying the facehugging Alien species with it. It's going to be filled with special effects, puppets and god knows what else. This is officially the most anticipated house of the year.
Scare Zones
This year the scare zones take a different approach, and mix it up quite a bit. Three original ideas, one of which fans picked, along with two major properties will have guests running for cover.
The Purge:Anarchy- The new founding fathers have blessed this great nation with one night a year where all is legal for 12 hours. It cleanses our souls and saves this great nation.
The Walking Dead:Welcome to Terminus- The prison has fallen, the Governor is dead and now the only hope for survival is to make it to Terminus. Guests will encounter hordes of walkers on the way, but remember…those who arrive, survive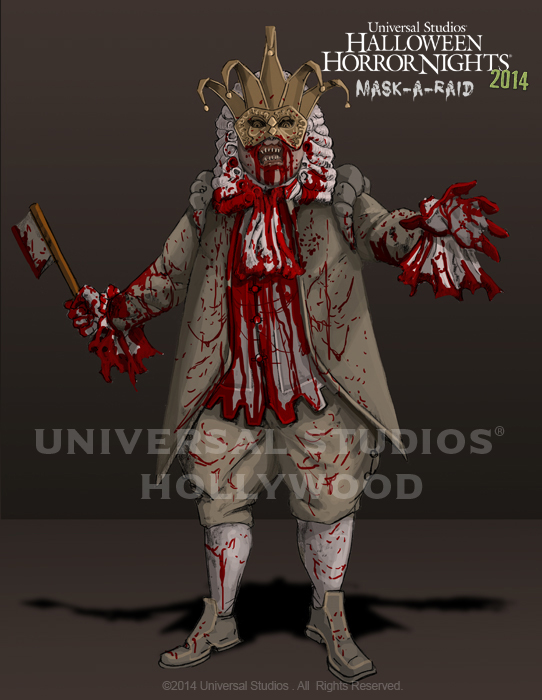 Mask-A-Raid- Roaming French street is a cult of cannibalistic French aristocrats. They feed on your flesh as they dance the night away in pre-revolutionary France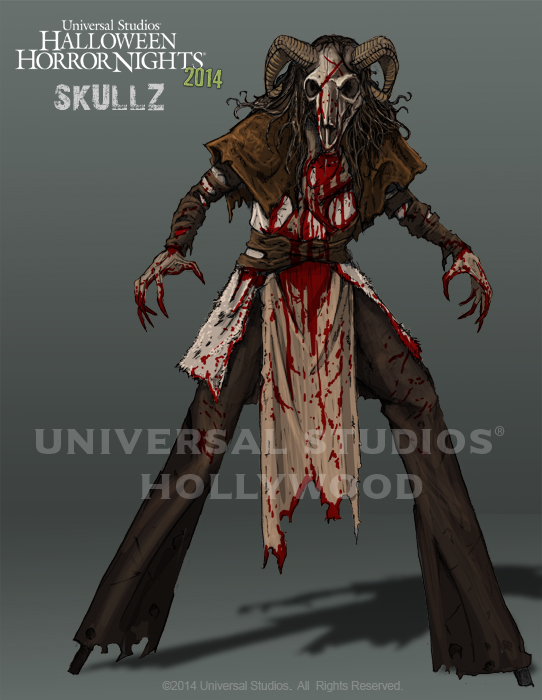 Skullz- The Wendigo is a very popular beast this year. The ancient spirit is inhabiting these huge creatures in Studio Center that have animal skulls for heads. They are hungry for flesh, as the spirit drives them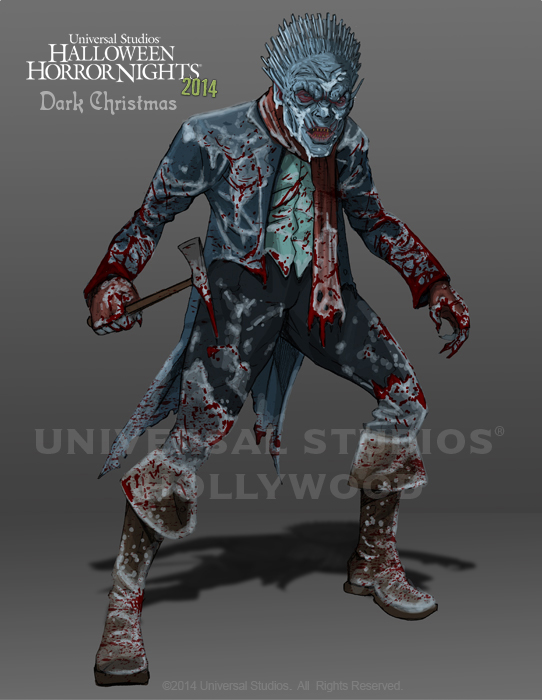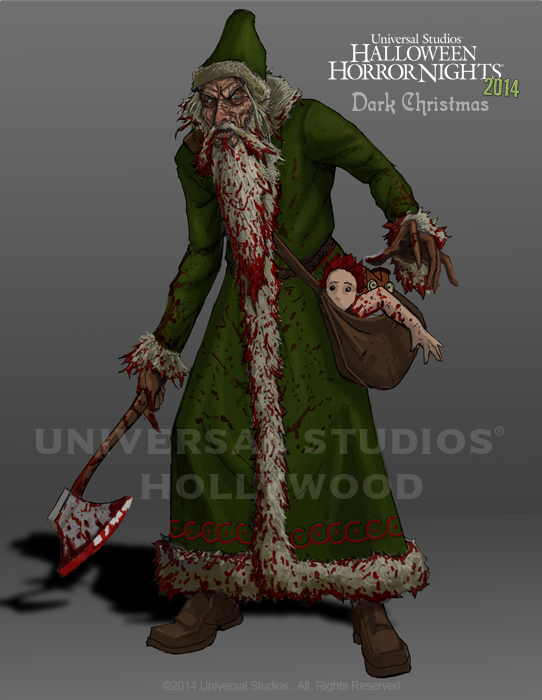 Dark Christmas- Christmas has been done before, usually with Mall Santa's that go crazy and chop up unsuspecting families. This year, Horror Nights goes to the roots of Christmas and shows you some of the legends that surrounded the most wonderful time of the year back when it was originally a Pagan holiday. These creatures include Jack Frost, Father Christmas and our personal favorite Krampus! Krampus is honestly celebrated in some countries with Krampusnaucht, and is a demon that travels with Santa. If you're good Santa gives you toys, if you're bad, Krampus puts you in his bag, beats you with sticks and drags you to hell! Merry Christmas, ya filthy animal!
Terror Tram- This year Terror Tram takes guests on a journey through the woods an into the realm of The Walking Dead. Burned walkers will come at guests from the scorched road to Terminus
This year there are no mentions of any shows. There was speculation on whether or not Bill&Ted will return, but so far there has been no mention of the show, or any other show. It's very possible that, with the controversy last year, the park will wait until the very last minute to announce that show…or any other show.
Tickets are now on sale for Halloween Horror Nights Hollywood, including VIP tickets and front of the line fear.
Stay tuned for more from Horror Nights Hollywood, and be sure to get social with us on Facebook, and follow along with us on Twitter @BehindThrills for the latest updates!
For more information about Halloween Horror Nights Hollywood, including tickets, visit the official website by clicking here!