Busch Gardens Tampa is taking interactivity at Howl-o-Scream to an all-new level with a brand new interactive experience. In 2013, Busch Gardens Tampa introduced The Experiment, which introduced new interactive experiences to Howl-o-Scream. The park continues to push further into the realm of interactive attractions with an-all new interactive experience never before attempted at Busch Gardens Tampa…interactively. Did we mention it's interactive?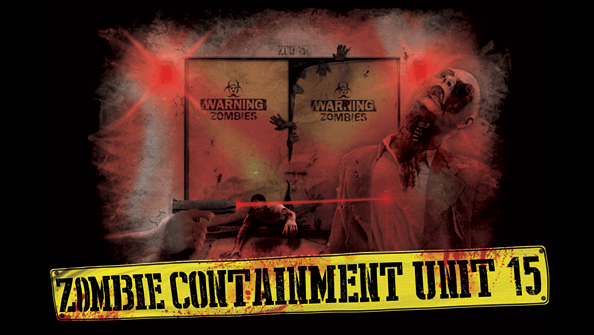 New for 2014 at Busch Gardens Tampa's Howl-o-Scream is Zombie Containment Unit 15. It will bring guests even closer to the action by putting them directly into the action with an all-new laser hunting experience. Several years after an invasion of the undead, there is a containment failure of the undead in Containment Unit 15 which has caused a hoard of flesh-eating zombies to escape in search of fresh meat. Howl-o-Scream guests are the target, but guests will be armed with a "Z.E.D." (Zombie Eradication Device) to hold off the mob of the undead.
Zombie Containment Unit 15 will be included with admission to Howl-o-Scream and will not require a reservation.
Busch Gardens Tampa will not be the only park to utilize this type of technology during Haunt season. Knott's Scary Farm announced a band new interactive experience earlier this month that. Both Knott's and Busch Gardens are introducing a brand-new concept of interactivity that has never been done before within the theme park industry. Knott's Scary Farm will utilize this type of experience in a scarezone, Special Ops: Infected. In contrast to Busch Gardens Tampa, Knott's will be requiring reservations for guests to participate in Special Ops: Infected. Howl O Scream will utilize the experience as a haunted house, which is something that has not been done with a theme park haunt. This also pushes the number of houses at Howl O Scream at Busch Gardens Tampa to eight.
Howl-o-Scream at Busch Gardens Tampa will return on Friday, September 26th. Guests can experience Howl-o-Scream on select nights from September 26th through November 1st. Howl-o-Scream at Busch Gardens Tampa is a separately ticketed event. General admission to the event is $89 per person, however guests can save money in a variety of ways, including purchasing tickets in advance at participating Publix stores and AAA locations or by utilizing promotional codes from participating Taco Bell and WingHouse restaurants. Annual Passholders can also purchase discounted tickets online.
For more information or to purchase tickets online, click here to visit the official Howl-o-Scream website.