One of the most popular shows during Howl-o-Scream at Busch Gardens Williamsburg will be returning to Howl-o-Scream this fall. Monster Stomp left the park several years ago, departing from the Abbey Stone Theater, located in the Ireland section of the park. Being an extremely popular show at the park, guests would have to arrive very early to even get a seat for the show and every show would be a full house. But Monster Stomp is back and it'll be even better than before!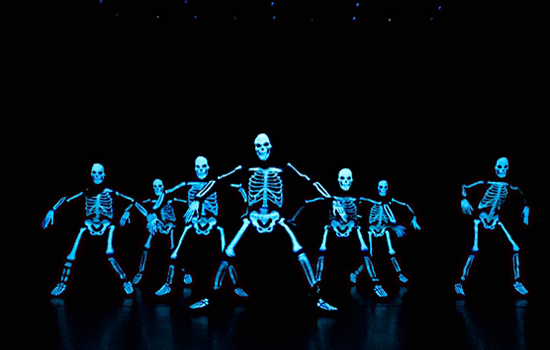 The all-new show will take iterations of the previous show and overlays it with state-of-the-art technology for an experience like never before, all inspired by Jack the Ripper's Victorian-era rampage in the East End of London.
"We are looking forward to introducing guests to another world-class production produced by the talented team of scare experts assembled here at Busch Gardens," said Park President Carl Lum. "Monster Stomp on Ripper Row is sure to raise the hairs on the back of your neck."
Monster Stomp on Ripper Row will return to the Globe Theater in the England section of the park this fall during Howl-o-Scream. Being in the Globe Theater, the park will have the opportunity to utilize the technology, such as video mapping technology, 3D soundscapes, rock-n-roll style lighting, on-stage illuminations, and more that was installed for the all-new show, London Rocks, that debuted this past Spring at the park.
The musical revue was a bit hit with guests when it made it's original debut at the park more than 10 years ago in 2002. Many of the show's signature elements that fans have come to love (like the dance of the skeletons) will return this fall, however there will be all new elements that guests will be able to look forward to. Percussionists will play a very central role as a four-person drum line will create a driving beat that can be felt through nearly 1,900 speakers. Music from the 80's, 90's, and today will be weaved together to create this heart-pounding soundtrack.
"There is more rhythmic content in Monster Stomp on Ripper Row than in any other show in the park's lineup," said Scott Gasparich, Busch Gardens' vice president of Entertainment. "Long-time Monster Stomp fans will recognize aspects of previous shows, but this all-new production is unlike anything we've ever produced for Howl-O-Scream."
Monster Stomp originally debuted at the park's Canadian Palladium in 2002. In 2008, Busch Gardens revamped the show and Monster Stomp Revamped opened in the Abbey Stone.
Video: Highlights of 2009 showing of Monster Stomp Revamped

Monster Stomp on Ripper Row will be joining two other Howl-o-Scream shows: Night Beats (located inside Das Festhaus) and Fiends (Abbey Stone Theater). Each show can perform up to six nightly performances, giving guests ample opportunity to see everything Howl-o-Scream has to offer, including terrifying mazes.
Howl-o-Scream at Busch Gardens Williamsburg begins on September 12th and runs on select nights through October 26th. The best way to see all of Busch Gardens and Howl-o-Scream is with an annual pass or a Fall Fun Card.
For more information about Busch Gardens Williamsburg or to purchase tickets, visit the official website by clicking here.