Bad guys have all the fun. Seriously, they really do! The all new Villains Unleashed party at Disney's Hollywood Studios at Walt Disney World kicks off for one night only, but it's going to be one heck of a bash! A record number of Disney bad guys will be in one place as the Villains Unleashed gets roaring on August 15th. The all new party will feature rare Disney villains, with more than 50 in total. Plus, the Disney Parks Blog has just unveiled that the Number One bad guy will be making an appearance!
Constantine will be making his first Disney appearance at Disney's Hollywood Studios during the all new Villains Unleashed party. The fiendish frog is the number one bad guy in the world, and is featured in this year's Muppets Most Wanted, which hits DVD and Blu-Ray very soon.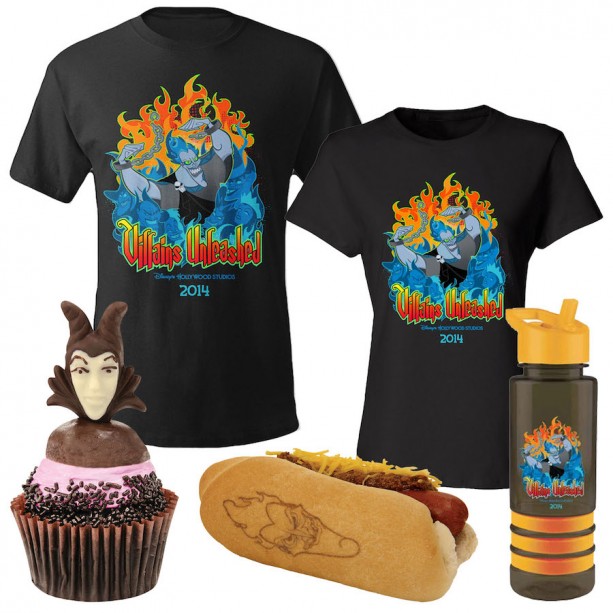 In addition to the number one bad guy, Disney has unveiled several new merchandise items for the huge celebration of bad guys. New shirts, and of course food items will be part of the fun. Hades face burned on a hot dog? Okay, we can see that. There will also be "Pain and Panic" punch, as well as several alcoholic choices for the grown up bad guys.
There's going to be tons of villainous fun at the all new party. Here's a run down of just some of the cool options:
Hades Hangout – The party kicks off at 8 p.m. at the main event stage, where hosts Hades, Megara, Pain and Panic are killing 'em with comedy. They're joined throughout the night by the Underworld Dancers, DJ Igg Nite, live music from Bernie Briquette and Brimstone, and a rogues gallery of roaming rottens, from the Queen of Hearts and Sheriff of Nottingham to the Big Bad Wolf and Captain Hook.

Villains Dominion – For this one special night, the Streets of America area of the park will be swarming with baddies. Here, you'll have the opportunity to meet favorites like Cruella De Vil, Jafar, Dr. Facilier and Gaston, along with more rarely seen baddies such as Shan Yu from "Mulan," Bowler Hat Guy from "Meet the Robinsons," or Captain Gantu and Dr. Hämsterviel from "Lilo & Stitch: The Series." In addition to these dedicated villain encounters, you may spot even more wandering evildoers in the area. Look for Judge Claude Frollo, Lady Tremaine, Anastasia, Drizella, and more!

The Dark Side – During "Villains Unleashed," the area around Star Tours – The Adventures Continuebecomes a wretched hive of scum and villainy, the place to find nefarious bounty hunter Boba Fett, Sith apprentice Darth Maul, and the ultimate villain – Darth Vader! And that's not all! Wandering the area, you'll stumble upon more malcontents from that galaxy far, far away: Zam Wessel, Aurra Sing, Asajj Ventress, Jango Fett, Greedo, Jawas, and others.

Villainous Encounters – Visit Stage 4 (where The Legend of Captain Jack Sparrow attraction is seen during the day), and you can "Parlay" with the one and only Hector Barbossa. And just around the corner in the Animation Courtyard is where you'll discover a bit of the Moors, where you can have an audience with the mistress of all evil, Maleficent!

Oogie Boogie's Freaky Funhouse Show – Over on Sunset Boulevard, Theater of the Stars presents a production of extreme performances, hosted by the original master of scare-monies, Oogie Boogie. It's an all-new show that's sure to thrill!

Fantasmic! – Strolling up Sunset Boulevard, a gang of villainous henchmen, known as the Night Crawlers, tempt you to join them for a special pre-show to the evening's performance of Fantasmic!, itself a celebration of the power and intrigue of some of the greatest Disney villains.

"Villainy in the Sky" Fireworks – Ultimately, Hades summons Maleficent to the main event stage to close things out with a devilishly dazzling display of pyrotechnics!

Update!-The event won't be all villains, as the Guardians of the Galaxy's Awesome Mix Tape dance party will be happening in Stage 5 at the Animation Courtyard. There will be a DJ spinning the soundtrack, plus Disney is teasing an appearence by Star Lord and Gamora. Say what?!?
Tickets are now on sale for the huge new party, which will rock Hollywood Studios on Saturday August 23rd.
Stay tuned for even more from Walt Disney World, and be sure to get social with us on Facebook, and follow along with us on Twitter @BehindThrills for the latest updates!
For more information, including tickets, visit the official Walt Disney World website by clicking here!