Frozen's worldwide takeover continues as ABC gets ready for what is sure to be the most watched season of it's hit show Once Upon a Time yet. The Hollywood Reporter has the first official look at one of the characters from Frozen, in motion, from this season's upcoming take over. Things are looking to get a little chilly in Storybrook.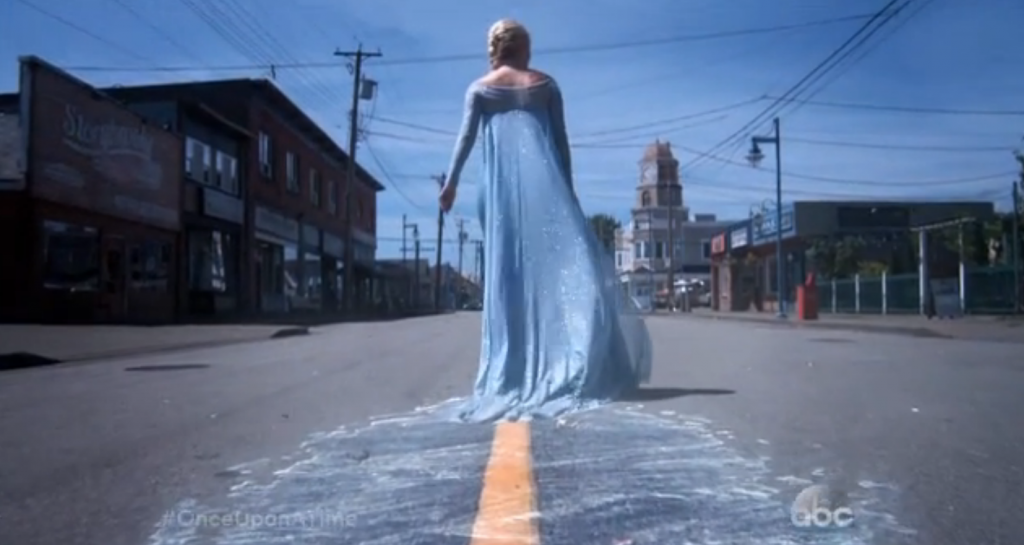 There have been dozens of pictures, and even a tease at San Diego Comic Con, but there hasn't been any actual looks at the characters in action, until now. The characters made a brief appearance at the end of last season, but the story looks like it will get more fleshed out.
Video-Frozen edition of Once Upon a Time teaser

While Frozen had a definite positive outcome, and the characters of Anna and Elsa were very friendly and nice, the source material paints a look that is just a little different. In the original story, The Ice Queen, Elsa is evil and freezes just about everything in her path. While Once Upon A Time is based on fairy tales, mostly made famous by Disney, the show does tend to take a few liberties with the Disney versions, and gets things closer to the original stories than the films do. Is there a good chance that the Frozen crew could be a little on the wicked side, or even further…evil? Not likely, but there will definitely be some chances for them to be "misunderstood" and played like pawns in the bigger picture.
This season of Once Upon a Time kicks off on September 28th, but it won't be the first TV appearance of Frozen. On Tuesday, September 2nd, Disney will air a special showcasing the making of Frozen (click here for more).
With theme park attractions in the works, it looks like Frozen will be hard competition for quite some time.
Stay tuned for more from Disney, and be sure to get social with us on Facebook, and follow along with us on Twitter @BehindThrills for the latest updates!