With stocks plummeting and rumors of buyouts coming, SeaWorld Parks and Entertainment looks to be facing some huge changes. The company just announced a $300+ million dollar deal to not only expand the Orca tanks, but also make huge changes in many of it's parks. Could the plan have been to sell the company all along? We take a look at the many rumors surrounding the company and what could happen to the parks within the chain.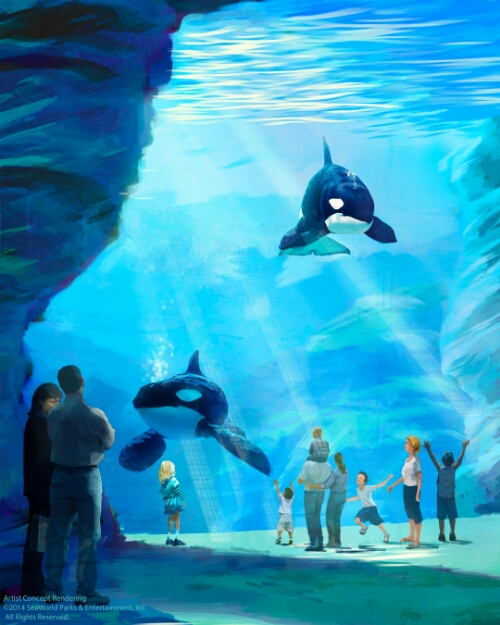 Screamscape reports this morning that Comcast is in talks with Universal to buy out the SeaWorld chain, being the company that stands to gain the most from buyout. Comcast execs have been spotted in the Orlando SeaWorld park, as well as in Discovery Cove over the past few days. Comcast is on a current growth spurt, vowing to spend $500 million in it's theme parks every year, with plans for 10,000 hotel rooms in Orlando. There are also the rumblings of a third Universal Orlando park, as well as many new hotels and even a waterpark.
Universal buying out SeaWorld in Orlando makes a lot of sense, financially, but does buying out the rest of the company?
We've been hearing many rumblings that while, yes, SeaWorld Orlando will become part of Universal, as well as Discovery Cove that's where it stops.
Let's break down the rumors park by park.
SeaWorld Orlando/Discovery Cove- Universal buys out these two properties, plans on making huge sea themed Universal park, similar to Islands of Adventure and Disney Sea.
Busch Gardens Tampa- Six Flags is said to be looking at this park, as well as Busch Gardens Williamsburg. The biggest reason is that Six Flags wants to keep the park the way it is, but get it's foot in the Florida theme park market. This plan will also include Adventure Island.
Busch Gardens Williamsburg- Herschend Family Entertainment (owners of Dollywood) is looking at this park, with the interest of keeping the roots right in place. Six Flags is also looking at the park, but isn't looking as hard. The park sits on property that borders Kingsmill Resort and community. Six Flags would want to put trade mark coasters all over the place, but Kingsmill would be a thorn in the side of any major theme park company.
Sesame Place- The little theme park that everyone kind of forgets about is own by SeaWorld would be sold to Children's Television Workshop. The company that owns the rights to Sesame Street in the first place would take their namesake park and run with it.
SeaWorld San Diego and Texas- These two parks would fall into the Comcast jurisdiction, and would operate pretty much as they do now.
Aquatica- The Aquatica parks would be kept by the same branch of SeaWorld that is being partnered with Village Roadshow, and would continue to grow. They would become a boutique waterpark, and would end up spreading to regional theme parks with the Aquatica brand.
Keep in mind that these are just rumors, and nothing official. It's most likely just over eager fans making conjecture. However, regardless of what ends up happening, SeaWorld is facing major changes. The park is not doing well on the stock exchange and is facing a lot of obstacles when it comes to publicity. Hopefully this is just the beginning of a huge rebranding and we will see SeaWorld emerge stronger than ever.
Stay tuned for more from SeaWorld, and be sure to get social with us on Facebook and follow along with us on Twitter @BehindThrills for the latest updates.
For more information about SeaWorld, including tickets, visit the official website by clicking here!