A year ago filmmaker and animal right activist Gabriela Cowperthwaite took videos from YouTube, and interviews with several ex-SeaWorld employees (most of them disgruntled) to release Blackfish. In the words of the official website-Blackfish is a "A mesmerizing psychological thriller with a killer whale at its centre" that is a one sided argument against SeaWorld and it's treatment of animals. It was later sold to CNN who made the huge jump away from news and aired several times of the past year. The film then became the topic of conversation as several "copy and paste" activists used the film as the catalyst to protest against several acts that were scheduled to perform at the parks, and through the threat of boycott got them to cancel their performances.  The film was released on July 19th, 2013. A year later, we look at how SeaWorld has handled the situation, and how the park is actually winning against the film.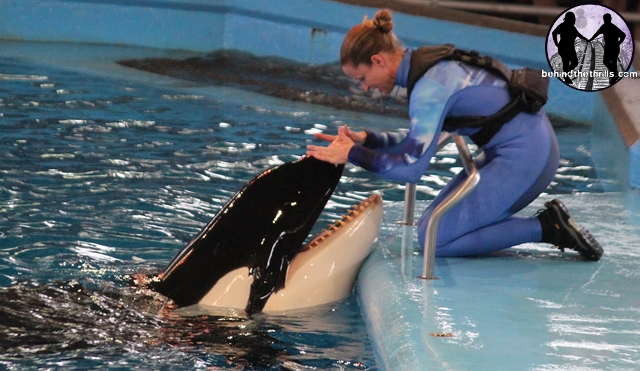 Blackfish was crafted with one thing in mind-destroy SeaWorld. The film uses emotion instead of fact and attacks the park while tugging on the heartstrings of it's viewers. SeaWorld, however, has fought back in a number of ways, with the biggest being what SeaWorld has always done best-educate and entertain.
Here are some other ways:
Support from those that have been affected by SeaWorld: When Blackfish first made it's huge impact, SeaWorld remained eerily quiet. They took out a full page ad in several big name papers that denounced the film. It was their fans, and theme park sites that first started to fight back the hardest. The Unofficial SeaWorld podcast, Stand with SeaWorld, MiceChat.com and our site were some of the first to stand up and voice different opinions than those that were popular at the time. Yes, it created controversy, hate letters and even death threats (yes, threatening death is how some try to save lives) but it also created a landslide effect in the battle, something that shifted and pushed to bring out more information about the film. Why support the park? Some would argue that we were paid to do it, but the honest truth is that SeaWorld has touched all of our lives in some way. For me personally, it opened my eyes to the ocean that I've lived near my whole life. It's also the place where I fell in love with my wife. It's inspired wonder in the eyes of my children and has helped them to further explore the world around them, with my daughter wanting to study Marine Biology. That is the effect that SeaWorld has had on the world for the past 50 years.
Exposed truth about the film: It wasn't SeaWorld that exposed things that the filmmakers hid, it was a fan of the park. Eric from MiceChat.com dug deeper, and found that while the film did seem to have several ex-trainers that supported it, it has several more that didn't. Including trainers that were in the film, or consulted the film! The trainers spoke out against how their information was misconstrued, misrepresented and in one case, edited to have them say what the filmmakers wanted said. That trainer worked closest with the whale in the film, Tilikum. It was later discovered by MiceChat that and OSHA investigator, while she was investigating SeaWorld was working and hanging out with the Blackfish crew. Talk about a serious ethics violation! That investigation is still ongoing.
SeaWorld fights back with truth: SeaWorld launched a very aggressive campaign against the film, but instead of mudslinging it offered the truth, with tons of documents and facts to support it. It even launched SeaWorld Cares, a website dedicated to showcasing the work that the park does with it's animals and the animals that they are called to rescue on a daily basis. The parks changed their show structure to include trainer talks throughout several months, and not only entertain the crowds, but also educate them.
Video-SeaWorld San Diego Trainer talks about Orca care and Blackfish

 SeaWorld showcases conservation efforts: Instead of concentrating on the negative, and trying to fight the film, SeaWorld instead decided to get people to look at what they've been doing in secret for 50 years (sort of). They let people in on the big secret that they were actually helping animals. We're not just talking a couple of animals here and there, SeaWorld has rescued over 23,000 animals. While many will point out that SeaWorld uses some of the animals in the parks, SeaWorld only keeps the animals that the Federal government tells them can not return to the wild. That's right, SeaWorld has to answer to the government. SeaWorld has rehabilitated and returned more animals to the wild than almost any other organization in the world. That's a huge feat for a company allegedly bent on capturing and torturing animals!
Video-Go behind the scenes of SeaWorld Orlando rescue

PETA is the voice of the animal rights movement against SeaWorld: When you need a voice for the animals, there is no voice louder than the People for the Ethical Treatment of Animals-PETA. The animal rights group has attached themselves to Blackfish and has become the voice of the film, using it as a religious artifact. Why is this a good thing for SeaWorld? Plainly put, PETA undoes anything positive that the film does, by being so crazy. They vandalize public property, stage protests dressed as the animals they're trying to free, and do not lift a finger to actually help any of the animals they are so concerned about. In fact, instead of helping animals, they kill thousands of animals at their "shelters" every year. In the past 11 years, PETA has killed over 29,000 dogs, cats, rabbits and other domestic animals at their shelters. That's more animals than SeaWorld has saved in the past 50 years! PETA would rather see animals die, than give them to homes where they could be cared for…because, in their eyes, that's slavery. Okay. As long as PETA is the voice of Blackfish, and is calling for the release of animals, that should clue you in to how the animals will fare.
While SeaWorld has been fighting back, it's unclear how much damage Blackfish has done. We will not know that until the financial and attendance reports roll out. Many may point to the recent split between Southwest Airlines and SeaWorld as a sign of trouble, and could argue that it's a result of petitions against the company, however in a statement released by the airline the split was mutual. Southwest is facing just as much, if not more controversy itself due to the possibility of fines being levied against the company.
SeaWorld is going in the right direction. The future of the company will rely on the ability of the park to balance out world class animal care, and education with a very entertaining experience. They are, after all, a theme park and not a full fledged zoo. If they want attendance to grow, and be competitive with other parks, they will have to continue to grow as a family friendly theme park, and give guests what they want. While the current goal looks to be education about the world around us, that may need to change. While part of the success of the park lies with their animals, and being able to give guests a connection that they can not get anywhere else, that will have to be mixed more with an entertainment aspect. Attractions like Manta, are a perfect example of the way that SeaWorld should focus. Manta surrounds a very unique roller coaster with an amazing stingray exhibit that literally takes you under the water and gives you a look at their world.
While the killer whale shows are great, and definitely showcase the relationship of humans and nature by showing the bond of whale and trainer, the guest would benefit greatly by being able to see these amazing creatures up close…closer than they could. Then you'll have the entertainment aspect mixed more with the animal connection.
We will just have to wait see what the future of SeaWorld holds, but until then, we Stand with SeaWorld.
While we disagree with the core message of Blackfish, we do applaud it for making an effective film that rallied people to a cause. Now if they would only use that power for good, and try to actually change the world where it mattered…you know, like clean up the beaches, or try to stop companies that actually harm the animals they claim to be so passionate about.
Stay tuned as we bring you even more from SeaWorld, and be sure to get social with us on Facebook, and follow along with us on Twitter @BehindThrills for the latest updates!
For more information about SeaWorld, including tickets, visit the official website by clicking here!