It's been a rough year for SeaWorld parks. According to a second quarter report, the park chain has seen profit drops, as well as falling stock prices. While attendance saw a slight rise, it hasn't translated into more spending as the parks had hoped. While many attribute the downturn to the Anti-SeaWorld film, Blackfish,  analysts say there's a number of factors. Still, SeaWorld is committed to their animals and to bringing humans and sea life closer. Animal connections have been at the core of SeaWorld's business model, which is why the huge new investment is not really much of a surprise.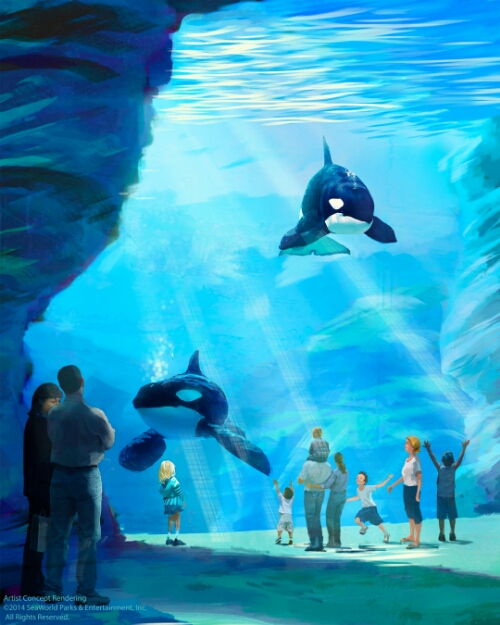 Today, SeaWorld CEO Jim Atchison announced at SeaWorld San Diego that the company would be making huge a huge investment in their Killer Whale habitats. The tanks will be expanded, and new, revolutionary advances will be added to help give the animals an enriched environment. Underwater treadmills will not only help to engage the Orcas, but will also help to study the animals further, including how the animals burn energy.
The tanks will expand in San Diego to include a depth of 50 feet, and add another 10 million gallons of water to the tanks. The new tanks will be more than just tanks, as they will add a more naturalistic environment for the whales. The new environments will feature new elements currently not found at the parks, as well as more enriching atmospheres for the animals.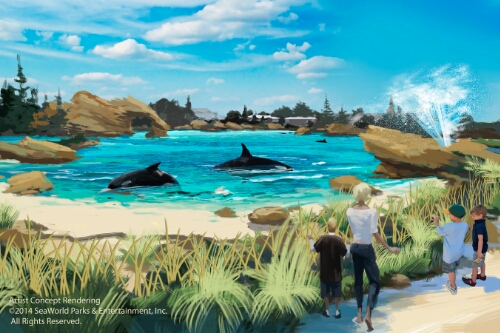 The new environment will also be a new way for guests to connect with the animals. An underwater viewing area, which will boast 40 foot glass walls, will give guests an unprecedented view of SeaWorld's Orcas. Guests will be able to see the animals in the ocean like depths, as well as walk along a shore and even get a bird's eye view of the animals.
The construction will begin in 2015 in San Diego, and will be completed by 2018. Eventually all three SeaWorld parks will also expand their tanks as well, with the same kind of experiences.

"For 50 years, SeaWorld has transformed how the world views marine life. The unprecedented access to marine mammals that our parks provide has increased our knowledge of the ocean and inspired generations," said Jim Atchison, Chief Executive Officer and President of SeaWorld Entertainment, Inc. "Our new killer whale homes and research initiatives have just as bold a vision: to advance global understanding of these animals, to educate, and to inspire conservation efforts to protect killer whales in the wild."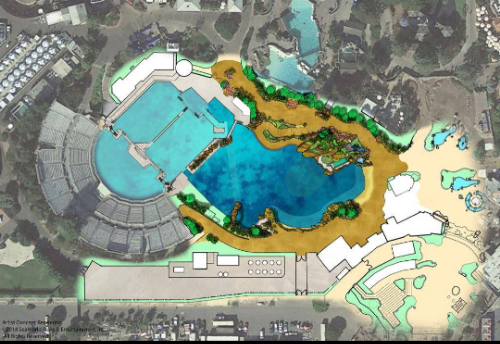 The photo above shows the current stadium and pool on the left. To the right will be the huge new pool, with guest walkways. It more than doubles the size of the current enclosure.
The new area will also have increased education, with more interactions with SeaWorld experts, which SeaWorld hopes will expand the global knowledge of these amazing animals.
In addition to the all new animal habitat at SeaWorld, the park is dedicating more funds and time to helping animals in the wild. The company will match up to $10 million dollars in funds to help with different projects including those related to threats to killer whales in the wild, especially those identified by the National Oceanic and Atmospheric Administration related to the endangered Southern Resident Killer Whale.
The company will also have an independent advisory panel to bring new perspectives and ideas to the project. The panel will focus on the creation of an environment that maximizes the health and wellbeing of the animals. Given the particular expertise of current panelists and those expected to join, the panel will further advise on integrated research projects that can be conducted within the new environment and foster partnerships within the science and academic communities working in the wild. 
Current Advisory Panel members include:

 

Dr. Paul Boyle, Senior Vice President for Conservation and Education, Association of Zoos & AquariumsDr. Heidi Harley, Professor of Psychology, New College of FloridaDr. Dorian Houser, Director of Conservation and Biological Research, National Marine Mammal FoundationDr. Linda Lowenstein, Professor Emeritus Pathology, Microbiology and Immunology, University of California Davis School of Veterinary MedicineDr. Shawn Noren, Associate Research Scientist, Institute of Marine Science, University of California Santa CruzMr. Tom Otten, Chief Executive Officer, Reef ExperienceDr. James F.  Peddie, DVM, Distinguished Faculty Chair, Exotic Animal Training and Management Program, Moorpark CollegeDr. Paul Ponganis, Research Physiologist, Scripps Institution of OceanographyDr. Kwane Stewart, Chief Veterinary Officer and National Director, Film and Television Unit, American Humane AssociationDr. Pam Yochem, Senior Research Scientist and Executive Vice President, Research, Hubbs SeaWorld Research Institute

 
The entire project is being dubbed the Blue World project, and it's primary goal is to not only enrich the lives of SeaWorld's animals, but also those living in our oceans, which are being threatened more and more.
"SeaWorld's capital investment will create a significant number of new jobs in our community and help drive the economy when construction begins at the Orlando park. Beyond that, it will enhance tourism by providing a state-of-the-art experience for visitors while providing valuable new research and educational opportunities in animal health and behavior," said Representative Daniel Webster (FL-10).
"Like so many others in science and industry, we are constantly learning more about how we can evolve our knowledge and continue to learn more about these amazing animals and stewardship of those in the wild," Atchison said. "We look forward to working with these experts to build on these learnings and achieve our vision of increased knowledge of killer whales and global efforts to protect those in the wild."

 
Stay tuned for more from SeaWorld, and be sure to get social with us on Facebook, and follow along with us on Twitter @BehindThrills for the latest updates!
For more information about Blue Project at SeaWorld, visit the official website by clicking here!