Halloween Horror Nights at Universal Studios Hollywood has built a tradition of not only bringing horror movies to life in their terrifying mazes, but also music. The tradition began with mazes built around the music and films of Rob Zombie.  Alice Cooper had one of his albums come to life when HHN welcomed you to his nightmare,  and took you to hell in two separate mazes. Last year the horrorscape was built around the metal of Black Sabbath. Dubstep came into the mix with music by Figure bringing classic monsters into modern day settings. Now Universal has teamed up with rock legend Slash for an all new house, and this time it feels like they're "clowning" around.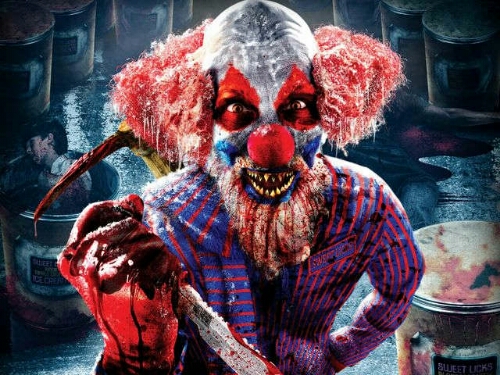 Clowns 3D:Music by Slash is an all new house in which guests will face demented clowns bent on bringing you terror. The unique thing about this all new maze is that Slash has composed music specifically for the maze, a first for Halloween Horror Nights Hollywood.
Video-Get a preview of Clowns 3D

"I'm a HUGE fan of Halloween Horror Nights and was inspired to partner with Universal Studios Hollywood because they are the founders of creating extreme horror," says Slash.  "I've been composing music for as long as I can remember and jumped at the chance to be an integral part of this year's event and create the original score for this creepy clown maze. I can't wait to see the fans' reactions and will be first in line to experience the maze myself."
Guests will venture through the abandoned Sweet Licks Frozen Clown Pops Family Amusement Center. The rundown amusement park and ice cream factory was once operated by the demented and deadly Sweet Licks the clown and his family of psychotic children.
The maze will be in 3D,  which Horror Nights has perfected over the past few years. 3D mazes as well as clowns have become a bit of a tradition for Horror Nights, due largely in part to the fact that so many people have a natural fear of them.
Clowns 3D is the latest maze to be announced for this year's Halloween Horror Nights Hollywood. The line up already includes mazes based on The Walking Dead,  From Dusk Till Dawn, SyFy's Face Off, The Purge, Dracula Untold, An American Werewolf in London and Alien Vs Predator.
The fun begins this September on select nights.
Stay tuned for more from Universal Studios Hollywood, and be sure to get social with us on Facebook and follow along with us on Twitter @BehindThrills for the latest updates!
For more information about Halloween Horror Nights at Universal Studios Hollywood, including tickets, visit the official website by clicking here!