This year, Chicago has something new to fear. 13th Floor Haunted House, a national haunted attraction, has opened their fourth location in Melrose Park, IL; taking over the reins from Eleventh Hour Haunted House. Featuring two houses, The Rising, and Dead End District, their site describes the attraction as a place where "…we explain the legend of the 13th floor and introduce you to Chicago's most horrifying Halloween haunted house experience, the 13th Floor Haunted House!"  While 13th Floor does have its strengths, it also has some significant weaknesses.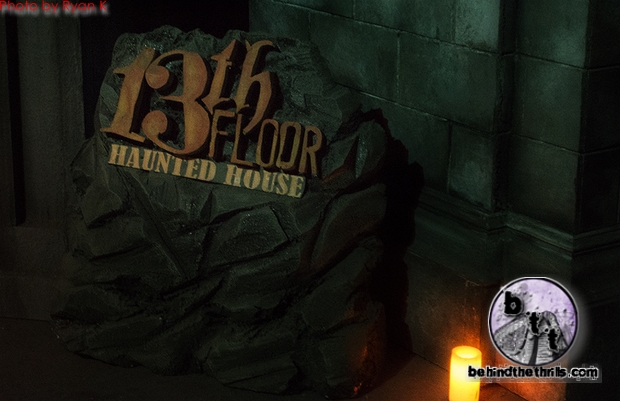 The queue area was very strong.  Mingling with the crowds are the ghouls featured in the attraction's promotions, and they are great. They scared quite a few patrons, interacted with others while staying in character, posed for photos, and provided great entertainment while visitors waited to get in. The entrance to the attraction was massive in scale and very impressive, using large props, animatronics, and great mood lighting. And the first set piece, a foggy, dimly lit cemetery with ghouls bursting out of their crypts to make you their next meal, was fantastic. There were some other great environments throughout the house. The abandoned manor facade and foyer was absolutely fantastic, and some of the set pieces in Dead End District were well detailed, layered, and immersive.  And when the lighting was good, it was fantastic. There was one scene in particular where lighting was used to cast shadows of decaying walls and plaster in a hallway to great effect.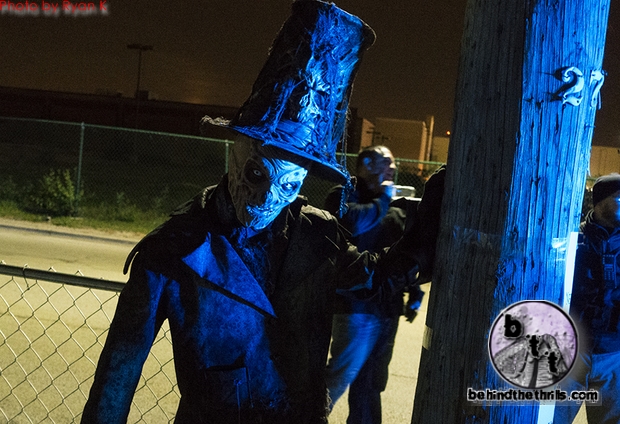 But, there was also a significant light and sound pollution problem. You could hear music and sound effects from other parts of the house, and there was so much light being cast on the ceiling of the larger warehouse, that wherever there wasn't a full ceiling in the set, you were taken out of the illusion if you happened to look upward at all. And in one extreme case, I saw a lighting effect from an upcoming room just by looking forward in the set I was in! There was also a particular set piece in a cathedral that, while impressive, borrowed heavily from a different haunt; to the point that I stopped for a moment to really examine if there were really any differences between them at all.
The actors inside the house were unfortunately less than impressive, especially when compared to how good the actors outside were. There was almost zero real interaction with guests, with most relying on jumping out and yelling, screaming, or making unintelligible noises. We were in a group of six, and multiple times the actors stopped scaring us and went to reset before we had even finished passing. This was disappointing, as it further minimized their interactions and made the whole experience less believable and enjoyable. The actors were also very much missed in a large room filled with a chain link maze, a very large Tesla coil, and an animatronic monster. It took a decent time to walk through, and while there was one particularly effective section where the tendrils of electricity coming from the Tesla coil reached out to the fence that we were next to, the majority of that section was just dark and empty. It killed any tension that had been building from the previous rooms. A few actors in that room were strongly needed to help carry our excitement and fear through to the next environment.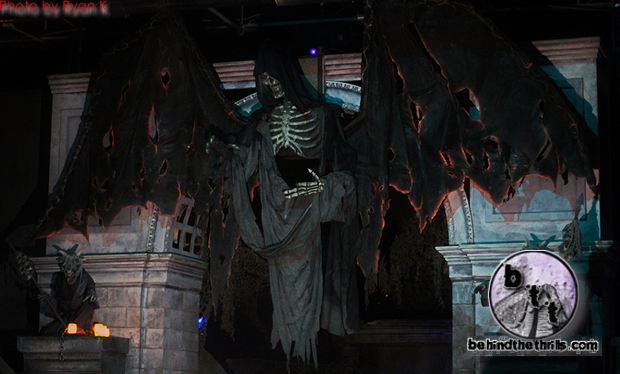 Overall, the sets were detailed, the effects were innovative, and there were a couple scares that I haven't seen used at other attractions. But the problems with light and sound bleeding to other rooms, the actors more concerned about setting up their scare for the next group than interacting with the patrons in front of them, and the short attraction time (only 20 minutes to walk through both haunts!), kept this from really reaching its potential. Hopefully this was just a case of growing pains, and as the season continues, a lot of these problems will be resolved. I look forward to seeing how 13th Floor improves moving forward, and giving them a much stronger recommendation in the future.
Keep in mind that it's not a bad haunt at all. There were just a few things that (at least for me) I hope changes. The 13th Floor is still a great addition to the Chicago area haunt line up.
Slideshow-Check out even more pictures from The 13th Floor-Chicago

13th Floor Haunted House Chicago is currently running select nights through November 8. The attraction opens at 7:00 PM, and runs until 10:00 PM on weekdays and 11:00 PM on Fridays and Saturdays. Tickets start at 24.99, and upgrades are available. The event may be too intense for children under 12.
Stay tuned for more gory goodness, and be sure to get social with us on Facebook  and follow along with us on Twitter @BehindThrills or the latest updates!
For more information about 13th Floor Haunted House Chicago, or to buy tickets, click here!