Orlando United has found permits filed for an all new 2016 attraction at Busch Gardens Tampa. The new permit comes just a month after Busch Gardens Tampa's newest attraction, Falcon's Fury has just opened. The all new drop tower is a huge addition to the park, at 335 feet tall. The big question, however, is just what will BGT open in 2016? We have a few guesses, as well as some rumors to chew on for a while.
Busch Gardens Tampa has filed a permit for an all new attraction that is set to open in 2016, in the area that now houses the Tut's Tomb exhibit, in the Egypt section of the park. The area is directly in front of the Serengeti area of the park that is home to hundreds of animals, and is directly in front of the train tracks that takes guests through that area.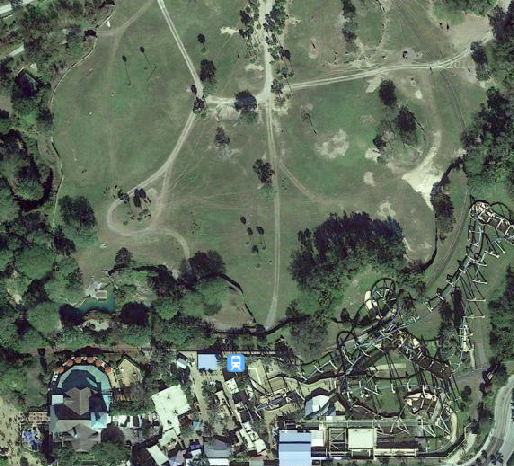 The satellite image above from Google shows off the area where the new ride will happen to take place. So, what is coming?
Whatever it is will definitely take over the Tut's Tomb area. Even this year for Howl O Scream, the house that takes over that area has shown a huge clue just in the name. "The Experiment:The Final Test" all but signals the death knell for the house.
The area is already littered with coasters, with Montu literally steps away, and Cheetah Hunt just a skip in the other direction. Is a coaster happening? Very possible. Busch Gardens Williamsburg is opening a new coaster in 2015, (so the rumors say) and it's fairly common practice for the two parks to sign multi-coaster deals. Prime example, Cheetah Hunt, a multi launch coaster, opened in 2011 and in 2012, Busch Gardens Williamsburg opened Verbolten. If a new coaster is coming to the park, it's likely that it won't be a big one. For years the big rumor was that Busch Gardens was going to get the first B&M coaster that took riders over 300 feet. That hope was dashed when Canada's Wonderland opened the first B&M Giga coaster. If there is a coaster, there's a good chance it will have a small footprint, and be similar to the coaster being built in Virginia.
There's also the possibility of a dark ride, which the park is sorely lacking. The area that the new expansion is going in used to house the parks only dark ride, Akbars' Adventure Tours. Since then, Busch Gardens has been lacking that one key piece. A dark ride, themed to an Egyptian Curse in Tut's Tomb would be ideal for Busch Gardens Tampa. Even Six Flags parks, which are more known for their coasters than their themeing, have been adding some really amazing dark rides over the past few years, and are adding a few more to their parks in 2015.
Sadly, because of the location of the new expansion, Gwazi, the parks' wooden coaster looks like it will get no love yet again. Many have been hoping for a new wooden coaster that takes the track of Gwazi and mixes it with a steel structure, much like many Six Flags parks have been doing.
So what is on your wish list for Busch Gardens Tampa in 2016? Stay tuned for more from Busch Gardens Tampa, and be sure to get social with us on Facebook and follow along with us on Twitter @BehindThrills for the latest updates!
For more information about Busch Gardens Tampa, including tickets, visit the official website by clicking here!