SyFy's Face Off has brought seven seasons of practical make up effects, as well as a passion for creating creatures to millions of homes across the world. Universal Orlando has brought the monsters and creatures of Face Off to life in an all new scare zone, appropriately titled, Face Off:In the Flesh. The scare zone takes ten of the shows creations and brings them to life in the streets of Universal Orlando to scare the living hell out of guests. As Halloween approaches, many will be trying to replicate the show to create their own costumes at home. What better way to create your own terrifying creatures, than to ask the masters behind the make up at Universal Orlando!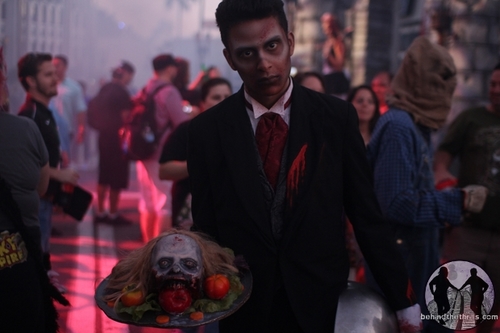 Universal Orlando has been bringing monsters to life for 24 years as part of Halloween Horror Nights. Beyond that, Universal Films has built a legacy of horror with films like Frankenstein, Dracula and the Creature from the Black Lagoon. Universal has also created several modern horror hits, such as An American Werewolf in London, and several others. It's no surprise that if you want the best theme park make up artists, you go to Universal. So we set off in search of some great make up tips from the Universal Orlando make up team.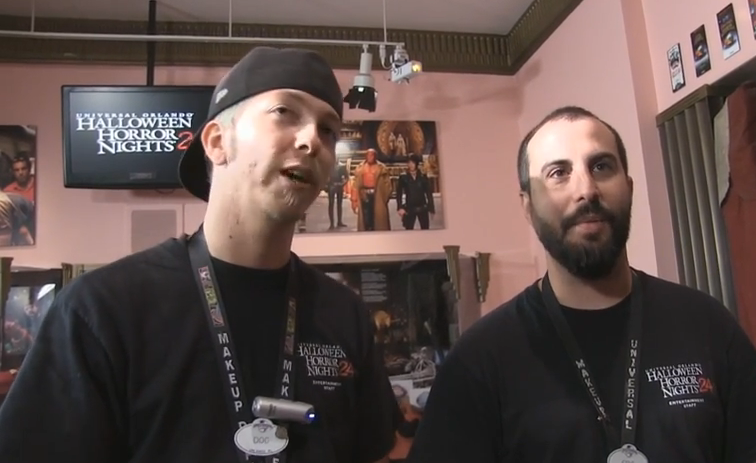 Doc O'Connell and Eric Garcia (pictured above) have both been with Universal Orlando for a number of years. They have also appeared as competitors on the SyFy show, Face Off. Both have a ton of experience and started at a young age bringing their monsters to life. We caught up with them to share some of their tips on creating a gory, gruesome costume for Halloween. Be sure to watch in the video below as Doc and Eric give us some great tips on how to build a better zombie!
Video-Learn some easy make up tips with Doc and Eric from Universal's Halloween Horror Nights

The great thing about zombies is that you can go as minimal or as heavy with the make up as you want. We've personally dressed the kids up as zombies for many years, with varying results.
Here's some more tips for a terrifying zombie:
Liquid latex is very easy to work with. Use it in layers to make tears, rips and scabs
Dollar store is a great place to get useful supplies like brushes, sponges and other materials
Baby powder makes a great stabilizer for the make up
Cream make is sold at every Halloween store, and in every make up kit at the big stores. It's cheap, easy, but takes more layers to cover up, and never really dries
Grease paint is sold in kits at Halloween stores. It's more expensive, harder to find but a little easier to work with. It doesn't take as many layers and spreads very easy
When working with liquid latex, avoid using it near any hair. It's very sticky, hurts to take off when mixed with hair, and hard to get out of hair
Have fun and experiment with your different techniques…also use YouTube, it's a great place to get some neat ideas and techniques
Slideshow-Check out even more fun from Face Off at Halloween Horror Nights
Halloween Horror Nights runs only a few more nights, until November 1st. Face Off is one of four unique scare zones at HHN this year.
Stay tuned for more from Halloween Horror Nights, and be sure to get social with us on Facebook, and follow along with us on Twitter @BehindThrills for the latest updates!
For more information about Halloween Horror Nights, including tickets, visit the official website by clicking here!