Adorable alert! Disney is known and loved for their feature length films. It was the cornerstone to many of our childhoods for the last 50 years or better. Disney continues their tradition not animated family films this November with Big Hero 6. Disney has also been producing very impressive and touching short films. Their last short, "Get a Horse" drew critical acclaim and was nominated for an Academy Award. Their 2012 animated short, Paperman, won the studio's first Academy Award for a short in 40 years. This year Disney will tell another short tale with what is sure to be an instant star in their latest film "Feast".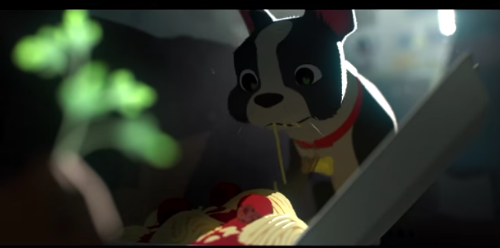 Meet Winston, he's the star of the latest animated short, "Feast". He's also a hungry little guy. While we aren't exactly sure what the film is about, we do know that Winston eats…a lot.
Video-Meet Winston from Disney's Feast
Feast is from first time director, Patrick Osborne who also worked on Paperman. The short film will premiere in front of the all new Big Hero 6 in theaters this November.
Stay tuned for more from Disney, and be sure to get social with us on Facebook and follow along with us on Twitter @BehindThrills for the latest updates!