Disney has been on a roll the last couple of months with films. To name a few, there's been Maleficent, Planes Fire & Rescue, Frozen, The Muppets Most Wanted, and more. With so many great Disney movies over the last year, Alexander and the Terrible, Horrible, No Good, Very Bad Day had a lot to live up to. Before I jump into this review, I'd first like to thank The Disney Parks Blog for hosting a meet-up and allowing us to see this movie a week before it came out in theaters (more on this later).
I'll try and keep this review as spoiler-free as possible, touching lightly on events in the movie but not delving too deeply into many events in the movie so I don't spoil your experience if you plan on seeing it.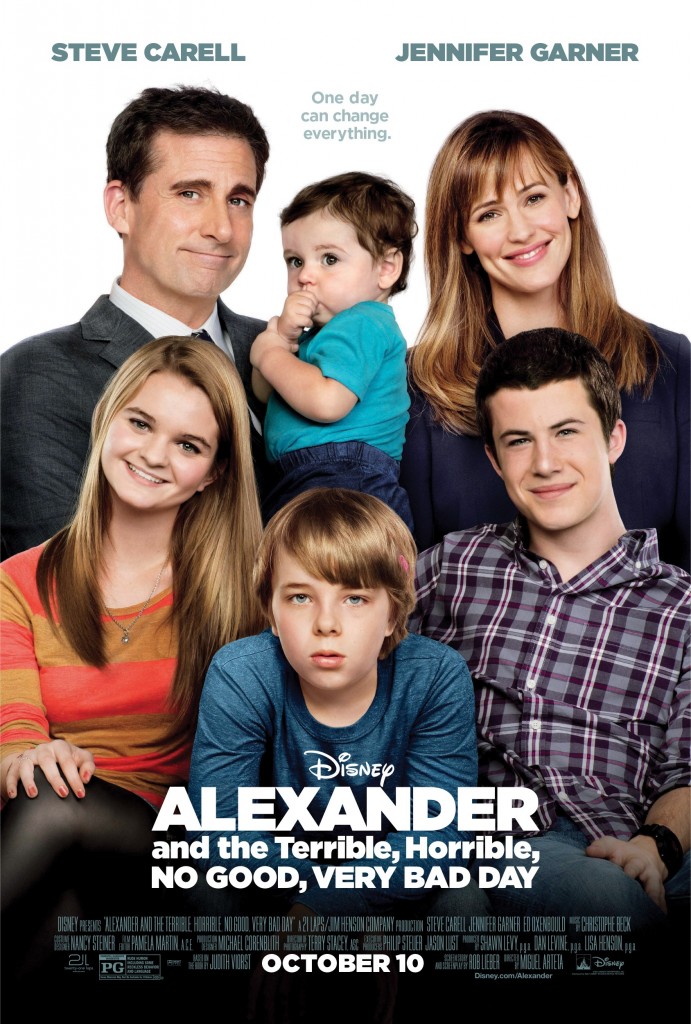 The basic story line of the the movie is that Alexander always has bad days and his family is so perfect that none of them ever have bad days. Just before turning twelve, Alexander wishes that his family would have a bad day too so they would know what his life was like. And thus, their day was cursed.
The movie actually starts at the very end of the film and kind of leaves you hanging, questioning what actually happened. The movie then starts over from the beginning and tells the story of how the Cooper family finally got to that ending point.
It focuses on the Cooper family. There are six of them: Ben (Steve Carell), Kelly (Jennifer Garner), Alexander (Ed Oxenbould), Anthony (Dylan Minnette), Emily (Kerris Dorsey), and Baby Trevor (Elise Vargas). There are other important characters as well, however, they are far less important characters than the members of the Cooper family.
As an adult watching this film, I got quite a few laughs out of the film. There are plenty of jokes I would consider to lean towards the side of adult humor (though teens would probably get a good laugh too). Having kids, I personally felt connections with the movie as it carried a strong message that no matter how horrible your day truly was, your family would be there with you (even if that meant they would have a horrible day too).
My daughter and I went to see the movie together, leaving Dad and brother behind to go do other things. I think I would have had a better appreciation for the film had we seen it as a family. I can completely relate to some of the moments the Coopers have together as a family. While this is easily a family movie, I would recommend this to others (even those that don't have families) as it offers plenty of laughs and a look inside the life of a not-so-perfect family.
Again, I would like to thank the Disney Parks Blog for the opportunity to preview this film a week before it's official release date. If you're not already a reader of The Disney Parks Blog, it's free to read and they post great content about their parks all over the world. Being a reader of the Disney Parks Blog allows you to try to attend meet-ups (it's on a first-come, first-serve basis ahead of time) for fun events like movie screenings, restaurant previews, and more.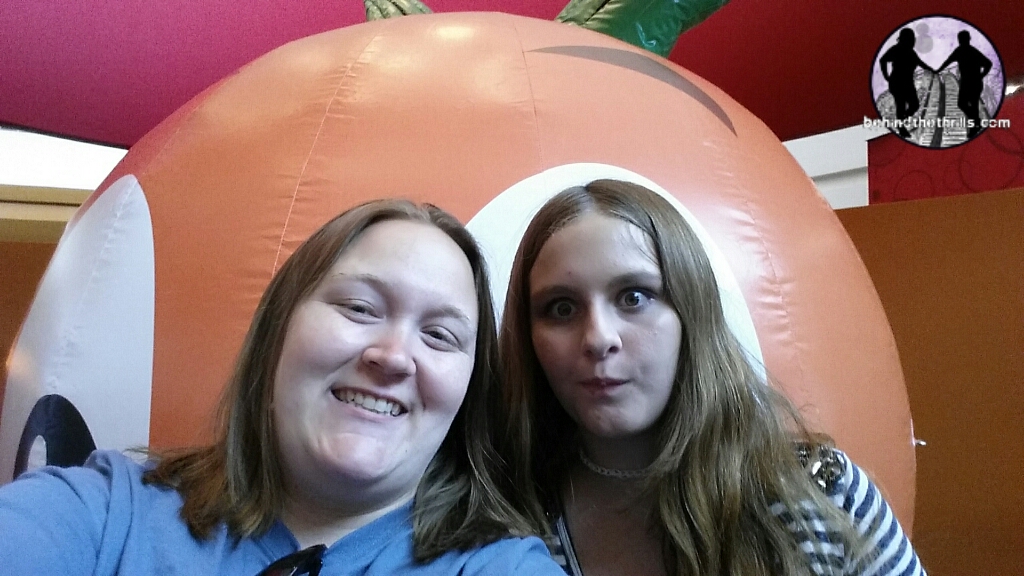 During Disney Parks Blog Meet-Ups, they always do something special for their fans. We were able to see a sneak preview of a brand new photo opportunity coming to future Disney Parks Blog events. After the film, we were able to see the brand new photo opportunity of Orange Bird up close and in person.. and we even got our photo with Orange Bird!
Alexander and the Terrible, Horrible, No Good, Very Bad Day opens in theaters on Friday, October 10th. Check your local theaters for show times as they may be offering show times in the early evening tomorrow, October 9th.
For more information about Walt Disney World, visit the official website by clicking here.