Are you ready to run like a cheetah? Maybe you'll just jog like a tortoise? However you run, you can "Run for Wildlife" at Busch Gardens Tampa this November for the inaugural 5K that will take contestants throughout the park. The run is all to benefit the SeaWorld and Busch Gardens Conservation Fund which helps rescue and conservation efforts all over the world.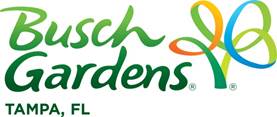 The run will take place on November 22nd, and will cover 3.1 miles, mostly through the park. Contestants will need to pre-register for the event. There will be several animal, and character appearances throughout the course, and will be perfect for the entire family.
"This is a chance for guests of all ages to support the Conservation Fund's mission to support wildlife conservation, education and research worldwide," says Busch Gardens Park President Jim Dean.
The overall male and female finisher will be recognized at an award ceremony following the race. Other perks for participants include post-race admission to Busch Gardens, valid for Saturday, Nov. 22, a race shirt and complimentary snacks at the start/finish line.
Stay tuned for more from Busch Gardens Tampa, and be sure to get social with us on Facebook, and follow along with us on Twitter @BehindThrills for the latest updates!
For more information about the race, including registration, visit the official website by clicking here!