Silverwood Theme Park in Idaho may seem like your typical sleepy little theme park, nestled deep in the heartland. When fall rolls around, however, the terror comes out to play and the nightmares are set free as Silverwood is transformed in Scarywood Haunted Nights. For select nights in October, the ghosts, ghouls and goblins come out to terrorize guests. We took a trip to Scarywood, and caught a glimpse of some of the things that go "bump" in the night.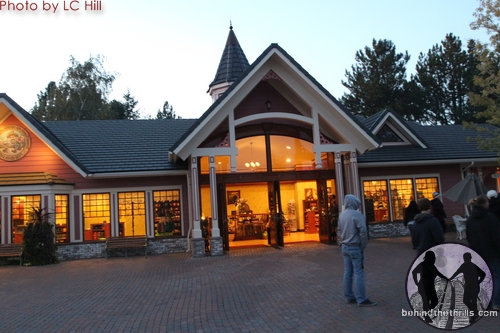 Scarywood is an extra ticket event, meaning that your normal theme park admission does not cover it. However, what you get for your extra ticket is four thrilling haunted houses, SEVEN scare zones and the Zombiewood Express, which you've got to see to believe.
Scarywood transforms the wholesome park in Idaho to a nightmarish landscape of evil clowns, stalking scarecrows and creepy dolls.
Video-Get a look at Scarywood as we talk to Mark about the event!

The four haunted houses offer very unique looks into different themes, and different journeys into terror.
3Dementia-A classic 3D house, with a little more attitude. The house takes guests face with Rusty Sprocket, the master of the maze. It has gotten a massive upgrade for 2014, and is tons of fun.
The Ancient Ruins-The level of detail in this house rivals what you may find at places like Halloween Horror Nights. The set work is stunning, and several really hard scares. The maze tells the story of an expedition into the ruins of a lost civilization…only they're not lost, they just don't want to be found.
Blood Bayou-This maze has been around for a few years at Scarywood, but it's gotten some all new elements. Guests enter into the darkness of the swamp, and try to make it out amid cannibals, zombies and of course Voodoo.
Total Darkness-It's not totally dark, but it's a brave concept for a theme park haunt. Most of the time you see the larger, stand alone haunts doing this after the season has ended. Scarywood braves the concept and does it with their regular crowds. It's pretty effective, and very hard to see as you have all manner of creeps and monsters coming at you from all angles.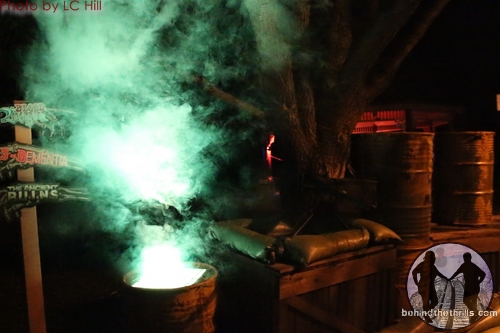 The Scare Zones are literally all over the park, and for the most part, are just as big and detailed as many of the houses. The huge variety of the scare zones go from simple Scarecrows that stalk you through the field, to an elaborate crypt where the walls come to life.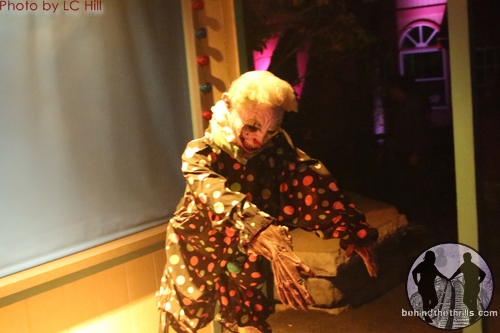 Clown Town asks the simple question, what if all the clowns lived in one place…and went crazy. They take over the classic midway, so that there's not very many places you can hide. The only thing you can do is to run through, which many do. With shows like American Horror Story using their own creepy clown, and clowns popping up in towns all around America, Clown Town is the ultimate in Clown warfare. While most clowns are nice and humorous by nature, there's something about them that scares the living hell out of people. Scarywood takes full advantage of that, and brings out tons of clowns that interact, scare then laugh at you.
Video-Visit Clown Town at Scarywood!

Where other parks have hilarious Halloween themed shows, ScaryWood has a train. The Zombiewood Express is part haunted house, part ride, and part raunchy Halloween show. While there is not an age restriction on the train, it's not recommended for anyone under the age of 17, as there is a lot of violent images and tons of profanity. Sgt. Buzz would make the lawman at Knott's the Hanging blush. Guests climb on board and try to make it through Zombiewood by train. Zombies, of course, board and terrorize all the riders. Luckily Sgt. Buzz is there to take care of things and blast the living hell out of the zombies.  It is one of the most unique theme park experiences we've ever witnessed, and that's saying a lot.
Video-Take a ride on the Zombiewood Express!
Scarywood is running down into it's last week, and things are going to get absolutely crazy as Halloween gets closer. The final night of the event is November 1st, which also marks the complete end of the season for Silverwood. The park will reopen in 2015.
Slideshow-More photos from Scarywood!

Stay tuned for more from Silverwood, and be sure to get social with us on Facebook, and follow along with us on Twitter @BehindThrills for the latest updates!
For more information about Scarywood, including tickets, visit the official website by clicking here!