I'm a sucker for movies from the 80's, as well as Disney from the 80's. There was a sense of wonder and discovery that we, as a generation have yet to replace. Maybe it was because we were kids and the world seemed bigger, but the films had that wonder that made us want to go out and seek adventure. Today at New York Comic Con, audiences were treated to a teaser of a new film that seems to deliver that sense of adventure. And it stars George Clooney…of all people.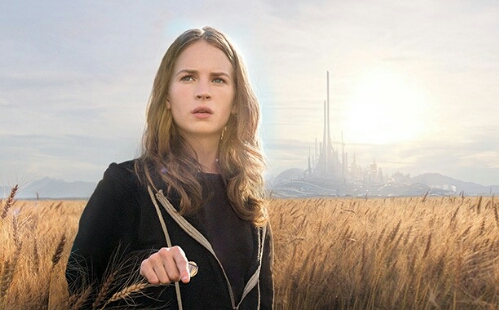 Brad Bird's Tomorrowland debuted today with a teaser, and if you were lucky enough to be in the crowd, some very cool swag. The teaser seems to revolve around a pin, which apparently had some significance in an online campaign. None of that matters, what does matter is the sense of wonder that you walk away with from seeing the teaser.

The film is directed by Brad Bird, with a script by writer and co-creator Damon Lindelof and Brad Bird, from a story by Lindelof & Bird & Jeff Jensen. The film stars George Clooney as a "former boy genius" Hugh Laurie as "brilliant scientist David Nix", Raffey Cassidy, Tim McGraw, Judy Greer, Kathryn Hahn, Keegan-Michael Key and Thomas Robinson. Who cares. It's the adventure that we want.
It's not often that a trailer not only leaves you wanting more these days, but also fills you with a feeling that you had when you were a kid. Did this teaser do it for you? Because, I've got to tell ya, it did for me, and I'm in.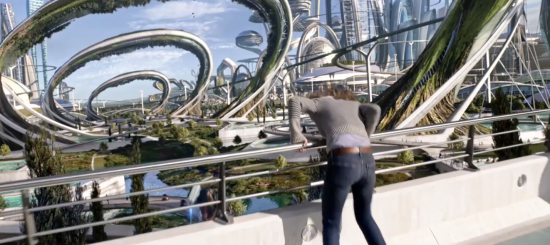 We know that some portion of it, just not how much, was filmed at Walt Disney World. The concept art and image in the trailer gives it a look reminiscent of the Tomorrowland at Walt Disney World (specifically Space Mountain). However, once we get a final look at the end, that's not any Tomorrowland we know. The film has been a mystery since it was announced earlier this year. That's a good thing. Will it be a unique look at the land created by Disney? Or will it be something entirely new? Let's hope for the second one.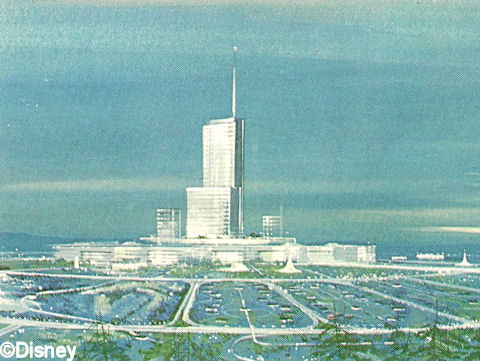 Personally the image in the background of the city looks more like Walt Disney's original idea for E.P.C.O.T. Could we be looking at a realized Experimental Prototype City Of Tomorrow?
Tomorrowland hits theaters in May of 2015. Stay tuned for more from Disney, and be sure to get social with us on Facebook, and follow along with us on Twitter @BehindThrills for the latest updates!