It's been five years since the Thrill Weekly Polls began. In 2010, we decided to put together a string of polls that gave theme park fans across the nation the chance to voice their opinion and vote for their favorites theme parks, rides and other theme park specialties. Today we continue our tradition with The Fifth Annual Thrill Weekly Poll, giving theme park fans the chance to voice your opinions on what YOU think is the best of the year, in the theme park industry! We kick off the awards this year by letting you vote for the Best Show!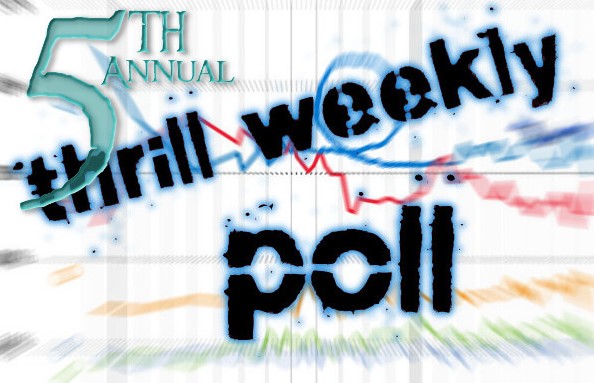 The 2014 Thrill Weekly Poll schedule: 
Oct 13 – Oct 19

:Best Theme Park Show

Oct 20 – Oct 26

: King of Halloween

Oct 22 – Nov 18

: Park of the Year Regional Voting

Oct 22 – Oct 28

: Park of the Year – Region 1

Oct 28 – Nov 4

: Park of the Year – Region 2

Nov 5 – Nov 11

: Park of the Year – Region 3

Nov 12 – Nov 18

: Park of the Year – Region 4

Oct 27 – Nov 2

: Best Family Friendly Park

Nov 3 – Nov 9

: Best Food Destination

Nov 10 – Nov 16

: Attraction of the Year (Finals)

Nov 17 – Nov 23

: – Best Theme Park Website

Nov 24 – Nov 30

: No Voting in observance of Thanksgiving Holiday

Dec 1 – Dec 7

: Water Park of the Year

Dec 8 – Dec 14

: Park of the Year (Finals)

Dec 15 – Dec 21

: Santa's Pride – Best Christmas Event

Dec 22

: All voting will be completed, No voting in observance of Christmas/New Years Holiday

Jan 5

: Winners will be announced
When it comes to a perfectly rounded theme park, it's always good to have an amazing mix of attractions at the ready. Coasters are amazing, rides are great and who doesn't love a parade? Nothing, however, rounds out your perfect theme park visit better than a great show! Whether it's a show that takes you behind the scenes of your favorite subject, a spectacular stunt show, or a medley of down home favorites, you'll find that theme park shows have some of the highest production values and some of the most talented casts out of any shows in production worldwide!
It's with great pleasure that we announce our first poll of the 2014 Thrill Weekly Polls-Best Theme Park Show!
What was the BEST Theme Park Show of 2014? Was it last year's winner-The Battle for Brickbeard's Bounty at Legoland Florida? Maybe it was the down home goodness of Dollywood's "My People". Maybe it was the splashtastic Killer Whales of SeaWorld's One Ocean? Which ever it is, vote for it and name it the Best Show of the Year!
[polldaddy poll=8372607]
We've nominated the shows in our list based on several factors:
Critics and reviews
Personal experiences
Reader opinions and trip reports through Facebook and Twitter
Other website opinions and reviews
In order for the show to be nominated it had to be a season long show, running at minimum three months, and at least 70% of the theme park year or season. These shows encapsulate what theme park shows are all about, and in many cases run on a daily basis, bringing the crowds in year after year. These are not Holiday shows, we will give you the chance to vote for seasonal celebrations as a whole in other categories.
There are tons of shows in the U.S. and unfortunately we can't get to them all. If we have forgotten your favorite theme park show, make sure to write it in on the "Other" ballot and we will consider it for nomination.
Congratulations to all of the nominees! We recommend that all nominated parks and fans share on Twitter, Facebook and other Social Media outlets. This poll will determine the Best Theme Park Show of the Year in our annual "Thrill Weekly Awards" which are to be announced in January. The poll will be open until 11:59 p.m. EST on October 19th, 2014.
Good luck, and have fun!
Stay up to date on all the latest polls and theme park fun by getting social with us on Facebook, and following along with us on Twitter @BehindThrills!