The Purge is an odd film series, in that it works better each time around. The first film introduced us to a very unique idea of people being given the chance to "Purge" themselves of all anger and hostility without being punished, and the implications of right and wrong in that choice. The second Purge film took us further into the story with the idea that the Purge isn't about cleansing your souls, but cleansing the country of those who aren't wealthy, and are seen by the upper class as putting a strain on the system. Now, if your souls weren't cleansed enough, a third Purge is on the way. What path will it take? The Purge has also been a huge success at Halloween Horror Nights in both Orlando and Hollywood, is it likely that we'll see more happening there as well? And if so what?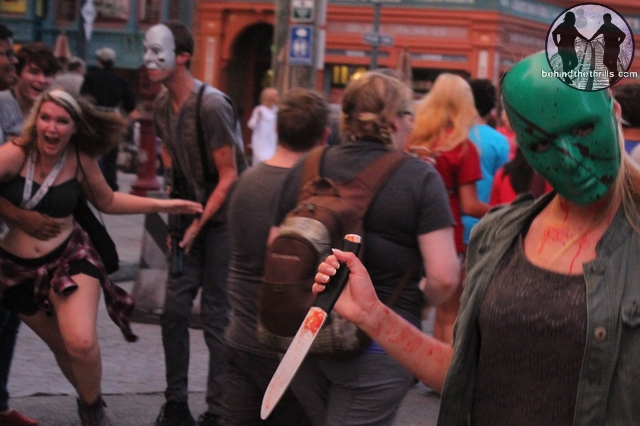 The Purge is more than your typical horror story. Progressively over the past two films, it's been set up to tell a deeper tale, all while masked in blood and chaos. It's been something of a touchy subject as of late, as our country begins to mirror exactly what happens in the film. Yet, something so violent and so full of anarchy works to a perfect degree as a chance for scares at Halloween Horror Nights in both Hollywood and Orlando.
Hollywood first introduced the Purge in 2013 as a scare zone, complete with chainsaws, mask wearing hooligans and plenty of fun. In 2014, both Hollywood and Orlando brought forward more mayhem, and more destruction with The Purge:Anarchy. The scare zones perfectly capture the spirit of anarchy in the film, without resulting in the violence. Sure, the violence is implied, but you never quite see it happening.
Video-Unleash the Beast with The Purge:Anarchy at Universal Orlando's Halloween Horror Nights

With two very successful entries into the Purge series turning into very successful scare zones at Halloween Horror Nights, it goes without saying that HHN will most likely bring back the series for another go. They may even expand it, and not only include a scare zone, but perhaps a house that brings back all three films and pushes them together.
While we're not sure about the details of the third Purge film, they have been relatively cheap to make and have been made fairly fast. It's likely that we could see a third film out just in time for Halloween season in 2015, and just in time for Halloween Horror Nights. It's not uncommon for a film to be released just before or during the HHN run, it gives both the event and film a little more push with fans.
The Purge coming back to HHN has not been announced, but it makes perfect sense. The Purge and HHN are perfect matches. The film is all about unleashing the beast within, and cleansing your soul. There's nothing better to cleanse your soul (legally) than a good scream, something that you get plenty of at the event. After all, we all need to Purge.
Stay tuned for more from Halloween Horror Nights, and be sure to get social with us on Facebook, and follow along with us on Twitter @BehindThrills for the latest updates!
For more information about Halloween Horror Nights, including tickets, visit the official website by clicking here!