Halloween Horror Nights is a completely immersive horror experience. Guests pay to get scared, and have the limits of their "safe zones" pushed. This year Universal Studios Hollywood has unleashed the beast, and has brought out The Purge:Anarchy into the streets of the event. The experience is based on a film where it is legal to kill, rape and rob people for 12 hours. It's clearly aimed at the adults in the audience. A family is suing, however, all due to an actor calling a 13 year old girl a bad name. Is this a case of the park going too far, or a case of being overly sensitive?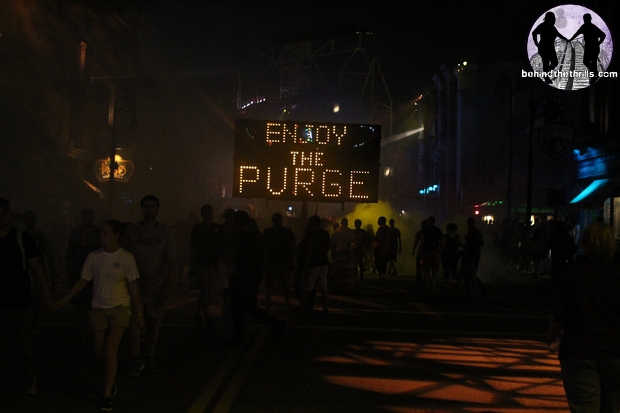 The Purge scare zone in both Universal Studios Hollywood and Florida takes the spirit of the film and brings out into the streets. In the film, it is perfectly legal to kill, rape, rob and call people bad names. At the park, there is no killing, but there is plenty of simulated anger, stalking and scaring going on.
Three weeks ago a family was visiting the PG-13 event, an event not meant for children, when an actor called a group of teenage girls "a bunch of whores". It was during an auction scene in which people are sold off to the highest bidder for others to kill.
The family has hired attorney Gloria Allred, who specializes in cases involving sexual discrimination to take on the case. As of now the family is only asking for an apology.
Universal Hollywood released the following statement:
"We take these issues very seriously and are looking into them. This conduct does not reflect our values or our guest communication guidelines. We are reaching out to those involved and will deal with the situation appropriately."
The question becomes, is this really a case of, what the family calls "verbal abuse" or is it simply an actor getting into a role at an adult oriented Halloween event. Of course the media is latching onto it, and making it seem like a horrible thing, but let's look a little closer.
Here's the video:

The event is marked all over the park as not being for those 13 years and younger. On the website it is written over and over that the event may have language and situations that some find offensive. It's full of simulated violence, anger and blood. It depicts horrifying scenes from movies. Are we honestly shocked to see that something like this happens? Personally, I'm not. It's all part of the act. It's what guests all over the country pay for, and it's part of the complete experience. Is a female actress, performing a role from a violent movie, calling someone a whore or slut really that bad? If it's unsolicited, or as part of daily operations, yes, it's terrible. However this was part of an event. It was done in the spirit of the film, which is violent and disturbing by nature.
The family claims they just want an apology, but yet here is the attorney making a national case of it.
This isn't the first time that Halloween events have come under fire this year. Howl O Scream at Busch Gardens Williamsburg and Tampa removed heads after a readers of a local Virginia paper complained about them being featured on the front page of the paper. The complaint was aimed at the paper for running the picture, not at the event for having the heads.
Last year Halloween Horror Nights Hollywood canceled the Bill and Ted show after allegations of it being homophobic by a blogger. That same blogger came back this year and demanded that Knott's cancel their Halloween show, The Hanging, after he swore it was all about him…and the show was "shitty".
What are we doing? Halloween is meant to be scary, offensive and downright terrifying. Guests are paying their hard earned money for these events. They are not meant for kids, or for babysitters. The parents were not at the event that night, but bought the tickets for the kids. Are we really serious here?
I am the father of a 13 year old girl, as well as a 17 year old son. As a family we go to Halloween events, such as Halloween Horror Nights. The family is prepared for what could and may happen. If someone calls them a name during an act or show, it's taken as part of the act. If someone calls them names out of anger, or not in a show or performance, then there's a reason to get upset.
If things continue, Halloween and events that support them, are in danger. The parks and people that put them on will continue to water them down until people stop going. Be careful girls, you may get called worse names than what HHN called you.
Update: 10-24-14
According to several guests in park, The Purge area has indeed been cut back in Hollywood. The auctioneer stage is gone, and there was no one walking around with a microphone on Thursday night. Universal followed this same pattern with Bill and Ted last year, when allegations that the show was homophobic. They simply removed the show.
Again, as of right now there is no lawsuit pending, the girls and family simply want an apology. However, with a high profile attorney such as Gloria Allred, it's only a matter of time before the lawsuit comes rolling in.
In a statement, a Universal Hollywood spokes person told us
"We take these matters very seriously, and are dealing with it appropriately. "
Please remember, this is for Halloween Horror Nights in Hollywood, not in Orlando. As of Thursday night, Orlando was still performing auctions with their Purge scarezone, as they are not the area under fire.
Video – Get a look at The Purge:Anarchy at HHN Hollywood and judge for yourself

We support Halloween Horror Nights.
Stay tuned for more from Halloween Horror Nights, and be sure to get social with us on Facebook and follow along with us on Twitter @BehindThrills for the latest updates!
For more information about Halloween Horror Nights Hollywood, including tickets, visit the official website by clicking here!