Michael Myers is a horror icon. Undeniably.  Fans at Universal's Halloween Horror Nights have been able to come face to face with Michael Myers at this year's event in one of the most successful mazes in HHN history. Fans have loved it from the get go, and it demands huge lines of people hoping to be stalked by Michael himself. While the house has been a huge success,  fans have been wanting a touch more. In comes HHN COMPOUND. The  new social media initiative from Universal Orlando, Hhn Compound,  has been keeping fans busy in park with tasks designed to add a little extra dimension to the event.  Saturday The Compound made the maze, Halloween,  come to life like never before as they gave fans the chance to see the inspiration behind the horror.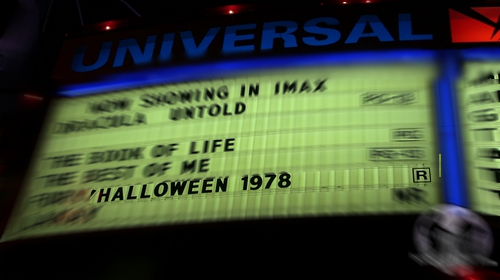 For many, the 1978 classic Halloween is a film that we've seen every year. A lot of people have grown up with Michael Myers, and know the terror behind the mask. However, think of this question. Have you ever seen the classic John Carpenter film in a theater, in the dark, with several others? There's a good chance that you haven't. Universal Orlando gave followers on Twitter a chance to not only see the film, but to also get up close and personal with one of Halloween's biggest fans, their own Director of Creative Development, Mike Aiello. If that wasn't enough, fans were able to also screen the film with Producer Malek Akkad, son of Moustapha Akkad, the producer of the original 1978 film.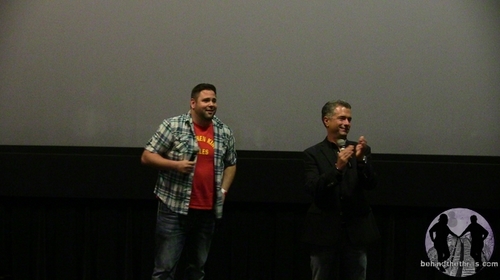 The entire experience was set up by Universal Orlando's Social Media team. The team created an all new experience this year called, HHN Compound. HHN Compound gives guests the chance to complete "missions" throughout the park on event nights, and perhaps win prizes.
After the film, winners were taken through the house by Aiello and Akkad themselves.
Video-Check out all the fun of a HHN Compound Recon Mission at Universal Orlando

Before the screening, a small press conference was held where both Aiello and Akkad were present to talk about the film, the impact it's had not only on horror, but also on the world, and it's role in Halloween Horror Nights at Universal Orlando.
"I've got to be honest" joked Aiello "we've set this up for purely selfish reasons. I've never seen it on the big screen!"
Akkad, who served as producer on several Halloween films in the franchise says a script is being worked on for a new Halloween film.
"We're working on eleven as we speak. We're working on a script right now. A new draft, perfect timing, is supposed to hit the day before Halloween. Hopefully my Halloween night reading will be a good read."
It seems that it will take place in the same universe as the Rob Zombie films. Whether or not it will be a direct sequel is not known, but it should be out in 2015.
After the film, Akkad and Aiello took part in a Q&A Session with the audience. Malek offered not only a little more information about the film, but Jamie Lee Curtis and other projects involving the Halloween name.
Malek says "I'd love to work with Jamie Lee Curtis again, but after four films she said she was done. Never say never though."
"We are developing some very cool things that we are announcing very soon" Malek continued "It's going to continue the story, or perhaps take it in a different direction.  You'll just have to wait and see."
Mike Aiello even offered his rendition of a famous dragon during the Q&A as fans begged for his version of Smaug from The Hobbit films.
Video-Mike Aiello is Puppet Dying as Smaug!
As for the Halloween maze itself? Mike Aiello and the team of amazing talent have brought the film to life. While the film has been adapted to a haunted maze in other places, as well as Halloween Horror Nights Hollywood, this marks the first time that the film has been recreated, almost scene for scene.
Aiello also wouldn't rule out a "Return of Michael Myers" sometime in the future of Halloween Horror Nights, although he wouldn't say anything past that.
Video-Get all the answers as fans conduct a Q&A with Mike Aiello and Malek Akkad
Halloween is one of eight all new mazes at Halloween Horror Nights, and has been one of the highest rated houses in event history, as guests have given it rave reviews. The maze takes guests through the iconic scenes, and kills of the 1978 film and gets them face to face with Michael Myers.
Slideshow-Want to see inside the house? Check out pictures from Halloween Horror Nights Orlando!

Halloween Horror Nights at Universal Studios Florida runs on select nights until November 1st, and features eight bone chilling mazes, four scare zones and two Halloween themed shows. The event is not recommended for those under 13, and is a separate ticket event.
Become part of the HHNCompound, and follow along with the hashtag #HHNCompound on Twitter @HorrorNightsOrl. We are told that HHN Compound will be the first of many such meet ups and social media interactions throughout the year, so be sure to stay tuned.
Stay tuned for even more from Halloween Horror Nights, and get social with us on Facebook, and follow along with us on Twitter @BehindThrills for the latest updates!
For more information about Halloween Horror Nights at Universal Studios Florida, including tickets, visit the official website by clicking here!