Horror was built on special effects and make up. Since computers have become more prevalent, so has the use of CGI to enhance a movies' special effects work. While the computer work can be great, and allow filmmakers to do things that may not be possible with practical effects, there's still something raw and special about seeing a creation come to life with make up, and a real actor. SyFy's Face Off has become a voice in bringing practical effects back to film, and television as the contestants mold, craft and create new creatures to bring to life. The reality TV competition series is in it's 7th season, and this year Universal Orlando's Halloween Horror Nights has brought it to life with a huge scare zone that not only brings those same monsters to life, but also allows guests to get up close and personal with creations from the show. It also shows the world what talented make up artists they've been hiding.
Make up has always been a huge part of Halloween Horror Nights at Universal Orlando. The event has brought to life some of the most hideous creations using the latest techniques and masks. While that work is always on display, it tends to take a back seat to the huge sets and scares that accompany it. This year, Face Off brings that work front and center and puts it on display in the form of a scare zone that really allows the artists to showcase their work.
"We were excited to bring this property to Halloween Horror Nights, mostly because we know so many of the contestants." said Show Director Lora Wallace "Some of the make up artists started their careers here at Universal when they were 18 years old."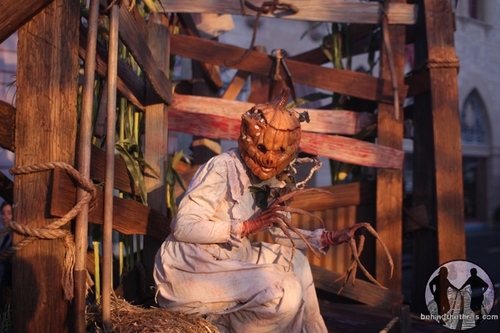 From a horror fan standpoint, Face Off is a return to form, and gets the general public aware and involved with the great make up practices that not only created the horror genre, but also Halloween Horror Nights. One of those fans, Mike Aiello (who happens to also be the Director of Creative Development at Universal) was excited to bring Face Off to the event for that very reason.
"For a while, practical effects went to the wayside, as far as the artistry was involved,  where you created these really great, REAL characters" said Aiello "Face Off comes along,and brings back to the forefront the notion there is a real art, craft and talent that goes into creating the layers involved in turning someone into something terrifying or beautiful."
Video-Go behind the scenes of Face Off:In the Flesh at Universal's Halloween Horror Nights

While there are ten Face Off creations on display, there are also several other side characters on display as well. There are several roaming characters that not only provide context as to what the creatures are, but also provide some really great scares.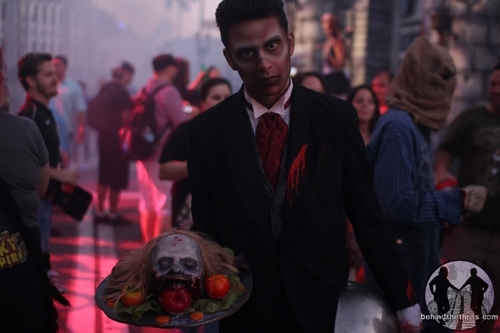 Lora Wallace explained that beyond the creatures that were showcased, they wanted to make the Face Off experience a little more than just a photo opportunity.
"We needed to make the zone beyond those characters horrifying." explain Wallace "We created these minions for each vignette, so that while people were taking pictures of the characters, the minions are coming around and scaring everyone getting their picture taken."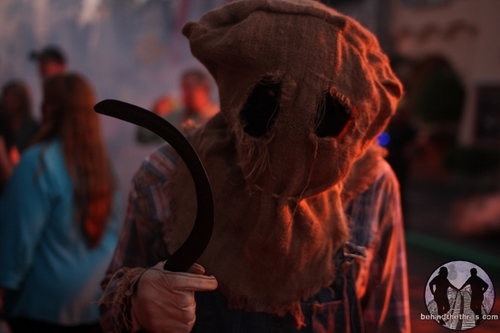 The "Axe Girlfriend" character was included on this season's Face Off, but many of the other characters came from previous years, including the very first. Speaking of this year, Universal Orlando is home to one of the contestants of Season Seven. David "Doc" O'Connell not only started at Universal Orlando, but also works at Halloween Horror Nights, helping to bring many of the characters to life. Universal Orlando was also home to contestants Eric Garcia from Season Three. Season Five saw one of Halloween Horror Night's own Laura Tyler take home the win. Since winning she has done work on several films, and came back to Halloween Horror Nights this year to make sure Face Off was done just right.
Slideshow-See even more pictures from Face Off at Universal Orlando

 Face Off:In the Flesh, is one of four all new scare zones that rip the streets right out from underneath guests at Halloween Horror Nights Orlando. There are only a few nights left to experience all of the terror at this year's event.
Stay tuned for more from Halloween Horror Nights, and be sure to get social with us on Facebook, and follow along with us on Twitter @BehindThrills for the latest updates!
For more information about Halloween Horror Nights, including tickets, visit the official website by clicking here!